Breaking the mold of our regular interviews, this one went over quite a period. There was a break while Khalen was at the UCI worlds in Brazil and again after he competed at the Planet-X winter X-Games.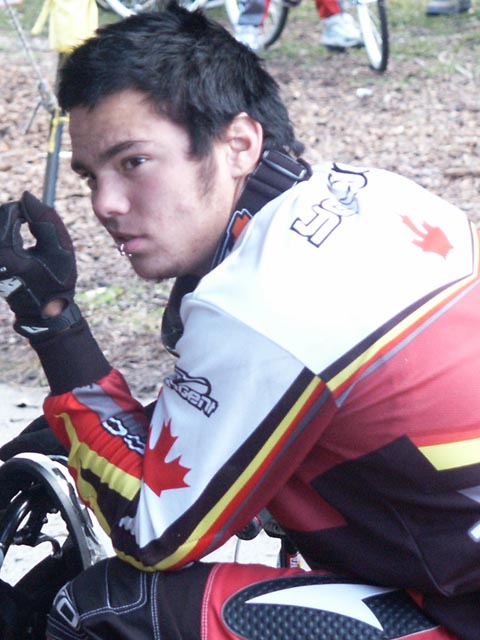 Before the 2002 UCI World Championships…
bmxultra.com: How/when did you get started in BMX?
Khalen: When I was 4 my dad got a transfer to another job in Kalgoolie, WA. So my brothers where racing at the time so I went down there with them and had a go… and the rest is history.
bmxultra.com: Who are your current sponsors?
Khalen: Norco bikes, AXI, 661, Perv, Marzocchi, Tangent, Warpt clothing, Black Flys, Fleshworx, bmxultra.com, tonyhrv.com and bmxbits.com.au.
bmxultra.com: Which riders do you look up to?
Khalen: My brother Dazzler and the CHL crew from West Oz. As far as racing goes Hawkins and Thunder are the coolest guys you'll ever met and I give them the most respect, so I suppose you would say I look up to them.
bmxultra.com: How about some word associations
Norco: the good guys
Julian Millis: loose
BMXAustralia: owe me money
X-Games: unorganized
Danny Galea: home boy
Kamakazi: out of control
TL: laid back
Wade Bootes: factory
A pros: getting there
Spinal injuries: are gay and over-rated
Doctors: as above
bmxultra.com: dope
Night clubs: Thunder Dan [Galea] Chicks: Khalen
Training: over-rated
Downhill BMX: sick
MTB racing: ummmmmmmmm.
Grant White: ok……COACH
Warwick Stevenson: arrest him
USA BMX: got there s*&t together
UCI BMX: gay
Western Australia: keepin' it real
Tanya Bailey: cool as
Darren Hawkins: chalkys my home boy
bmxultra.com: You must be looking forward to the Worlds after such a good run at the Australian championships this year?….
Khalen: Yeah, sorta…I would have really liked to be more prepared. You really can't get ready for a world titles within 8 weeks. But BMX Australia are paying for me to go so I'll give it a shot.
bmxultra.com: What do you look forward to most about going to Brazil?
Khalen: I wanna go to the beaches and check out the Brazilian women…they are supposed to be pretty good over there…plus I wanna ride the worlds track as well.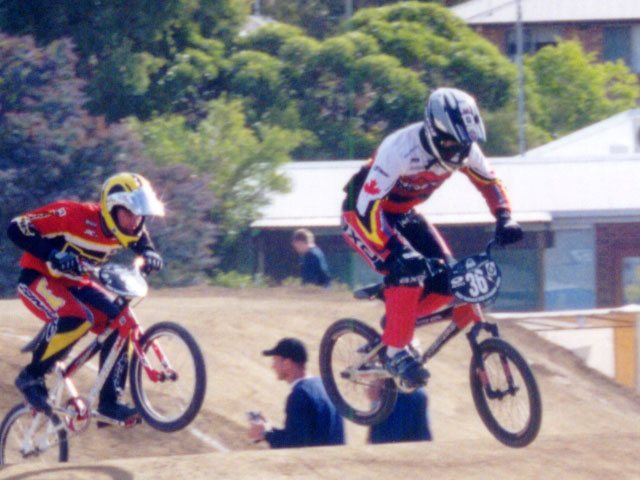 bmxultra.com: What is your best finish at a world championships to date?
Khalen: 8th in Melbourne '98
bmxultra.com: How's your training going?
Khalen: The Thunder Dan program is going pretty sweet…Saturday nights are always a blast with Dan.
bmxultra.com: Is it true you've been on the Sauce recently?
Khalen: There's a lot of speculation about that. I've heard this at the track already…but who you gonna believe…the guy looping out on the first straight coz he's got too much horse power or the guy in second who can't catch him.
bmxultra.com: How permanent is your move to Melbourne?
Khalen: Hopefully when I get back from the worlds I'm going to get a job of some sort and hopefully move into my own place.
bmxultra.com: Have you done many dirt jumping competitions lately?
Khalen: No not lately… there really hasn't been any…unless you wanna go to Beenleigh or ACT. So I think the next comp I will be entering is the dirt jump comp at the Winter X-Games in Sept.
bmxultra.com: Is there anything you want to tell the rest of the Jnr Elite class at the worlds?
Khalen: I would tell them that I teach Steve (the crocodile hunter) how to ride a BMX in exchange for he teaches me how to wrestle with a croc.
bmxultra.com: What would take bigger balls double back flips or downhill bmxing?
Khalen: To do a double flip you need more brains than balls but, to race downhill bmx you need big brass balls…who wants to fall off at 60/70 kms an hour.
After the UCI Worlds…
Khalen: Hey I'm back from the worlds…..got arrested and finished up 5 UCI in the world rankings and 1 Pacific  Oceanic…I hate South America.
bmxultra.com: What did you get arrested for?
Khalen: 'coz Kamakazi, Hawkins, Bootes and I where driving past these hookers on the side of the road and then the cops pulled us up. So we thought they would just come over to the car and talk to us…but instead of that they had 6 machine guns pointed at us. So we put our hands out the window to show them we had nothing…then we had to get out of the car lay on the ground with our hands on our heads, then we got searched…then me Kama and Hawkins had to line up beside the car while they we trying to talk to Wade. But luckily a Brazilian BMXer drove past and explained to the cops that we where from Australia and that we where here for the world titles and stuff…go to wadebootes.com to find out…it's in his
journal page.
bmxultra.com: So you didn't actually get arrested, you were just pulled over?
Khalen: Yeah basically, but arrested sounds better then just being pulled over…getting pulled over sounds pretty gay.
bmxultra.com: What was so bad about south America?
Khalen: South America is just really poor. So I guess I wasn't use to seeing the place so messed up…but the women are hot as …….!
bmxultra.com: Did anyone swap their sister for a bmxultra.com t-shirt?
Khalen: Nah I wish…but me and Kama did alright with the Brazilian women…a lot of people at the track come up to me when I was wearing the shirt and said they check the site out…which was pretty cool.
bmxultra.com: I didn't see any results apart from finals, how did you go at the titles?
Khalen: I qualified 3rd for the day then made it to the semi finals…but before the gate dropped (and i know no one is going to belive this, but ask Grant White and all the others Aussies) a camera crew in a helicopter flew past filming the race and I couldn't hear the start so I ended up 7th in the semi…but because I won the junior elite Pacific Oceanic title in Australia I signed for 5th place in the UCI rankings and got 400 Swiss franks.
bmxultra.com: Did you spend lots of $$$ in Brazil?
Khalen: I took $1000 Aus dollars, but I didn't spend it all…but I went to some clubs and that…and they got this weird system where you go into the club and they give you a card and you tick up all the drinks on the card and then you pay on the way out…which is good in some ways, like you don't have to get your wallet out all the time, but when you go to pay for the card at the end of the night you get a nice hefty bill…and if you lose the card you automaticly pay 200 up front and if you don't have any money they just simply take you to jail.
bmxultra.com: Did you see any new BMX stuff at the worlds that you haven't seen in Aus yet?
Khalen: Yeah saw the new bikes from Sunn, they look pretty good, saw MBK and the taiwan made parts company B-52…they look pretty good and the Intruder bikes look pretty cool too plus the ICB bike from Brazil.
bmxultra.com: Who did you hang out with in Brazil?
Khalen: Hung out with Hawkins, Kama, Wade, Tanya Bailey, Melissa Jollife, Ben Clark, Brian Kirkam and Lee Darrel
bmxultra.com: Did you catch up with Todd Lyons?
Khalen: Nah, I spent most of the time with the Aussie crew and when we went to the clubs I caught up with Todd… on Sunday night me and Hawkins partied pretty good…I think we did our bit for Australia..
bmxultra.com: Were you tempted to pull a back flip at the worlds?
Khalen: I did do a backflip at the worlds…after the team race I was that pissed off that I took off my shirt and put on the Aussie cape and backfliped the doubles on the second straight…no lie (ask the Aussie team)
bmxultra.com: How come we never heard about just that TL did one?
Khalen: Hey I don't know why you didn't hear 'bout my flip…my flip was on the Brazilian ESPN promotional ad…so that was pretty cool…but I'm keen to get back to the gym and give racing 100% this year.
Where to from here…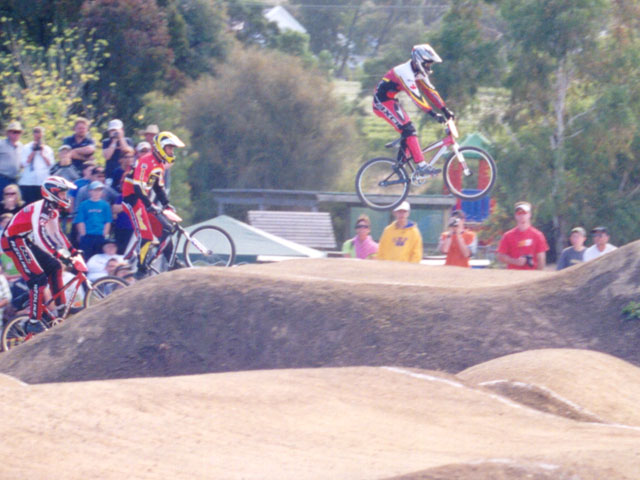 bmxultra.com: Where are you going from here?
Khalen: Back to the drawing board. I'm really going to concentrate on racing in the next year, coz I wanna go really good at the worlds next year which are held in Perth.
bmxultra.com: What's your next race?
Khalen: The 4 x mountain bike race is in two weeks in Trafalgar (Victoria) so I'm pretty psyched about that.
bmxultra.com: The Winter X games can't be too far away?
Khalen: The winter X-Games are at the start of September. So that should be a good race…but I'm going in the mountain bike super x and the big air comp.
bmxultra.com: Have you started training for next years Aussies/worlds yet?
Khalen: Nah not yet. I've asked Luke to do a program to suit my lifestyle and he said he'll hook that up from me.
bmxultra.com: What races will hitting over the coming months?
Khalen: Pretty much what's on the Victorian race calendar, plus I wanna do the South Australian races at the end of Sept/start of Oct plus the X-Games and the TV races (DK national series). I wanna go home for Christmas and then fly back for the Nerang races and come back down for the Track Attack then race the ACT titles and then that takes us to the Nationals in SA…but I think I can jam a few mountain bike races in there.
bmxultra.com: Are you going to do the Victorian state championships?
Khalen: Yeah I will be definitely be going to that.
After the 4X MTB race…
bmxultra.com: What have you been up to?
Khalen: Raced on Sunday at the biker-x track in Trafalgar…I raced A grade with Thunder, Jules and Carl and 18 other riders…super fast track…way better than BMX. Jules got knocked out in the quarters and Thunder won the first semi with me qualifing behind him for 2nd. Carl Wilson went on to win his semi putting Thunder, Carl, me and some other guy in the final. I got the outside lane and Thunder and Carl got the insides. But I got a good start and won the race from start to finish…I was clocked on the radar at 73kms an hour which is haulin ass.
so the podium finish was
1st khalen
2nd thunder
3rd carl
and we are all on the Thunder Dan program…so what does that say…I got 200 Thunder got 150 and Carl got 100. pretty sweet!
bmxultra.com: How were the mountain bikers? Were they annoyed with all the BMXers taking their prizes?
Khalen: Most of them where cool there was some idiots but you're gonna get that…who cares…i raced in shorts and a Norco jersey with cut off sleeves…and I practiced in my bmxultra.com t-shirt, so that was cool and like before [at the worlds]…some people notice the t-shirt…I was in the Norco tent and 'bout 4 guys said they logged on on a regular basis.
bmxultra.com: Tell us about your tattoos
Khalen: I just got a tattoo on my neck ..it says "bad" in chinese pretty cool
bmxultra.com: How many do you have now?
Khalen: 6 now. 1 on my back, 1 on my neck and 4 on my arms.
The Aussie titles…
bmxultra.com: Cast your mind back to 2001 Aussies, you made the main, did you think you had a chance to win?
Khalen: Umm…not really. I was hoping I was gonna win but I really wasn't fit enough.
bmxultra.com: What caused you to crash in the first corner?
Khalen: I just got smashed in the middle of the pack.
bmxultra.com: Were you eyeing off the big doubles to pull a backflip or were you just going to see what happened?
Khalen: I was talking with my dad about backflipping the doubles…I knew I could do it but we both said just focus on the race then see what happens…so when I crashed I rode to the doubles and looked at dad…then I knew I was gonna go for it.
bmxultra.com: I must say I've been to 16 or so Aussies over the past 20 plus years and I have seen nothing like that before. The crowd was totally focused on you there was a deadly silence then a huge roar, they went totally off…how did that feel?
Khalen: It was pretty crazy..and when I rode down the back straight the whole West Aust. crew was going nuts…I  thought that was pretty cool.
bmxultra.com: What happened after that?
Khalen: Umm, I think I got a bit more respect from the pros..coz I've never spoken to Hawkins before that and once I did that he was like "hey dude that was cool" plus I met Julian for the first time and he was like.. yeah "we gotta hook you up with some sponsorship". So that was pretty cool too.
bmxultra.com: What happened between the 2001 and 2002 Aussies? I mean you went from being a finalist, to absolutely destroying the field.
Khalen: I didn't really do a full years training this year, I just rode trails and skate parks all the time…did a little gym work as well. I put on 15 kgs in the last year. I went from 65kg at Happy Valley to 80kg at Hobart. So I think I had a bit more horse[power] than last year
bmxultra.com: What was it like to double this year?
Khalen: Pretty good. When I was doing starts during the week in Hobart and seeing how good I was going down the first straight, i was telling Julian that I had a chance of getting a podium this year ..and he was like "Dude…you could win" so with him giving me 110% it made me try a bit harder.
bmxultra.com: Why do you think you didn't get as much publicity as Luke?
Khalen: Because he won 19+ and I only won 17/18 class. Senior elite is the top of the game, so if you do win the class of course you are gonna pretty major publicity. Just like if I win 19+ next I would get just as much coverage as any pro that has won 19+ before. Plus in the lastest BMXpress I have a 3 page interview and my signature bike just got lauched in Australia last week, so I got a bit of publicity.
bmxultra.com: Does it urge you to try harder and make an even bigger impression next year?
Khalen: Yeah, for sure, I wanna do good but it's a long road to win 19+ on your first year. The only person to do it is Luke Madill.
The signature frame…
bmxultra.com: How's the signature frame going?
Khalen: Yeah…pretty sweet. Jules and Norco have done a good job on the finished product and it rides like a dream.
bmxultra.com: Do you think you'll have a signature race bike any time in the future?
Khalen: Nah, that's Luke's department and he doing a great job at selling those things too
Some general chit chat…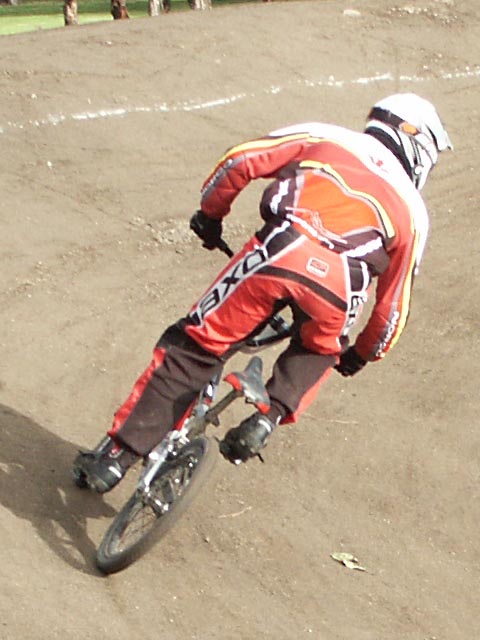 bmxultra.com: Any plans to race in the US…maybe do a US summer tour with Luke next year?
Khalen: Yeah I've been thinking of going over there but I wanna be a lot faster than I am.
bmxultra.com: How are you plans so far staying on the East coast of Aus? Found a job yet?
Khalen: Nah still no job, but I have to get one soon otherwise I might have to move back to West Aust. My girlfriend wants me to come home but I wanna stick it out over here for a little while and see how things pan out.
bmxultra.com: You're enjoying the Mountain bike racing?
Khalen: Yeah the mountain bike racing is unreal…so fast and a lot more fun than BMX. I've never owned a mountain bike until Jules gave me one to race on…so last week at Trafalgar was my first mountain bike race.
bmxultra.com: Do you plan to spend much time on the MTB between now and the X-games?
Khalen: I'll try but I've got to run spikes in my tyres to race at the snow. So I think that would take time getting use to. I'll give the snow my best shot and see where I end up…Luke won it 2 years back so I can't let Luke take all the glory.
bmxultra.com: Do you think Thunder Dan is really going to give BMX away after this year?
Khalen: Yeah I think he will after this year…he wants to do track and MTB racing next year.
Music and the internet…
bmxultra.com: What music do you listen to?
Khalen: Drowning Pool.(rip Dave Williams) Soul Fly, Sepultra, the old Metallica and the Dead Things…the singer goes off
bmxultra.com: Old Metallica? You mean pre enter sandman?
Khalen: Yeah, I like the old albums…like Kill 'em All and Ride The Lightning and Master of Puppets and even the early EPs like Garage Days were good as well.
bmxultra.com: I think I know the answer to this question, but I have to ask what you think of Neil Young?
Khalen: I think all of his work was crap until Rockin' In The Free World.
bmxultra.com: What websites do you check out?
Khalen: bmxultra.com, bmxmania.com, lukemadill.com and tonyhrv.com,
bmxultra.com: What do you look for in a website?
Khalen: Updates, and race reports…something that always keeps me up to date with the races around the place.
bmxultra.com: What would make you keep going back to a particular site?
Khalen: Regular updates and new pics.
bmxultra.com: Do you check out the old school BMX websites?
Khalen: I have done before but not lately..
bmxultra.com: I hear a rumour that you'll have a website soon?
Khalen: Yeah, my dad is working on for me …it should be going in 1/2 months so it will be pretty cool.
BMX tracks…
bmxultra.com: What do you think of Victorian tracks? How do they compare to other tracks around Australia?
Khalen: I've been to a few tracks in Melbourne and they are pretty good. I like Frankston and Knox. South Easten and Eastfield are cool tracks too… but I would have to say that Western Australia and New South Wales would have the best tracks in Australia at the moment.
bmxultra.com: You like Eastfield? The first two straights on that track are weird…unless they have done more work to it since I was last there…
Khalen: Ahhh…they've done a bit of work on it…I think. The jumps are huge, but no problems, you just got to haul ass down the first straight.
bmxultra.com: What's your favourite all time track?
Khalen: I really liked the worlds track this year in Brazil, but my all time favorite track would be Cockburn in Western Australia…Scott and Mark Taylor designed the track and it's crazy. It has the biggest jumps on the track. And it's super fast.
After the X-Games (Khalen had a huge crash injuring his back)…
bmxultra.com: How's your back?
Khalen: It's pretty sore. I might have to have surgury…I don't really know yet.
bmxultra.com: What happened at the X-Games?
Khalen: I got a good start and was leading the race, and the last jump was off angle to the track so I stopped pedaling to line it up and this guy came around the outside and hit me in mid air and I fell 60ft to flat bottom and killed my back.
bmxultra.com: How long do you think you'll be off your bike for?
Khalen: The doctor says 3/4 months but hopefully I can be back for the Cash Dash or the State Titles
Podcast: Play in new window | Download
Posted in: Interviews