We did an interview with Tanya Bailey over 5 years ago now. It's funny reading it and seeing how much things have changed since then. Kuwahara, the manufacturer of her first bike was reborn, the pro women's field has grown and developed dramatically. There is a national series which doubles as an international ranking series. BMX racing is now an Olympic sport, and Tanya was working in an office girl in WA. My how things have changed.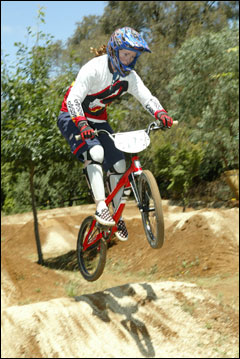 bmxultra.com: Firstly congratulations on regaining the Australian Elite Women's crown. How did it feel to win it again in 2007?
Tanya: It was so good to get it back again after the last few years, I know people say it's just another race but it's always been a sentimental one for me. It was also the third major goal that I have achieved for this season so it's a good indication that I'm on track but I know I still have a lot of work to do.
bmxultra.com: How many elite women's wins is that now?
Tanya: I think its 4 2001, 2002, 2003, this year
bmxultra.com: Do you run the #1?
Tanya: No, I'm still runnin 17.
bmxultra.com: You and Luke Madill both run the same number?
Tanya: I had it before I knew he had it…I actually wanted 15 at the time but it was taken and 7 was my dad's speedway number so I settled with 17. I was actually thinking of changing to 77 when I applied for my permanent career number but then I'd be the same as Afro Bob anyway.
Preparing for the Olympics
bmxultra.com: What drove you to move to NSW?
Tanya: I decided to give BMX 100% for the next two years, which meant making BMX my biggest commitment, putting myself in the best training environment possible and being closer to the races in the busy 07 calendar.  I initially wanted to move to QLD however I chose Sydney which definitely paid off.  As it turns out I recently made the move to QLD after all.
bmxultra.com: Do you think you will move back to Western Australia when you are done with the 2 year plan?
Tanya: Tanya: Not sure at this stage, most likely.
bmxultra.com: Are you working? 
Tanya: Not at the moment, I'm in the States until October so I'll be looking for something when I get back to Queensland.
bmxultra.com: That must be a difficult adjustment, going from working a full time job and earning money to racing full time.  Especially when you have done it for a while now. What have you had to surrender to chase your Olympic dream?
Tanya: My house deposit
bmxultra.com: How much has your training routine and diet changed? 
Tanya: My training routine is more structured and consistent now, and it has helped not having to work around a full time job so I really admire the guys who do continue to work full time and remain competitive in elite racing.  I guess the biggest change though would be not doing it alone.  As far as diet goes it hasn't changed a whole lot but I make sure to get the recovery shake down after a big session and have the right mix of carbs, fat and protein, with enough fruit and veg in there as well.
bmxultra.com: Do you try to steer away from things that might be detrimental to your training, like chocolate or ice cream?
Tanya: Yeah but I crack every now and then.
bmxultra.com: You are jumping a whole lot more now, and bigger too, what has brought that on?
Tanya: Necessity, wanting to win, more speed, trails, skate park and encouragement from the guys.
bmxultra.com: Are you enjoying the racing more, getting more of a buzz from it because you are jumping the bigger jumps?
Tanya: Definitely enjoying racing and training more, I still have room for improvement with jumping though so I will continue to work on that.
bmxultra.com: There was a time there you did the trip to the US with some success, but shortly after that you vanished off the radar for a while. Were you riding much during that time?
Tanya: I was always racing while I was in Perth however I had some injuries, disappointments and work commitments and as a result my focus shifted a little.  At one stage I was traveling in Europe and considered staying there but I couldn't handle being off the bike so I came home to get serious about training.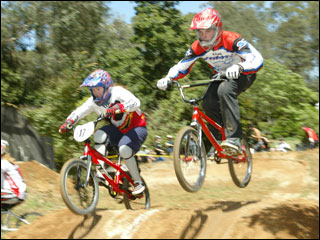 bmxultra.com: What do you enjoy most about traveling?
Tanya: I love seeing new places and learning about the history and culture of the area although in the next year I'm just gonna be there to race, I'm not too worried about sightseeing. The great thing about traveling with BMX is you always have a group of friends with you to share everything with.
bmxultra.com: What's the worst thing about traveling?
Tanya: Dodgy food, jet lag and a limited wardrobe.
bmxultra.com: If you had a choice of holiday destinations, anywhere in the world, where would it be?
Tanya: It depends who I'd be holidaying with but I want to see the South of Europe the most.
bmxultra.com: If you had the choice to race, or ride your bike anywhere in the world where would it be?
The Olympics
bmxultra.com: Did it help to take a break?
Tanya: Yes and no.  I was at a crossroads and a little down at the time but I needed that to make me realise what my goals really are and the only thing stopping me from achieving them was the lack of belief in myself.  On the other hand I gained a few unwanted kgs and lost some fitness so it made the return to form a bit slower.
bmxultra.com: How would you consider your form right now? Best it's ever been? Or do you think you still have a way to go yet?
Tanya: Physically I'm getting close to my best but technically on the track I'm a lot better now.
bmxultra.com: How do you keep motivated since you have been racing for more than 20
years now?
Tanya: It has been tough at times but in the last year it has never been easier to stay motivated.  Having a big long-term goal in the picture and achieving the short-term goals along the way and always improving on the bike is doing the trick at the moment.
bmxultra.com: Do you think you will get to many international races between now and
the Olympics?
Tanya: I've raced South Park (NBL) and Las Vegas (ABA) here in the States then I have the Worlds, the NBL Grands and the Beijing and France Supercross races. I'll really looking forward to the experience.
bmxultra.com: Do you keep track with the girls racing in the US and Europe?
Tanya: Yeah I like to see how everyone's going, mostly just checking out results on the net and talking to a few people.
bmxultra.com: You are the top ranked Australian rider in the elite women's class for the UCI Pacific Oceania region for 2007. We all know selection for national and Olympic teams are tough and will only get tougher. Do you expect that the UCI ranking will be as important as say World Championship or Supercross event results?
Tanya: I think UCI ranking has more influence on the World Champs team however to get selection for the HP Team and ultimately the Olympic Team you need to prove you can handle yourself at the big races.
bmxultra.com: What would competing for Australia at the Olympics mean to you?
Tanya: It would be the realisation of a dream.  I am a very patriotic Australian and can't imagine how good it must feel to walk out into that opening ceremony.
bmxultra.com: What would winning an Olympic medal mean to you?
Tanya: It would mean having something to show for all the hard work, warranting all the support I have received and achieving my goal.
bmxultra.com: How does being a full time BMXer affect your personal life?
Tanya: Obviously it doesn't pay as well as other jobs and the social life is pretty quiet but it's good to have such a big goal to focus on and work towards and I think the sacrifices will be worth it in the end.
BSX2007
bmxultra.com: You and Ziggy Callan hit up the BSX this year, what was it that made you want to check it out?
Tanya: After seeing reports on it on your site and in the mags I have always wanted to have a look.  I didn't actually decide to race until halfway through practice as I was pretty tired and sore from the previous two days racing but I wanted to check the track out and the commentator kept paying out on me for being slack haha.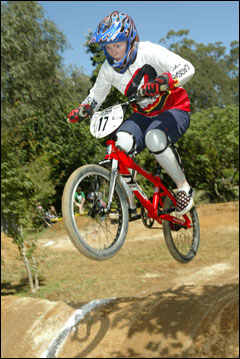 bmxultra.com: What did you think of the track?
Tanya: Tight.  I found the turns pretty challenging and unfortunately with the track being soft from the rain I wasn't jumping the first straight from the gate but it was a lot of fun and it would be very handy having a track like that to train on regularly.
bmxultra.com: Did you like the racing format?
Tanya: Yeah it was cool I guess the knock out rounds are the only way you can run a two man race although the way Stumpy ran his was cool, the riders had a heat from each lane and if they won one each it went on times.
bmxultra.com: I'm sorry there weren't more girls there, I would have loved to have had some more competition there for you to have more fun, but it looked like you enjoyed it racing/riding with the men anyway. Would you do it again?
Tanya: Definitely and I urge the other girls to make the trip out to Kinglake too, it's a very fun break from the norm.
General chat
bmxultra.com: One, ok maybe up to three, words to describe the following:
Melissa Mankowski – Loud
Nicole Callisto  –  Her farts are as good as her laugh (eight words OK?)
Caroline Buchanan – Found form young
Ziggy Callan –Hard to pass
Sarah Walker –UCI Leader
Rachael Sheridan – Accomplished
Natarsha Williams –Very pregnant
Lisa Horlor – Little Gem
Kylie Patroni – Best Bud
Krystal Cranfield – Pocket Rocket
bmxultra.com: Let's say you achieve your goal, make the Olympic team and win a medal, you will be 27 years old, would that be it as far as BMX for you? Or would you want to take it further?
Tanya: That's hard to say at this point, I'm not ready to consider retiring yet.
bmxultra.com: Do you think you will be involved in BMX in any way once you hang the bike up?
Tanya: I will never hang the bike up although post racing I'd like to get involved in the coaching side of things again.
bmxultra.com: Are you sentimental? Do you have trophies and a collection of old school stuff that you keep carting around with you?
Tanya: I have all my state, national and world trophies, no open days, and I have some old school stuff.  It's all in a chest at Mum and Dad's.
bmxultra.com: Who are your current sponsors?
Tanya: Cassap/Standish, Intense, ECI, Bombshell, THE
bmxultra.com: Is there anybody you would like to thank?
Tanya: My family, my coaches (past and present), my sponsors, Scott and Shauna Sharples for sharing their home, the Clavells, my friends, Kayeseh, The DBC, The Beez.
Posted in: Interviews