Clayborn with Richard Bunt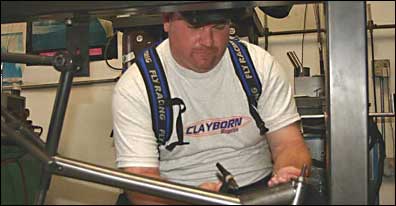 bmxultra.com: It's been 5 years since we last spoke to you. A lot has happened in that time. Travis Turesson rode Clayborn at the X-Games BMX downhill. Barry Nobles won the 17 & Over expert class at the UCI world championships in Perth in 2003, he also went on through the A pro ranks and nearly caused a big upset in the elite class at the 2006 NBL Grands missing the win in the main by inches. Through those years the Clayborn brand seems to have faded into the background a little, was that because of the limited production levels you spoke about in our last interview?
Richard: Yeah, that along with burn out and just plain old work getting in to the way. We have been around for over 15 years and I will never close Clayborn down, but I was doing everything and needed to back away.
bmxultra.com: How are Clayborn products any different to those from other manufacturers?
Richard: As most say, a frame is a frame, but the Clayborn frame is unique with the mini down tube, more then just our trade mark front end, it severs a purpose. That little tube absorbs a lot of the shock and stress if a rider cases. But other then that, it is a 100% made in the USA race frame.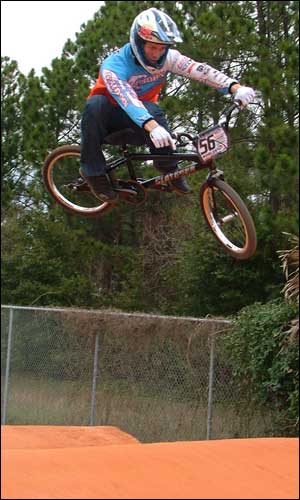 bmxultra.com: What is new for Clayborn?
Richard: A lot, with Barry working hard in AA, the near upset is just the start, and the fact he is working with me at Clayborn more closely, we are doing more and planning a lot more. Stu Harrison has also been a great help is marketing and design work, plus he is one heck of a number plate maker, HRP Deigns. Bill Madden has been helping in the production area, which is a big help, as well as bike design. Plus, the team is just great to work with, Dayton Diorio and Dariann Diorio are the young guns on the team, Thomas Harper is heading up the Vet Pro efforts, as well as Barry Nobles doing it in AA Pro. We have picked up Team Moto Filler to sponsor this season, along with Kovachi Wheels. There is just so much going on here with the Clayborn Crew, it is very exciting.
bmxultra.com: What Clayborn products are available these days?
Richard: Frames are changed up some, in fact, I had to take a break from the interview to go unload the FedEx truck with even more frames. We plan to do bars and stems later in the season again, maybe even add a seat post this year. We have added a mini to our line up that is rocking and changed the cruisers some what to make them red hot on the track.
bmxultra.com: Did you go into production with the cromo frames?
Richard: Yes and no, but expect to see something more on this later this year.
bmxultra.com: Did you play with titanium?
Richard: Some what, but we will see if there is a market for it. Litespeed is one of the best at making ti frames and they are located 2 hours north from me, so I am thinking of seeing if they can help in that area.
bmxultra.com: What countries are Clayborn available in now?
Richard: Worldwide, you can get them through J&R Bicycles, Kovachi Wheels, Team Moto Filler, and a soon to be announced deal very close to where you are [Australia], plus any local bike shop that wants to carry them can contact me. We are working with a few other bike shops in the US who is wanting to carry them, but if you can not locate them, email me, I will make sure you get your hands on one.
bmxultra.com: How many frame sizes are available?
Richard: Pro XL, Pro, Expert, Junior, Mini in the twenty inch sizes. In cruisers we have the Pro XL, Expert and Junior, be looking for a Pro cruiser. All these are aluminum and come in either, High Gloss White or High Gloss Black.
bmxultra.com: What are your plans for the future of Clayborn?
Richard: Not sure where to begin, I have recently gotten married and my wife is awesome, she is so supportive of the Clayborn effort, it has charged me up to go and do what we can, but with in our means. Keeping the steady flow of product on hand is the key, number 1 thing I am working on. We have the best welder out there and that is a great help. We look to expand the product line and get even more product across the world. Keep on doing what I originally wanted to do is now in the plans for Clayborn. Keep your eyes peeled and there will be more to come, even test done on the product by the best BMX web site Down Under, bmxultra.com!!
For more information about Clayborn visit www.claybornbmx.com.
Interview by Shane Jenkins July 2007
Posted in: Interviews