In Australia Michael Fenwick needs no introduction. The 2004 Junior Elite world champion is ready to make a big splash on the international racing scene. We caught up with him briefly while he was preparing for the Round 2 of the 2008 UCI Supercross World cup series and the 2008 Australian BMX championships, both in his hometown of Adelaide in South Australia.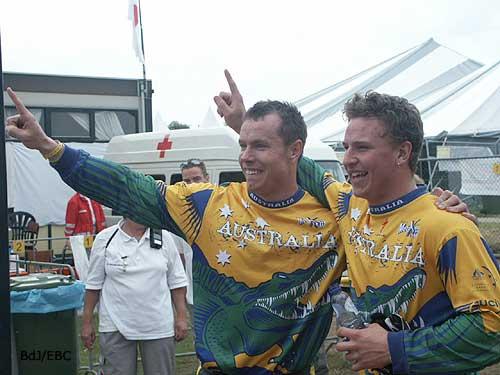 bmxultra.com: What are your current goals?
Mike: My goal at the moment is to make the Olympics. I was in America last month getting my head together, training and working on my program in preparation for the Supercross & Nationals in Adelaide. I hope to do well at both events and get a look in at selection for Beijing.
bmxultra.com: Now that you know what the selection criteria is for the Olympics and the Olympic team do you think that you could make it in on your reputation so far? Or will it take more than that?
Mike: It's going to take more than my rep for me to get to the Olympics. I know I can perform at big races when the pressure is on and I have experience under my belt but I need to get results now to earn myself a chance at selection.
bmxultra.com: What would an Olympics berth mean to you?
Mike: I think to be an Olympian would be a fantastic experience. It's a hard question because the Olympics is all new to BMX and I've grown up with a World Championship in my sights. Now with the Olympics insight it gives all us racers a new dream and it's certainly my main goal right now!
bmxultra.com: You hear of a bunch of guys that are going to keep racing until the Olympics then give it away. What do you think that will do to racing in general? Have you ever thought of giving it up and doing something different?
Mike: I think it will be really sad to see some of our current pro's prematurely leave the sport. I've spoke with a few of the guys about this too and I can't speak for all of them but a majority just aren't having fun anymore. It's disappointing for the sport but I think the racing side of things will keep growing. I'd be lying if I said the thought of giving up BMX hadn't crossed my mind but I'm not ready to give up, I'm still having fun racing and I'm still hungry for championships!
bmxultra.com: How come we haven't seen you race at a UCI Supercross event yet?
Mike: I really don't think my preparation has been right up until now. I want to go to a Supercross event and feel ready to power down that start hill and hit those jumps flat out. I've been training for the Supercross and I think I could ride the track no problems. Adelaide SX is going to be my test to see if I have what it takes to hang with the best.
bmxultra.com: Do you plan to any time in the future?
Mike: Adelaide Supercross, Home crowd advantage!
bmxultra.com: Do you think there would be a benefit to have permanent Supercross style tracks in Australia?
Mike: Definitely! It's hard to prepare for Supercross when there isn't any Supercross tracks to practice on…. Unless your name is Luke Madill ha ha!
bmxultra.com: As junior elite world champ in 2004 there was a huge expectation that you would set the Australian and American BMX scene on fire. You have been a bit quiet though lately, what's going on there?
Mike: The last three years I've been up and down like a yo-yo. I'm not one for excuses but I've had some bad luck with injuries that really set me back. In saying that though I have also had some good results with second place in both the 2005 & 06 Nationals. Last year I had a couple of good wins here in America in the Pro Open Class and some top five results in AA. I'm not really happy with where I'm at results and fitness wise and I've just been to the U.S. working on that.
bmxultra.com: What does BMX racing mean to you right now?
Mike: BMX is my life, it means a lot to me. I'm also thinking of my life after BMX. I'm training hard, I'm working pretty much full time, I'm trying to get my own business off the ground in my spare time and I'm juggling day to day stuff. I wouldn't change a thing though, I enjoy working, I enjoy training and I'm really looking forward to what the future holds in both life and BMX.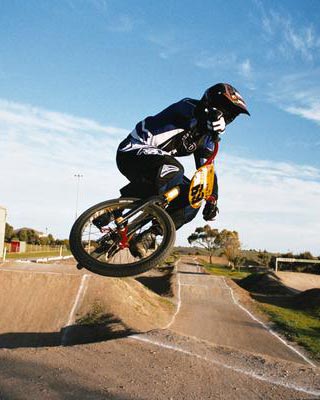 bmxultra.com: What would you say was the most significant change in BMX since you have been racing?
Mike: I think the Olympic style start hill has been the most significant change to the sport and I'm not a huge fan. I like pedaling!
bmxultra.com: What's your take on the random gate?
Mike: I like it. I doesn't really effect me as I was never really one to
Slingshot!
bmxultra.com: You've been racing a long time now, how do you stay motivated?
Mike: I set myself Goals and I keep things new. It's hard to go forward if you're not aiming for something so yeah goals are a big motivator. I also try and change my program up a little bit so I don't feel like I'm doing the same thing day in day out, that helps keep me interested too.
bmxultra.com: When your racing career is over will you keep riding your bike?
Mike: It's probably a bit early to say but I'm sure I will. I enjoy riding my bike but I got some good years left in me yet so ask me in a few years!
bmxultra.com: What do you do for fun?
Mike: I have a couple of classic cars that I'm restoring slowly which has been pretty cool. I still like riding the Motocross bike when I get the chance and I enjoy doing normal things like going out to dinner, going to the movies and just hanging out with my girlfriend Alex.
bmxultra.com: What sort of music do you listen to?
Mike: I'm mostly into House and R&B Music…
bmxultra.com: So no Neil Young yet?
Mike: Neil and I are tight!
bmxultra.com: What's the biggest cultural difference you have noticed living in the US Vs Aus?
Mike: You know the two countries aren't that different. Culturally a majority of Americans are more Religious than Australians and they seem to be a lot more patriotic than Aussies but other than that the cultures are pretty similar.
bmxultra.com: How does Aussie racing compare to US?
Mike: The U.S.A. Riders are a little faster around the track. Australians are fast, especially in a straight line but the U.S. guys don't back off. I think Aussie racing is very comparable to U.S. racing but I think it's the Euro's that have really raised the bar!
bmxultra.com: Do you prefer ABA or NBL? and why?
Mike: They both have their Pro's and Con's but to me they are very similar….no preference!
bmxultra.com: Do you have any words of wisdom for anyone looking to follow in your footsteps as a globe trotting BMXer?
Mike: Have fun and see where the sport takes you. If you get the chance to travel, do it because they will be the best and most memorable times of your life!
bmxultra.com: Who are your current sponsors?
Mike: Avanti Bicycles (ABD), JTcycles, FOX, Elite Cycle Imports, S&M, FUNN, Sun Ringle, Sinz, THE, Specialized, South Bound Gym, Freak Industries Boss Racing Differentials.
bmxultra.com: Is there anyone you would like to take the opportunity to thank?
Mike: I would like to thank my parents, they are amazing and they have given me opportunities I only dreamt of. I would like to give a big thanks to my long time sponsors Stephen Boyley from Avanti Bicycles and Grant Turner from Elite Cycle Imports… Couldn't do it without you guys. I would like to also thank Sean Dwight for the hard work and belief he has put into me, I'm very grateful of you mate! My lady Alex, thanks for all the support over the past few years and last but not least, everyone who has showed me support and friendship through BMX racing, I owe a lot to you all!
Interviewed by Shane Jenkins 7 April 2008, photos from Mike's myspace page.
Posted in: Interviews