Bullseye Cycle Company with Steven Jackson
I started racing BMX in 1982 and Bullseye were one of those brands that everyone wanted through the 80's and well into the 90's. I have to admit I never have run any Bullseye products myself but spent many hours admiring the products on other people's bikes. The hubs were highly regarded, as were the cranks. In fact I saw some cranks at an old school bike show here in Melbourne a couple of weeks ago and it got me thinking what ever happened to that brand. The result of that is this interview with Steven Jackson of Bullseye.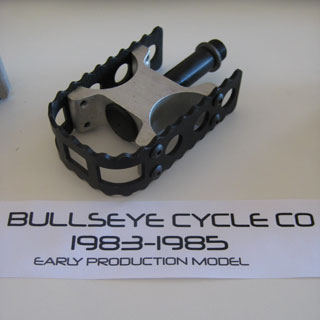 bmxultra.com: How did Bullseye come about and when was it?
Steven: Bullseye Cycle was  started by Roger Durham, motorcycle and Bicycle enthusiast in 1973 shortly after his graduation from Cal. State L.A. His love for product design and production stemmed from his cycling days in the L.A. Wheelman bicycle club in California. He saw there was a need for newer, better designed bicycle parts. Roger was a cycling commuter and a multiple "triple century" rider in the past and saw a demand for superior, innovative cycling products.
bmxultra.com: Can you give us a brief time line from when Bullseye started and where products were added through to today?
Steven:
1972- Durham Bicycle releases the "Durham Elliptical" chain ring.  Innovative Ovalized sprocket designed to improve pedal efficiency. (ie: Bio pace,Etc.)
1973-Bullseye Cycle releases the first sealed bearing aluminum deraillure pulley set.
1973-Bullseye Cycle releases the 2nd ever set of Bicycle hubs to use sealed cartridge bearings, the first ever with interchangeable "hollow" single piece axles.
1974-75 -First prototype 2 piece  chromoly steel TIG welded hollow heat treated cranks are manufactured and tested by Roger himself.
1975-76- Bullseye releases the "hurricane" 2 piece multi-use crank set for public purchase.
77-80- Sealed roller brackets, Bottom brackets, Hubs and pulleys, cranks and chain rings manufactured and released.
1980- Bullseye Sealed bearing BMX pedals released.
1981- Durham Bikes releases The "Landing Gear" folding bicycle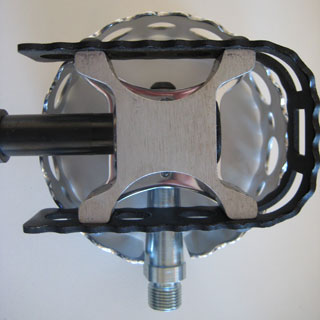 bmxultra.com: The old school BMX revolution has brought older brands like Bullseye back into the limelight it must be flattering? Especially seeing the prices some of the gear sells for.
Steven: Definitely, it never ceases to amaze us at Bullseye. The  the loyalty of our client base is 2nd to none. We have been fortune to have developed a Versatile, simplistic, streamlined, serviceable, functional product line that developed an extreme popular following over the years. We never dreamed it would be perpetual!!
bmxultra.com: At it's peak how many people did Bullseye employ?
Steven: Believe it or not Bullseye Cycle at full tilt employed only a maximum of about 12 people. That was about 1985-87. When the demand for our BMX products overshadowed all of our other styles of products.
bmxultra.com: I read somewhere that Bullseye was 100% hand crafted in the USA, was there ever a consideration to have them made off-shore?
Steven: "If I did- I tried to resist it or reject the idea altogether" Roger says "It was a pride idealism as well as a Infringement issue, thing were going overseas and coming back to the industry with different brand names as the Original." Roger continues"There was blatant  design ideas being exploited and we didn't want to be involved in losing some of our best ideas we worked so hard and passionately on for years ."
bmxultra.com: What was the driving force behind Bullseye?
Steven: Initially the love of cycling and the call for
Innovation and the need for improvement on existing products. Plus we needed a viable income as well!!
bmxultra.com: What set Bullseye apart from other brands?
Steven: Better design, Original ideas. innovative "ahead of its time" philosophy and approach to building cycling products. Functionality,serviceability,low-maintenance, efficiency all played an important role in the design as well.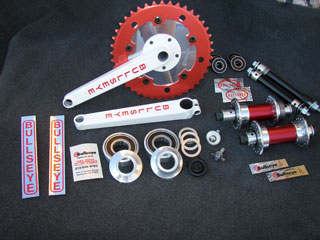 bmxultra.com: How do you fit into the scheme of things at Bullseye?
Steven: I worked for Bullseye for years as an account manager in sales & distribution. Presently I'm the driving force behind the new resurgence/reincarnation of Bullseye Cycle. I'm the lone bloke heading up the design and manufacturing side & new product development. I wear many hats!  I also handle worldwide distribution of all the "Old Stock" items we still have in stock. My biggest challenge lately is attempting to "cross-pollinate" the older designs with the newer modern sophisticated designs needed to compete in today's cycling industry.
bmxultra.com: What is your cycling background?
Steven: Well let's see,according to my parents I started riding a bike before I walked or talked! I Raced BMX religiously throughout the US from 6 years-17 years. I grew up riding BMX everyday of my life, Halfpipes, Skateparks, Lake jumping and of course Track riding/racing. I also managed a bicycle store for about 10 years, Bicycle Harbor in Scottsdale Arizona. Yes we carried all Bullseye stuff!! We had a line of ultra light frames in the 80's called "Harbor lites" Race specific frame and forks. I have cross-trained with mountain bikes for years.
The 2-piece cranks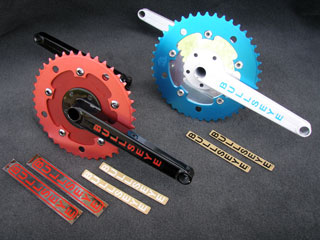 bmxultra.com: The Bullseye cranks were a 2 piece cro-mo design, what can you tell us about the design?
Steven: We set out to make a rock solid, light weight innovative crank set that didn't flex and was lighter than anything else on the market. Roger wanted them to be stronger and stiffer than any alloy crank set out at the time. We knew that to make a crank out of 4130 heat treated thin walled chromo we couldn't lose. We used a splined spindle and a pinch bolt to secure the non-drive side arm to the set. The cranks were way ahead of their time and ended up being the most copied design out of our entire line of products over the years. Every single manufacturer copied our design in one form or another over the last 20 years. We held 2 patents on the design but they were only good for 17 years at the time of inception. Were flattered and it only solidifies the fact that they were an awesome product design. There are crank designs out in 2008 that use our design ideas. It's funny how things come full circle with cycling. It's an art and a science designing functional bicycle components, and were amazed at some of the new stuff out there. It's exciting for us still.
bmxultra.com: When were they first put into production?
Steven: The actual first run date is debatable, even with us at Bullseye! There were so many early designs and prototypes we lost track. We put a estimated first run of the original side bolt 2 piece box crank design that was available to the public  at 1978.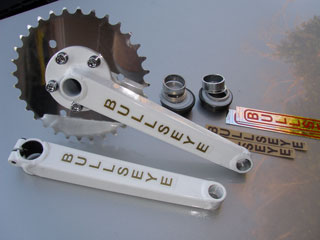 bmxultra.com: It seems that 2 piece cranks have only just taken off over the past 2 to 3 years and people see the design as innovative. Why did it take so long for them to catch on?
Steven: We feel that most companies usually tend to follow market trends and tend use what works and or what sells at the time.(a little late in this instance!)  in the case of our crank design, even though our design concept is quite old. it happens to work extremely  well. especially with the  modern day machining advances in place. Remember we used hand made jigs, welded them by hand and had no modern computers or machines to assist in the manufacturing at all. the design was cool. it combined strength, rigidity,and light weight in a strong platform that was simplistic and functional at the same time.
bmxultra.com: Do you think that outboard bearings would make much difference?
Steven: For certain applications yes, I think for BMX there would have to be either specific designed outboard bearings or frame design changes to accommodate things like chain line and chain stay clearance. at least with our crank design.
bmxultra.com: The Bullseye cranks are so popular would you consider making them again?
Steven: Yes, its one of the latest projects we have "on the drawing board". We are trying to design a crank set based off our original models utilizing all the design concepts that made our cranks effective but at the same time bringing them up to date with modern sophistication and refinement so they can be used on today's BMX and Mountain bike applications.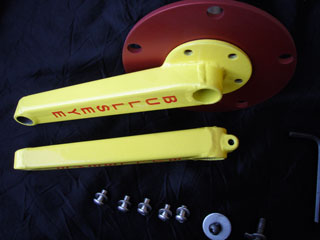 bmxultra.com: Will the spider be designed for the 4 bolt chainrings most common on 2 piece cranks?
Steven: Yes most definitely. It was our first initial design change we had in mind immediately when planning the crank design. We have a few prototypes were scrutinizing over right now trying to find the right Hybrid mix of modern technology and light weight performance.
bmxultra.com: What lengths were they available in?
Steven: 155,165,172,178,184,190,196,202 and 208mm (whoa that's long!)
bmxultra.com: I'm 6'2″ tall and use 185mm cranks, what kind of person would use 202mm or even 208mm cranks? There's bound to be some pedal drag!
Steven: That's funny, my thoughts exactly! Remember the cranks were originally designed for Roadies and long cranks were hot!! (Sarcasm undoubtedly) That's probably why I have about 100 sets still left over!
bmxultra.com: The one single complain about the bullseye cranks was about the bolts for the non-standard chainring spider (or adapter) plate other than that people love the things and often talk about how they have used the same cranks for over a decade. Will you be addressing the changes in the industry and go for more standard set up like metric bolts?
Steven: That's right that has always been a concern for riders. It is another roadie trait; the TA bolt pattern on the adapter plate was taken from TA Cyclotourist- a French company that made cranks, chain rings, etc back then. Roger was always a fan and decided to utilize the plate design bolt pattern. He then made his own Spiders and Adapter disc to accommodate standard chain rings, sprockets.  It is probably the underlying reason the 1st generation "side bolt" drive side cranks have always been more sought after in recent years. Yes, we are definitely addressing the modern industry standards and plan on applying them to our new design. We're doing that "re-engineering" on almost all of our new products.
The Hubs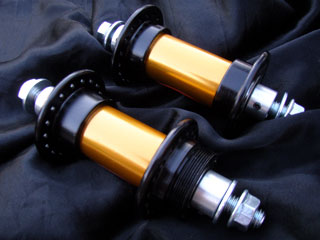 bmxultra.com: The Bullseye hubs were a simple design, yet they were some of the most popular hubs in BMX racing at one point, what's you take on that?
Steven: They were fast! light, strong  + serviceable quite easily. We think they prevailed primarily in BMX because they were built tougher than most others at the time. The durability of the hubs were tested every moto every weekend! The abusive nature of BMX and MTB riding tested the reliability of the hubs alone.
bmxultra.com: What freewheels would you recommend to use with Bullseye hubs?
Steven: We like the white industries the best! They make a stellar product. We support there efforts tremendously.
bmxultra.com: Why did you use allen bolts rather than standard nuts?
Steven: Weight and design functionality.
bmxultra.com: What was the advantage?
Steven: We found it was much lighter and stronger if we used a hollow threaded chromoly axle setup. we also though it was aesthetically more streamlined in appearance and found we could use a bunch of different specific axle materials and formats to use in all different types of bicycles.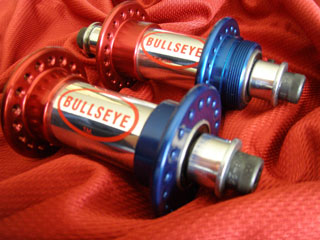 bmxultra.com: What's you take on cassette hubs?
Steven: It was an industry changing design that we originally never gave much thought to. we wanted to stick to our guns and remain freewheel based. with the advent of many multiple gears on mtn and road our design took a back seat to other brands that would allow more space for more gears. BMX wise we remained pretty solid over the years. We still see freewheel setups running strong at national events! it makes us smile. sure much of the way kids gear their bikes have changed significantly as well. (using smaller rear cogs)looking back we could have followed suit with others and I'm sure it cost us financially not to produce a cassette style version of our hubs, but were old school. a bit stubborn as far as being influenced by other designs or market trends.
bmxultra.com: If you could choose cassette or freewheel which would you choose?
Steven: I'm biased towards freewheels, i think they are stronger more durable and less prone to failure. that's just my opinion and its obviously bullseye-biased.
bmxultra.com: Would the hubs fit in new age frames? If nothing else has changed since the hubs were originally designed drop outs have certainly got a lot thicker.
Steven: Yes that's the beauty of our hubs, the versatility of the design. The hub accommodates many different axle variations. The hollow 12mm, Chromoly steel axle uses 3/8-24 Large, strong, allen bolts and are about 1 1/2″ long to accommodate different drop out widths with out sacrificing strength.
Pedals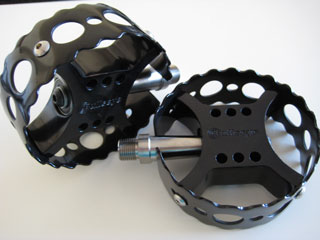 bmxultra.com: You made some pretty distinctive looking pedals in the early 80's but they didn't last long in the market what happened there?
Steven: They were cool, we thought a little too conventional.We didn't get much of a response at the time and didn't really see a reason at the time to pursue marketing them. We didn't feel they were a viable commodity back then and wanted to focus on our hubs and cranks. Not to mention they were time consuming and costly to produce by hand.
bmxultra.com: It seemed that after that a lot of other pedals started to look a lot like the Bullseye pedals, do you find it flattering that people would copy your designs?
Steven: We always believe that "imitation is the ultimate form of flattery" i respect and appreciate other attempts and designs in the pedal field. Roger believes "design is art and is sometimes influenced by other works in one form or another" its really kinda cool being such  an influential company in the cycling industry over the years, i cant think of that many and its an honor.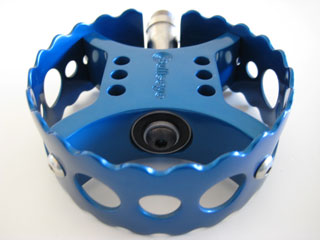 bmxultra.com: I see you have produced some new round cage pedals that look a little like the hutch bear trap pedals, but not anywhere near as aggressive. Were they designed for the flat pedal racer in mind, or are they more for the recreational rider?
Steven: We had an early design from 1985-86 that never came to fruition. a round design. we modernized the design and ran with it. we think its cool. We took design cues from our early pedals and tweaked them. Crupi-esque not Hutch by any means. They were designed for both racer/rider. i know the first release had the "wave"design smoother cages, but we also have a real shoe-ripper cage as an option that's finished now and ready to ship. we had a few early sets at r&d and found the guys were sharpening the inner of the cage to get more traction. we instantly made an optional "race" cage. it the cage of choice for flat pedal racers we've found.
bmxultra.com: Why would you go and make an 80's designed pedal now when the BMX world is dominated by clipless pedals?
Steven: We did that pedal to appeal to the Vintage BMXers and Retro crowd as well as the flat pedal racers and hardcore downhillers/racers that haven't embraced the clipless era just yet.(some if they haven't already probably never will!) The pedal is a design "influenced" by an older design we had, but rest assured the pedal is a modern carnation of that initial inspiration. It utilizes top-of-the line, state-of-the-art manufacturing processes, has precise tolerances and uses the best metal materials available. It was a costly endeavor as far as CTM was concerned, and we only made a limited number of sets as well. Those factors alone show our dedication to our clients as wedidn't design a mass-production, high return product. It's a pedal you either love or hate, the ones who love 'em will probably get a set. We only made 100 sets and they are pretty much gone. (37 sets were pre-ordered before production).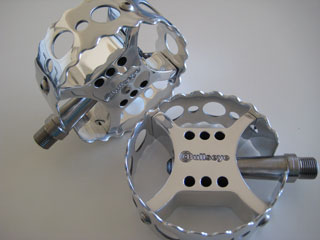 bmxultra.com: I am one of those guys who has never and will never make the move to clipless pedals, for me it just takes the fun out of it, why should I use a Bullseye pedal over a DX platform style pedal?
Steven: Me too! I like to ride loose and free! I'm old school, I still put my foot out in corners low and fast. I'm a Supermotard cycle rider too and it's kinda my M.O. Platform pedals are a dime a dozen! Round cage pedals are only produced by two descent  companies Crupi and Bullseye! We both make a great pedal. Plus our pedals are 10x sharper than any platform. Well Brooklyn Cycle works makes a sick/grippy platform, one of my favorites. Just for the record we are making a kick ass platform due out on a larger scale than the rounds in August if that's what you desire.
So what happened to Bullseye?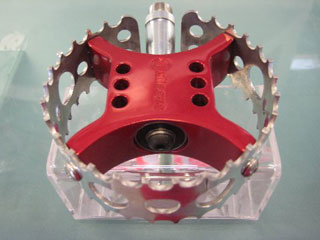 bmxultra.com: From around the early to mid 90's Bullseye product were harder to find, what happened to the company?
Steven: There were a lot of changes in the 90's for us. production was definitely scaled down for a couple of reasons. first off the BMX industry  was taking a beating! many once solid US companies were changing there line ups,trying new ideas,cutting costs trying different things to gain appeal to the new generation of street/parkhardcore kids to stay afloat. a lot of companies had financial woes and even moved production offshore. it sealed the fate of more than one good company. our demand for bullseye was relative to the entire economic state at the time. sales diminished significantly and we thank our loyal customer base that kept us going through those trying times. there were also personal changes and relocating within the company at the time with the founder of bullseye. it was time for a change.
bmxultra.com: Things have been quiet for a long time, did you stop manufacturing?
Steven: Yes and no, we stopped producing new components in 1995 and officially moved out of downtown burbank california in 1996.our goal at the time was to get our founder/leader and still acting president, Roger Durham (71 yrs old at the time) out of the city and move him closer to his only son(stanford durham-acting operations manager) in the low-key high desert community of Yucca Valley California. He had worked many years bringing his unique designs and influential ideas to the cycling industry for so long.he devoted his entire life to cycling and got a much deserved semi-retirement break. we did manage to,prior to the move, stock pile an abundance of excellent bullseye products . influenced in part by the reflecting cycling economy and the vision we all shared for the future, we managed to manufacture as many quality pieces we could during the mid-late 90's to accommodate the demand for our goods. we are once again embarking on the manufacturing side of cycling with all top of the line state of the art facilities for 2008.
What now?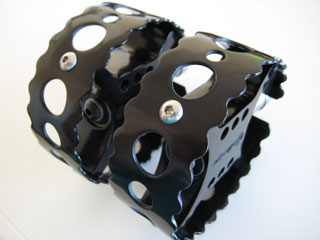 bmxultra.com: What products can people buy from you now?
Steven: Hubs, Cranks, Pedals, Derailleur pulleys, Sealed American Bottom brackets, Axle kits- that list is expanding very soon with the release of our new completely redesigned products.
bmxultra.com: What colours are the products available in?
Steven:
Hubs – Just about any color you can dream up! Any combo of Red/ Blue/ Black/ Gold/ Polished/ White.
Cranks -White or Black
Pedals – Blue/Red/Gold/Black or Polished Bodies with Polished/Blue or Black cages.
BB's – Red/Black/Blue/Silver Cups for American BB's with matching billet or Polished spacers.
bmxultra.com: Where can people buy Bullseye products from?
Steven: Presently through mail order and internet sales only bullseyecycle@hotmail.com + bullseyecycle@aol.com
bmxultra.com: Do you have a website?
Steven: We will very soon, it's under construction www.bullseyecycleusa.com we compiled a ton of pictures of customer rides and testaments over the years and were gonna have a portion of the site dedicated to them. without them we are nothing.
bmxultra.com: What's this I hear about a 35 year anniversary coming up?
Steven: Yes we are doing this as a much needed  celebration to our loyal followers through the years as well as a line up of new state-of-the-art modern products dedicated to the life of our founder "Roger Durham" He is signing off and putting his 2 cents in on all the products.
bmxultra.com: How will you celebrate?
Steven: By offering superior race ready products original in design, athletically unparalleled yet affordable by industry standards!
bmxultra.com: Will you start manufacturing the full Bullseye range again?
Steven: It's very possible, this time around were going to concentrate on making a smaller line of products, focus on quality control and performance first. we have state-of-the-art production capabilities and an endless plethora of awesome designs. remember we still have one of the most revolutionary sophisticated cycling minds at our helm. Roger Durham.
bmxultra.com: Any idea when we will start to see the new gear?
Steven: In the next few months. There are so many multiple different steps that require quality control and attention before release its crazy.  We don't want to just slam out parts we haven't tested thoroughly. We want the finished product to be polished, Technically and aesthetically, products that look sweet and perform even better.  That's are philosophy moving ahead.
bmxultra.com: What does the future hold for Bullseye?
Steven: Heaven knows Shane, we are going to embrace everyday as it comes. keeping open minds and progressively pursuing happiness. thanks for having us and for the bmxultra.com support. you guys are the BEST.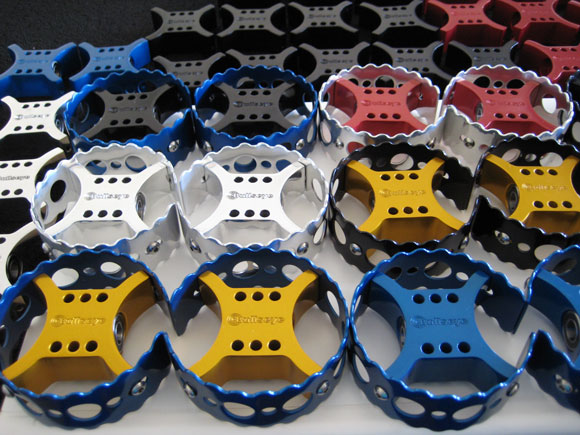 Interview by Shane Jenkins 19 June 2008
Posted in: Interviews