Supercross BMX with Bill Ryan
About Supercross
bmxultra.com: Tell us about SX.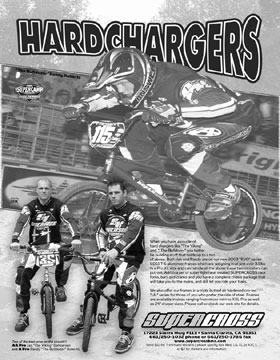 Bill: Wow that is a pretty good question, I guess it is the all encompassing one as well. Supercross is a neat little frame, fork, bar and crank company out of the US. This year will be our 15th year.
bmxultra.com: Where are you based?
Bill: We are based out of a small shop in the Santa Clarita valley in Southern California, it is a great place to be as there are 2 great local tracks, and plenty of open space for trails, much like the South Bay used to be back in the day.
bmxultra.com: What is your position at SX?
Bill: Hmm, my position, I guess you could say head designer, sales, part time shipping, bill collector, marketing, janitor etc… there are only the 5 of us here, and we all do many jobs. I started Supercross 15 years ago and still remain the sole owner.
bmxultra.com: What made you want to start SX?
Bill: Well, I never had the plan that one day I was going to have my own bike company, never thought of it. I started working in the Industry when I was 13 years old, Scot (Breithaupt) knew my situation at home and offered me a job stickering frames at SE. I started by stickering frames and boxing them, then got to pull orders, then when I turned 16 they let me drive the van to the powdercoaters and heat treat and eventually they let me on the phones to start handling sales. When things got rough over there at SE before it went underground in the mid eighties, Bill Galloway offered me a job at GT, so I went to work for GT, it was right at that time that I had started my first little company called TECH and the reason that we started it was that there was a need for custom leathers for a lot of the riders. I was still racing back then, and it became a situation where riders needed custom pants, and I approached Aero about doing some sales for them at the time, as I wanted to raise some extra cash and fill a void, and they did not want to add a sales guy or marketing guy, but was willing to do custom pants for me under my own brand so we started TECH. Well I kept that running on the side while I was at GT, and while I was at GT, Tommy Brackens was let go, and he wanted a hand at getting Brackens going, so I helped him with that. So I was happy and content working at GT, and doing TECH on the side. Well after a little while, I did not like the way things were going over there so I quit and took a job at Vision. The day I started at Vision I got called back to GT and was handed the Robinson division to run, so I was super happy!! Well things got weird over there again, Gary and I always got along great, but Rich and I didn't see eye to eye on business. I was worried about the rider and he was worried about the $$, I guess that is why GT grew so huge and I am still so small, but anyway Turnell Henry was a good friend of mine and he had just bought a bike shop and wanted me to come run it for him, and TECH was getting larger and was becoming a conflict of interest with DYNO so I left to run the shop for Tuni and make TECH grow larger.
Those were some great years. Well anyway I am getting a little long winded now, but while we were running TECH, we had a few great riders, Brian Lopes, Kiyomi Waller, Glan Pavlosky and Billy Harrison, riding for TECH as our factory team, and no one wanted to give them bikes, so I worked with SE to try to get some customs done, and that is when we designed the Assasin, and SE was just having a real tough time of things, and we needed to get the guys on some bikes and needed a way to pay for the racing. Billy Harrison and I came up with this idea that we would buy all these Boss frames that Elf had made and had been stuck with, we figured we would market them under a name, and help pay for the racing. Well, we picked up a few of the frames, and we quickly found out why they were rejected so we scrapped that idea, and we had always wanted to do a real strong frame that was still good for racing and after video tapping a bunch of gate starts behind the shop, you could see that the average frame back then, would flex so bad you would get a 1/4″ of chain sag just by pressuring the gate, so I sat down and drew up a few frame designs on how to fix that problem without adding a ton of weight and presto SUPERCROSS was born.
bmxultra.com: Do you still race or ride?
Bill: I haven't raced for years, but I still ride as much as I can, the business takes up all the time to train to be competitive as a racer, but the riding I can do that as much as I want, whenever I want and have it be for fun, now my son Lincoln is 10 now and wants to start racing, so if that happens, I will have a reason to take the time to train and will have to start racing again. It is cool watching him want to race now, and it is great the way the guys want to help him out, Randy, Jan, Mikey Day and Bubba Harris are all willing to help him with his training, so I appreciate that.
bmxultra.com: You have 4 kids including a new baby, how do you manage to juggle everything and find time for a normal family life?
Bill: I am going to be 34 this year, and still try to get out and ride as much as I can, and now the kids are old enough to go riding now as well, well except the littlest one obviously, he is only 4 weeks today. How do I manage to juggle, hmm… lack of sleep 🙂
bmxultra.com: In Australia in the mid 90's at least there where a ton of SX frames floating around and then it all came to a stand still and you didn't hear much about SX. What have you been doing since?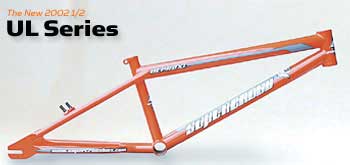 Bill: Hmm, the biggest thing is distribution, and we had a few different distributors doing things with us. We have not had a distributor in Australia since 1997 so I guess that is why it ran dry. I would like to work something out with a new one, but I want to make sure it is going to be a good distributor who will properly service the consumer and dealer channel in Australia. We also took a little break here in the U.S., we had a partner that was a manufacturing shop that took a little bit of our money, had a distributor here in the U.S. file bankruptcy and made it a little tough to keep moving. At that point all of the big guys, like Trek, Giant, Specialized were getting in there, so with all my money gone, I decided to take a small break, I have still kept small frame production going, but did it on the side, since then I have been working as a Art Director and have been working with a few bands, doing websites, merchandising, album covers, etc… I still do that on the side now.
Music
bmxultra.com: What bands have you worked with?
Bill: Man that is a long list, I can't name them all, but I can tell you that my favorite ones to work with are Fugazi, The Chili Peppers, Perry Farrell, Dave Navarro and the Dead Kennedys. Dirty from the Dead Kennedy's and I actually have our own little record label thing starting up for his new band Peligro, and we are working with Shabo of System of a Down on a side project and a few other little fun things.




bmxultra.com: Did you ever get to meet the bands that you have worked for?
Bill: Yes all of them, and I am proud to say that many of them have become great friends and are like a part of the family.

bmxultra.com: Do any of your musician friends ride an SX?
Bill: As far as musicians that ride, DH from the Dead Kennedys has a Dirt Devil, and G-Rock from Peligro has a DEVO cruiser and Fez just called today saying that Mike Ness from Social D wants a new ride.
Brandon Cruz from Dr.No and the Dead Kennedy's actually rides a Huffy Dirt Jump bike because he thinks Cory Nastazio is cool.
bmxultra.com: What music do you listen to?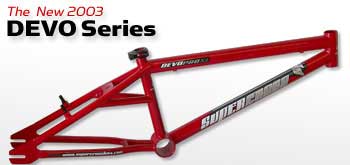 Bill: Wow what do I listen to, hmm, let me grab the stack here. On top I have Sonic Youth – Murray Street, Fugazi – The Argument, Tool – Anema (everyone needs this album), Modest Mouse, Jeff Buckley, Seven Dust, Nirvana, Mudhoney, Sunny Day Real Estate, Porno For Pyros, DEVO, Portishead, Dead Kennedys, Pailhead, PJ Harvey, Smashing Pumpkins, Chili Peppers, Janes Addiction, Fishbone and a few other mixed CD's of some demo stuff. This is all stuff we have had playing this week in the office.
bmxultra.com: What do you think of Neil Young?
Bill: Neil Young Harvest Moon!!!! Great Album, great pioneer for the freedom of actual thinking. I haven't listened to him or Crosby in quite some time, guess I need to go and re-visit that.
The SX team and sponsorship
bmxultra.com: How's the team going?
Bill: The team is going great. We have never been a big one for over the top number one riders, our teams have always been more about the guys who go to the races because they love to race and love to have fun. If they win that is great, but their main reason for being there is to have fun and show off the product. Randy Roberts and Jan Baltzersen are in my opinion 2 of the most underrated and hardest working Pro's out there. Last year Our AA Pro Tim Kneip got a #4 ABA Pro Cruiser plate, which is great, and I get a few e-mails here and there about Timmy, but the mail, phone calls and such I receive on Jan and Randy is crazy!! No discredit to Timmy, but those guys are in my opinion what BMX is all about, they go to the track, and help the local kids, they ride the local trails, build the local trails, help build the local tracks, they talk to the kids at the races, sign autographs, offer training help, gearing help, etc. I have people e-mail and call all the time, that want to know when they will be out by them again, they want to know what bike they are riding as they want to be just like them. That is going to help the sport of BMX in a big way by keeping the kids excited about being a part of BMX. Neither of them are the ones that someone is betting on to win the next AA Pro race, but they are always in the hunt to be in the show, and they always have the time for the kids.
bmxultra.com: Do you often receive resumes for sponsorship?
Bill: Every day we get at least 2 or 3.
bmxultra.com: What would you tell someone looking for sponsorship?
Bill: It varies, I try to handle each one for what it is, but it gets hard sometimes. There's not enough hours in the day.
Old-school BMX
bmxultra.com: You have a big involvement in old school bmxing with the replica frames, how did you get involved in that?
Bill: Wow, that is a wild project. I have been involved in BMX since I was a little kid I am dating myself but I was at my local trails back in 1976. So I have a pretty deep history in BMX, well a friend of mine Todd Britton who is a former editor of BMX Plus wanted to start building a retro frame. He wanted an Old JMC frame but with the new angles and lengths. Well there was someone on an old website oldschoolbmx.com ( now it is vintagebmx.com a great place to learn the history of BMX ) that said they would build them for him, so everyone waited and waited, and when this guy couldn't come through I offered to help. So that is it a few proto types and things later presto there is a new school/ old school frame for people to ride. It is fun, it helps people remember where the sport came from while keeping them able to ride. That is one thing I am pretty into is remembering where you came from, and what the sport was. I don't think people need to live there, but remembering the past can help solve problems of the future.
bmxultra.com: Are there any legal issues with building the replicas?
Bill: Not that I am aware of, Jim Melton , knows about the JMC retro projects and I am giving Scot Breithaupt a Quad retro project, so I think we are fine. None of it was done to make a profit, but more to pay homage.
bmxultra.com: Do you know Jim and Scot well?
Bill: I don't know Jim well at all, but I like to think that Scot is one of my oldest friends in BMX. My first true BMX frame was a Mild Steel FMF that Scot sold me for like 5 bucks at a local jumping spot when I was 8, because he thought I was going to kill myself on the piece o'c*ap I was on. He later gave me a chance to be on his team, and then to work for his company. I am honored to say that I have known Scot as long as I have. My current favorite bike is Scot's old OM Flyer that was given to me a few years ago. It is a custom one that Scot rode back in 81 or so.
Talking BMX
bmxultra.com: Who would you say is the most influential BMXer on the track right now?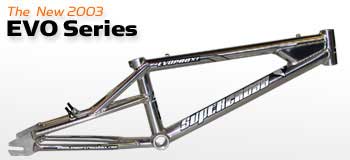 Bill: Right now if I have to name one I would have to say Mikey Day, that kid is great. He and the rest of the new breed Pro's I think can help take BMX to the next level. The ones I see doing the best are Mikey and Bubba. They are not only fast on the track, but great with the kids, they sign autographs, they offer advice, but they also look the pro part, and have the skills to back it up. I think the new breed of riders coming up are going to be great. You have riders like Jason Rogers who besides being the man in ABA Amateur racing has a full team that he helps train and manage the "Tuesday Night Kids". Jarret Kolich has the same thing going on at his track. These guys are serious about trying to take BMX to the next level by helping their local riders. Bubba and Mikey have been traveling the country doing clinics for over 10 years, riders like this are what is going to help BMX get to the next level.
bmxultra.com: Where do you see bmx in 5 years?
Bill: Hopefully BMX will progress out of it's rut and take over as it has done in the past. People say BMX doesn't progress, but I think it has changed a ton from the early day's. Freestyle, Dirt Jumping, they are all progressions of BMX, they get big for a bit and then it all comes back to BMX, your friends, your bike, some dirt. It is what it is all about.
bmxultra.com: If you could make one change in BMX what would it be?
Bill: I couldn't just make one change, it is a cycle of things. In a perfect world I would have magazines that give coverage to the riders amateur and Pro and help create hero's that kids aspire to be like. There would be a total of 10 Pro nationals and a Grand National, that way the Pro's would show up at a few larger publicized races with higher payouts, and television coverage. That way it makes it easier for the sponsors, and the media to help create the hero persona, and helps to give the Pro's what they are worth. I would also have the local tracks be more involved with the riders and have the kids racing their locals once or twice a week. Family picnics and BBQ's to keep the familys more involved. Once a week swap meets where riders can sell and trade product. Give it more focus on the local races, and then of course have the pro appearances and clinic tour come through before the local national so that the kids get that extra bit of last minute training and get to meet the big superstar pros. I don't know, I may be dreaming, but I would like to see it more focused on the local level like the soccer or baseball programs are, and then have the big "Show" races where the Pro's get the extra coverage and exposure. I think that would be good for BMX.
More about SX
bmxultra.com: We know about the SX frames, can you tell us a bit about the forks, handlebars and cranks?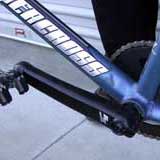 Bill: What we are trying to do with our products is have them so if you didn't have a sponsor and money was no object, our parts would be the ones you would want to buy. The Forks are great, they are a seamless 4130 cro-mo that has post twels, heat treat and stress relevement. They only weigh 26 ounces, but are stronger than most jumping forks and at 26 ounces they are a lb lighter than a cro-mo regular race fork and a few ounces lighter than an alumilite. The Bars have the same treatment, so Light and Strong, and the cranks, whoa, wait until you see the new ones. You will be stoked.
bmxultra.com: What's the best way you have found to test new frame dimensions and designs?
Bill: The best way we have found is by giving it to the riders and having them test it, luckily on most of the frames we are not having to change geometry much, we have been pretty lucky and everyone really seems to like the way that it rides. Currently we are doing a little redo on the cruiser tightening up the back end a bit, had quite a few people ask for a shorter rear than the 16″ we have had so we are going to give it a try.
bmxultra.com: Do you build custom frames to order?
Bill: We used to try to do that, but it gets to be real difficult, as people change their minds, and stuff, it also gets to be real expensive to tear down a set up for production and do a one off custom frame, when you look at the time involved and what we could be doing otherwise, it makes it a $1,000 frame or more each time we do a custom, so no we try to stay away from that.

bmxultra.com: A couple of years ago GT dominated the BMX market until they went bust along with Schwinn, is it easier for the smaller manufacturers to make sales now?
Bill: I would not say easier, as the trust in the BMX market went away when GT did, it really hurt a lot of peoples programs. I am starting to see the programs come back, but it is still too new to see.
bmxultra.com: Would you say that Supercross has a cult following?
Bill: I think all small brands have a cult following, but I do love talking to riders that have ridden Supercross's since the early 90's and won't ride anything else, that makes me feel like we have done our job right.
bmxultra.com: The original frame design must have really worked for you, I think the UL is the first frame I have seen from SX that has strayed from the original design, what made you change?
Bill: Yeah that original design was very good for us, the reason we strayed is that it is hard to get people to believe in a concept, we still do the DEVO and EVO with the traditional rear end design. The new UL uses some real cool post weld heat treatment and a good lug design that keeps the rear nice and stiff still.
bmxultra.com: You played with Carbon fibre for a while, what lessons did you learn from that?
Bill: What did I learn, hmm don't let a dirt jumper ride a race frame :). No Carbon is fun, and we were the first one to introduce it to the BMX of the 80's. There are still a few people out there riding them, but there are very very few of them that were ever made.
bmxultra.com: Is carbon really suitable for BMX?
Bill: Carbon is a real cool material, and it has it's place in things, the problem is that it does have catostrophic failures, where when it goes it goes, there is no second chance. It is a great material for certain things, but after what we learned we have stayed away.
bmxultra.com: What's the funniest warranty claim story you have?
Bill: Luckily we do not have many warranty claims, In the 15 years we have been doing Supercross we have only had about 8 frames ever returned and they were all pretty straight up that they hit a huge jump or something and that they bent their forks folded a wheel and cracked the frame type of deal. No one has ever tried to pull a fast one on us, luckily.
The Internet
bmxultra.com: How important do you think the web is for BMX in general?


Bill: How important, wow that is a tough question. It is a form of media so I think it is great, but the problems with it are many as well as it's assets. It is great for the masses to be able to research and learn so much so quickly. It's a huge resource. But the problem is that it needs to be used properly. Too many people take it as gospel, and it is not hard fact on everything, alot of disinformation is up there as well.
bmxultra.com: Do you think that the disinformation on the web can make or break a manufacturer?
Bill: Yes.
bmxultra.com: How important is it for a smaller BMX manufacturer?
Bill: It is invaluable. The quick response, the interactivity with our consumers the immediacy of the press releases are great.

bmxultra.com: What websites do you visit?
Bill: I don't have much time to really visit that many sites, and I have to say that many of them do not offer the proper information. I do use it as a resource guide, where I check ababmx.com for points, BMXmania, bmxultra and BMXtreme for news, vintagebmx.com is a great site for bmx history. I also check my darn computer sites, you know got to keep the machine running properly for getting the work done.
bmxultra.com: As a web guru are you critical of every website that you visit?
Bill: I don't know if I would call myself a guru, but I do keep busy. I am not critical on sites unless they just hurt my eyes, you never know what they were going after on them, so…… I do like looking at sites for inspiration though, never know when you will get an idea.
bmxultra.com: The SX site is due for a 2003 update, what can people expect to see on your site in the near future?
Bill: Yeah the SX site is way past time for an update. I have to be honest, it actually gets the least amount of time dedicated to it out of anything, but I have been playing with a few ideas to give it a major face lift for 2003.
Current SX distribution
bmxultra.com: Where can people buy SX frames and accessories?
Bill: Any bike shop that carries BMX stuff can get it for you.
bmxultra.com: Which countries do you export to currently?
Bill: Japan, England, France and Canada, we would like to get back into Australia and New Zealand.
bmxultra.com: If someone wants to distribute SX, who would they contact?
Bill: They should contact us here at Supercross or Dirtbike Distribution. Our e-mail is sales@supercrossbmx.com and the phone is 661-250-1032 or fax at 661-250-1786.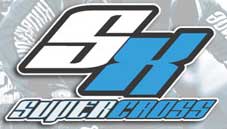 Posted in: Interviews