It's nearly 18 months since we last spoke to Todd, now two world championships have past. We have a Wildman well and truely on the mend and kicking some NBL Superclass butt, he's now the 1999 NBL Superclass champion, and soon to turn AA Pro.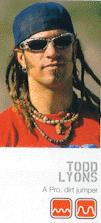 bmxultra.com: What did you think of Australian tracks?
They seemed to be too easy and power orientated (not the Worlds). I like tight technical tracks.
bmxultra.com: How do they compare to the US tracks?
Some of the ABA indoor tracks are really miserable. The fast downhill NBL tracks are the best.
bmxultra.com: Did you expect more from the Australian World titles track?
Not really. Every year the World Championship's tracks are not up to par. This year in France was actually pretty good.
bmxultra.com: What is your favourite track? Why?
The NBL Grands in Louisville, Kentucky. It's pretty fast and downhill with big jumps. This year it had a hard pro-section that a lot of people had trouble with.
bmxultra.com: Which track do you dislike the most? Why?
No track in particular. Just tracks that are super easy with all waist-high jumps. I hate tracks that are so easy that you don't have to even think to go fast. I like sections and jumps that you have to think about.
bmxultra.com: What happened in Melbourne on the Cruiser that meant you couldn't qualify to 1/8 finals?
I missed my third moto because I was helping a kid fix his bike. That's what I get for being nice, I guess.
bmxultra.com: How was France?
France as a country I could give a crap about. But they did put on a very good World Championships. It was pretty first class. I wasn't too stoked about being in a little French town in the middle of no where though.
bmxultra.com: What was the track like?
A lot of steep jumps. The little kids and girls were killing themselves. It made for some exciting racing to watch. The turns could have been more bowled-out.
bmxultra.com: Would you say it was more suitable for a World Titles track than Melbourne?
Oh yeah, definitely. It was a lot more fair for everyone.
bmxultra.com: How did you go?
Crappy. I didn't get out of the 1/8's in either class. I did flip the big first straight doubles though. It was scarry.
bmxultra.com: What are your favourite websites?
I don't spend too much time checking out websites actually. But I guess this would be a good time to plug www.ridejnco.com and www.huffybmx.com. I am in school right now going for a business degree, so any free time that I have is spent studying. I'd like to get a job in the bike industry eventually.
bmxultra.com: Which riders do you ride/train with through the week?
At Sheep Hills (trails) I usually ride with Cory Nastazio, Sean Butler, Brian Foster and every other southern California dirt jumper. As far as training for racing, I do sprints, work out and go to tracks for practice. A bunch of pros belong to the same gym as me. Neal Wood, Robbie Miranda, Christophe Leveque, Dale Holmes, Jamie Staff and some others.
bmxultra.com: Which has been you favourite country to race in? to visit?
Probably Sweden. I went there 3 years in a row and had a blast. We went to Stockholm and a couple other places. The girls are dope there and in the summer the sun never really goes down. It's crazy expensive though.
bmxultra.com: What racing rule really pisses you off?
I hate that the UCI makes you wear gloves. What's the point of that? I can't think of too many serious injuries caused by people not wearing gloves. The UCI are a bunch of idiots.
bmxultra.com: What was your worst ever crash?
That's an easy one. Last year in Australia during the jumping contest at the Worlds. It didn't hurt all that bad when I did it, but it basically ruined my wrist.
bmxultra.com: How long did it take to recover?
About 6 months until I could barely ride again. It still definitely bothers me though. Today I had to cut my riding short because my wrist was killing me for no particular reason.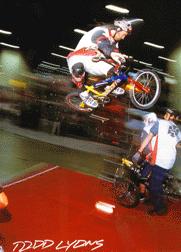 bmxultra.com: Where do you see BMX in 5 years?
I have no idea. Hopefully bigger. Next year in the US there is going to be a pro-only 3 race series with a lot of many and crazy downhill tracks.
Hopefully that will be the new trend. If TV catches on it'll take off.
bmxultra.com: Do you think BMX could ever become as popular as WWF or football or basketball?
Nope. It's fine the way it is. BMX wouldn't be as cool if every nerd on the planet rode as well.
bmxultra.com: What do you do when you're not racing/riding/training?
When I'm in school, I spend a lot of time studying. I bought a house last December so I've been doing some remodeling and decorating stuff. I'm also the BMX team manager for Arnette (sunglasses) and JNCO (shoes and clothing). I put in orders for the other riders and over see  everything. I also like to ride down to the beach and sometimes go out to clubs when I have time.
bmxultra.com: Do you think bicycle manufacturers will move away from Alloy frames soon? ever?
No. They may make a few more chromoly bikes, but they won't stray away too far from aluminum.
bmxultra.com: Do you think there is an advantage with a stiffer bike?
Yeah, but if it's too stiff it'll make your gear feel harder than it is.
bmxultra.com: Are you looking forward to racing in Argentina at next years worlds?
Yeah, I love South America. Especially the ladies…
bmxultra.com: Who would be the rider you admire the most right now?
Probably Cory Nastazio. I see him everyday at the trails going huge and just killing himself. He's got a lot of energy.
Interviewed: (27/09/99)
Posted in: Interviews