2014 USA BMX National Schedule
USABMX press release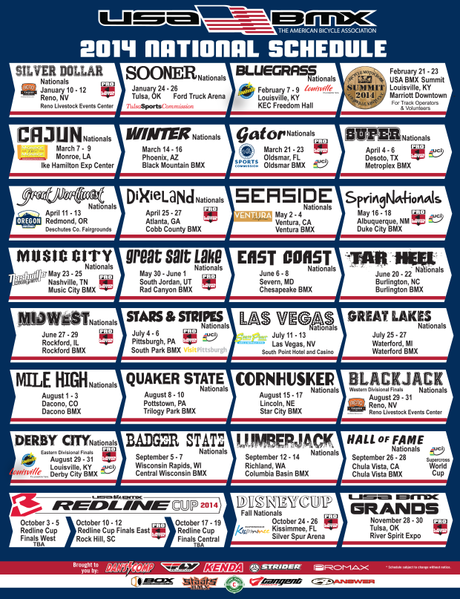 USA BMX is pleased to announce all 29 stops in the 2014 National Schedule. While we will be returning to many of the towns that we have worked with in the past, USA BMX is also thrilled to add some first-time locations and return to previous facilities. Among the big changes, USA BMX has listened to the membership and added national events in the states of Washington, Michigan and Colorado. Other towns and states – such as Reno and Louisville, California and Pennsylvania, will be getting two events this year.
Among the new stops on this years' schedule – one of the most anticipated will be the Seaside Nationals – in Ventura, California. Located right on the Pacific coast and a stones-throw away from a water park, the Ventura event will be a welcome change of venue.
The PRO schedule for 2014 has also seen some positive changes. National in Georgia and New Mexico will host Pro races – and best of all, the Redline Cup Finals East will play host to the Pros in October.
In all, there will be 13 pro weekends – with 5 of those providing UCi points.
So – without further ado, here is where you'll want to be in 2014:
January 10 – 12
Silver Dollar Nationals (PRO)
Reno, NV Reno Livestock Events Center
January 24 – 26
Sooner Nationals
Tulsa, OK Ford Truck Arena
February 7 – 9
Bluegrass Nationals
Louisville, KY KEC Freedom Hall
February 21 – 23
** USA BMX Bicycle Motocross Summit
Louisville, KY Marriott Downtown ** Not a Race
March 7 – 9
Cajun Nationals
Monroe, LA Ike Hamilton Exp Center
March 14 – 16
Winter Nationals
Phoenix, AZ Black Mountain BMX
March 21 – 23
Gator Nationals (PRO)
Oldsmar, FL Oldsmar BMX
April 4 – 6
Super Nationals (PRO)
Desoto, TX Metroplex BMX
April 11 – 13
Great Northwest Nationals
Redmond, OR Deschutes Co. Fairgrounds
April 25 – 27
Dixieland Nationals (PRO)
Atlanta, GA Cobb County BMX
May 2 – 4
Seaside Nationals
Ventura, CA Ventura BMX
May 16 – 18
Spring Nationals (PRO)
Saturday: USA Cycling National Championships
Albuquerque, NM Duke City BMX
May 23 – 25
Music City Nationals (PRO)
Nashville, TN Music City BMX
May 30 – June 1
Great Salt Lake Nationals (PRO)
West Jordon, UT Rad Canyon BMX
June 6 – 8
East Coast Nationals
Severn, MD Chesapeake BMX
June 20 – 22
Tar Heel Nationals
Burlington, NC Burlington BMX
June 27 – 29
Midwest Nationals (PRO)
Rockford, IL Rockford BMX
July 4 – 6
Stars and Strips Nationals (PRO)
South Park, PA South Park BMX
July 11 – 13
Las Vegas Nationals
Las Vegas, NV South Point Hotel and Casino
July 25 – 27
Great Lakes Nationals
Waterford, MI Waterford BMX
August 1 – 3
Mile High Nationals
Dacono, CO Dacono BMX
August 8 – 10
Quaker State Nationals
Pottstown, PA Trilogy Park BMX
August 15 – 17
Cornhusker Nationals
Lincoln, NE Star City BMX
August 29 – 31
Black Jack Nationals/Western Divisional Finals
Reno, NV Reno Livestock Events Center
August 29 – 31
Derby City Nationals/Eastern Divisional Finals (PRO)
Louisville, KY (UCI) Derby City BMX
September 5 – 7
Badger State Nationals
Wisconsin Rapids, WI Central Wisconsin BMX
September 12 – 14
Lumberjack Nationals
Richland, WA Columbia Basin BMX
September 26 – 28
So Cal Nationals – UCI World Cup
Chula Vista, CA Chula Vista BMX
October 3 – 5
Redline Cup Finals West
TBA
October 10 – 12
Redline Cup Finals East (PRO)
TBA
October 17 – 19
Redline Cup Finals Central
TBA
October 24 – 26
Fall Nationals / Disney Cup (PRO)
Kissimmee, FL Silver Spur Arena
November 28 – 30
USA BMX Grand Nationals (PRO)
Tulsa, OK River Spirit Expo
…and there it is, folks! Mark your calendars and start making your reservations.
Posted in: News