A Night With Eddie Fiola in Adelaide
"A NIGHT WITH EDDIE"
Proudly sponsored by BICYCLE WORKS
THE ATRIUM @ REGENCY TAVERN
Days Road Regency Park, South Australia
Friday the 2nd of December 7.00pm onwards
Night includes 3 Course Meal (2 Choices) Beer, Wine and Soft Drinks Package and the company of our RADelaide BMX Show and Shine 2016 Special Guest Eddie Fiola
Cost: $ 150 per head
In a addition to a great night 10 Tickets in the RADelaide BMX Show and Shine Raffle will be allocated to all attendees of the pre show dinner. Valued @ $ 40.
Please note: A NIGHT WITH EDDIE is a pre purchase event only. Bookings Essential .
Tickets to the dinner are allocated on a first in basis.
Seats are only secured at time of payment.
Questions regarding the night or to book your seats please visit www.radelaidebmx.com or email radelaidebmx@gmail.com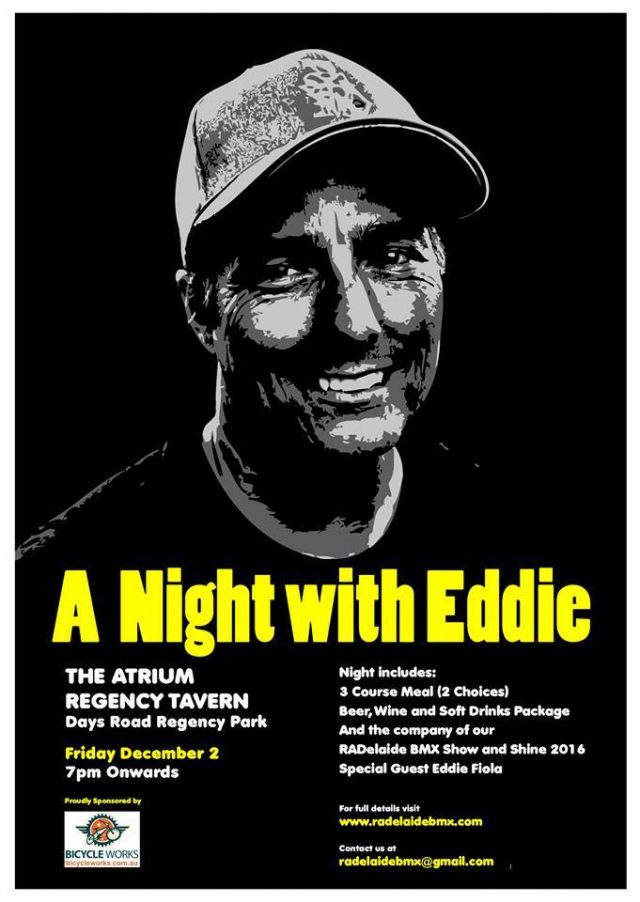 Posted in: News