Answer/SSquared BSX: T Shirt Pre-Orders
As the thirteenth running of BSX rapidly approaches we have been busier that Santa's elves making sure the track is in tip top shape and keeping everything purring along in the control room.
The Answer/SSquared BSX tees have been approved and ordered, we have limited numbers so are taking pre-orders so you can lock yours in.
They are available in children's sizes from 8 to 16 and adult sizes S to XXXL.
The Tees are black and printed both front and back and look like this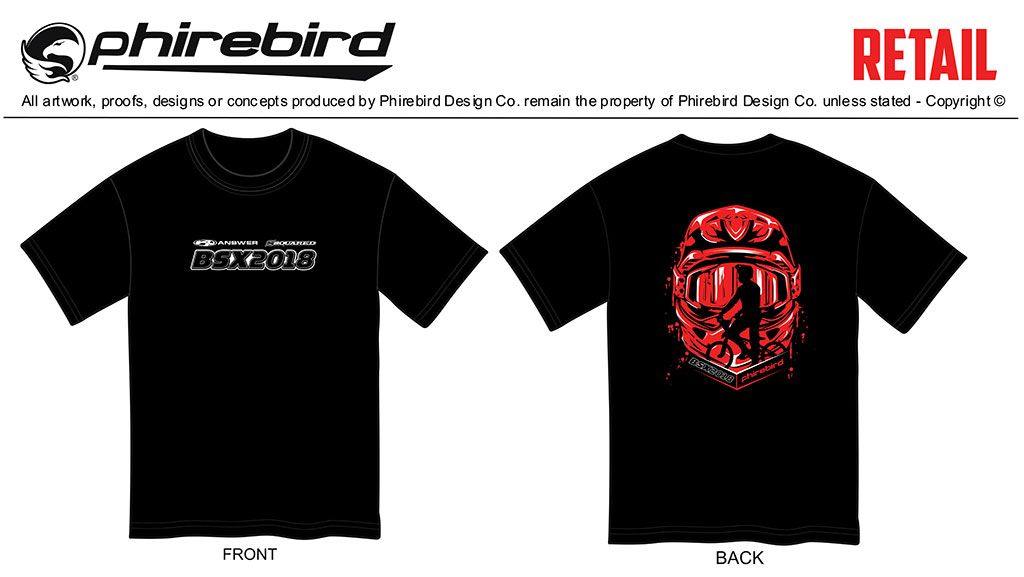 They are $35 each.
We will also have matching stubby holders, which are just like the tees, all black printed both sides. They will be $10 each and also limited numbers so make sure you pre-order those too if you don't want to miss out.
To order them contact us through a message on our Facebook page at www.facebook.com/bsxinc/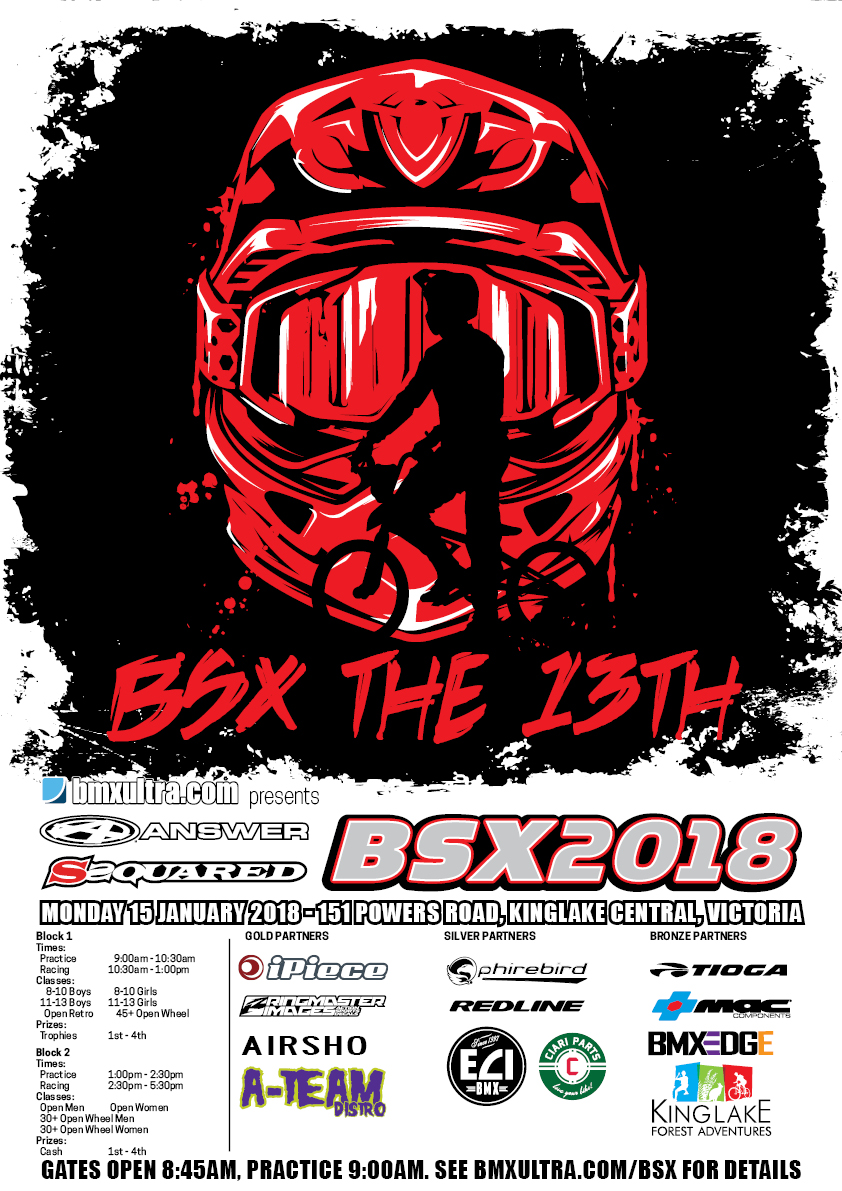 THE ANSWER/SSQUARED BSX2018 IS PRESENTED BY BSX INC/BMXULTRA.COM & PROUDLY SUPPORTED BY
Platinum Partner
Answer/Ssquared
Gold Partners
Airsho
iPiece Productions (www.ipiece.com.au)
Ringmaster Images
A-Team Distro
Silver Partners
Phirebird
Redline
ECI Imports
Ciari
Bronze Partners
Tioga
Mac Components
Kinglake Forest Adventures
BMXEDGE
WHO CAN COMPETE AT BSX?
It's a common misconception that BSX is an invite only event. This is not the case, everyone is welcome to join in on the fun and festivities.
WANT TO BECOME A BSX2018 PARTNER?
Email webmaster@bmxultra.com today for details.
NEW FORMAT & NEW CLASSES
Block 1
Times:
Practice 9:00am – 10:30am
Racing 10:30am – 1:00pm
Classes:
8-10 Boys, 8-10 Girls
11-13 Boys, 11-13 Girls
Open Retro, 45+ Open Wheel
Prizes:
Trophies 1st – 4th
Block 2
Times:
Practice 1:00pm – 2:30pm
Racing 2:30pm – 5:30pm
Classes:
Open Men, Open Women
30+ Open Wheel Men
30+ Open Wheel Women
Prizes:
Cash 1st – 4th
ABOUT BSX
BSX (Bicycle Supercross) is one-on-one sprint trails style BMX racing on a backyard track built specifically to test a rider's skills. The short straights, lofty jumps and tight corners are intense under race conditions, offering a fun and entertaining event for competitors and spectators alike. The event provides a unique experience for the local Victorian riders, as well as the interstate and international visitors during an off day of the annual BMX Victoria Track Attack series.
The primary goal BSX is to raise money for the Royal Children's Hospital Foundation but there's so much more to the event. It creates an atmosphere that words just can't describe. Since the very first event in 2006, BSX has raised over $50,000 helping to providing the hospital with much-needed equipment.
ABOUT THE ROYAL CHILDREN'S HOSPITAL
The Royal Children's Hospital is the major specialist paediatric hospital in Victoria and provides a full range of clinical services and health promotion and prevention programs for infants through to adolescents. Each year the Royal Children's Hospital treats tens of thousands of children through our Emergency Department, inpatient admissions and outpatient visits. The Royal Children's Hospital Foundation plays a vital role in providing additional funding to support important research projects and purchase state of the art medical equipment to ensure that every child receives the very best treatment now and into the future.
Posted in: News