bmxultra.com gear calculator app updated
by bmxultra.com
With all the excitement of our new website launch and then the World Championships we forgot to tell you all about our updated iPhone/iPad app.
The version 1.1 update includes nearly all of the most popular tires in BMX today
Tioga PowerBlock
Tioga Comp III
Alienation Differential
Alienation Graffiti TCS
Kenda Konversion
ITS Micro Knobby 2
Maxxis DTH
Maxxis Torch
Maxxis Holy Roller
VeeRubber Speedster
Or generic sizes
If the app doesn't have your specific tire just yet, it soon will. We will regularly update the app with new tires and sizes.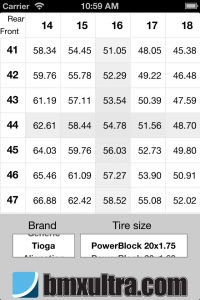 Feedback
We already have great feedback. Check this out
"This is the only gear calculator we use for our team. Go pick it up today!" – Supercross BMX
"The BMXULTRA BMX Gear Calculator for iphone and ipad is the goods! Awesome work!"
"Just downloaded, the best $1.99 I have spent on BMX in years!! Many thanks!"
"Just got it easy to use well done"
"Great job on making this into an app."
Features
The BMX specific gear calculator that works anywhere, anytime
No internet connection required
Compare multiple gears in a simple chart on the one screen
Check it out:
itunes.apple.com/us/app/bmx-gear-calculator/id665859954?mt=8
Android users
Android users we haven't forgotten about you, we do have plans to build the app for Android too. In the meantime we have a FREE online version that works very well on your phone and it's totally free. Check the link below.
Free online version
If you haven't already seen the online version you can check it out here:
bmxultra.com/gear-calculator
Posted in: News