bmxultra.com gear calculator iPhone/iPad app now available
by bmxultra.com
Many years ago at bmxultra.com we started to develop a gear chart and a gear calculator that could be used on the web, so no matter where you were, providing you had an internet connection and a browser, you could access them. Of course they have changed somewhat, now the calculator produces an interactive gear chart, which sounds very complicated but couldn't be easier to use. Not only that though, the calculator can give you exact roll out for Tioga PowerBlock tires and many other popular tires. Since we use it a lot ourselves we are very proud of what we have been able to produce and how popular it is.
Every now and then, while at some tracks we found that internet connections on the phone were very slow making the gear calculator a little difficult to use. It's been a long time coming but you can finally have a copy of the gear calculator on your iPhone and/or iPad and not need an internet connection.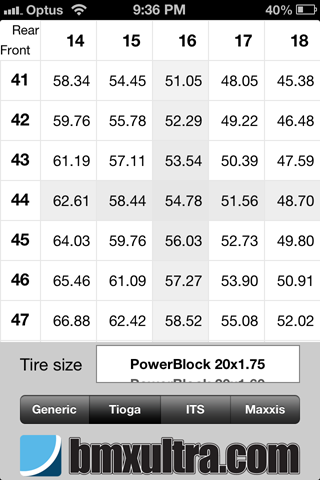 The app just went on sale at iTunes today and we already have great feedback. Check this out
"Just downloaded, the best $1.99 I have spent on BMX in years!! Many thanks!"
"Just got it easy to use well done"
"Great job on making this into an app."
Check it out:
https://itunes.apple.com/us/app/bmx-gear-calculator/id665859954?mt=8
If you haven't already seen the online version you can check it out here:
bmxultra.com BMX gear calculator
Posted in: News