Live Out Your BMX Fantasies on Jason Carnes' Berm Academy – LUXBMX/Colony race the USA.
Bruce Morris, who you might know as a coach, a fierce competitor, multi-time Australian national champion, Colony cromo racer, LUXBMX race photographer, Chase/LUX team manager, Rail The Berm correspondent, sometimes contributor to bmxultra.com (and a whole bunch of other things that probably shouldn't be repeated in writing) spent some time with Jason Carnes the Berm Academy crew travelling through parts of the US and he has some stories to share. Check this out.
Live Out Your BMX Fantasies on Jason Carnes' Berm Academy by Bruce Morris
If you started racing BMX in the late 70s or 80s like me, you would have been reading BMX Action or BMX Plus and marvelled at the alien species that were the US racers of that period. Not just the pros either, amateur riders like Richie Anderson, Billy Griggs and Eric Carter to name a few, were heroes of mine that raced on tracks that we fantasied about riding on and in events like the Jag World Championships and Murray World Cup. This is all pre-IBMXF/UCI and the Americans dominated the sport.
You might of even known a few of the riders from Australia that went over and raced in that period. Riders like Matthew Weeks, Shane Robinson, Macca and Michael Baker. And then a little later, mates of mine like Paul Addams and Anthony "Howie" Waye went over and got written up in the magazines! I was both insanely envious, yet proud to know these two boys from the Gold Coast were living out what I thought I would never do as I trundled off to tertiary education having already repeated Year 11 because of BMX… Until now!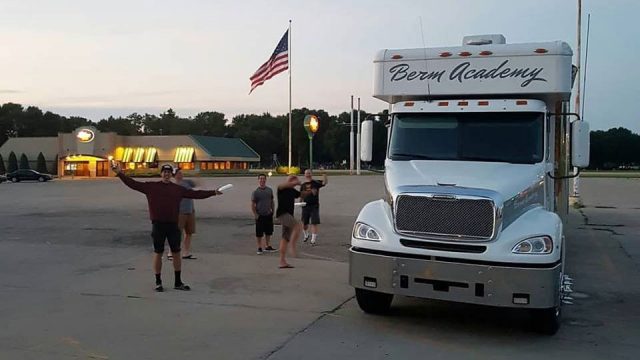 Jason Carnes bit a big bullet prior to the 2017 USA BMX race season and invested into a RV/trailer combo to run Berm Academy tours across the US. Previously had spent 17 years with Redline, driving their rig and being team manager for the likes of Alise Post and Sam W. On top of that he ran the Redline Flight school and is a keen BMX educator. What and who he doesn't know in BMX in the US (and around the world) probably hasn't been born yet.
His tours through 2017 catered for anyone, but mostly kids and towards the end of last year I hit him with a random message. "Hey, I think you should do an old guy's tour" and then promptly forgot about it. Then in March out of the blue I get a message from Jason saying I better sign up because there's only one spot left! Deposit sent and my wife asks a few questions about where we'll be going and what will you be doing? I can only honestly answer that I have no f*#king idea. Because I didn't! I trusted Carnes to put together an itinerary, only knowing that I would be flying into Minnesota and flying out of Salt Lake City two weeks later.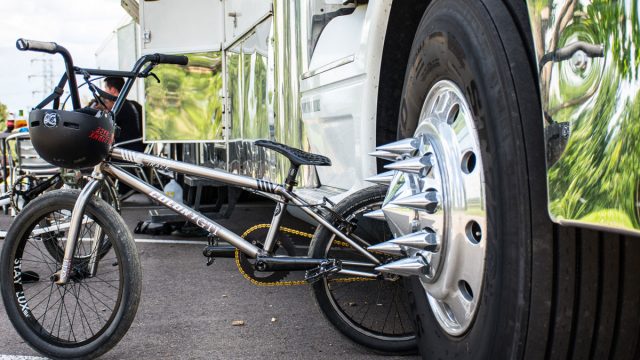 There were 5 of us on tour, plus Carnes. Drew Motley I knew from the Yess crew, meeting him at the 2016 Grands where he generously leant me a rear wheel when mine blew up. Shawn Diprite and I had a long distance Insta relationship going and he bought along a mate Dave Maltezo (the "kid" o the group). Rounding out the group was hard charging 51+ cruiser champ Rob McAllister. All of us over 40 and amongst that US crew, about a thousand titles. The boys hailed from Rhode Island, to Florida to Tennessee. They had raced ABA, NBL and now USABMX sanctions, and everything in between, and with Carnes in the mix, there was an incredibly rich history of US BMX in the rig. Throw in an Aussie and we caused confusion as a group when meeting folk when they asked what we were doing in town.
The only solid part of the tour plan that I was aware of went like this; race the USA BMX triple header in St Cloud Minnesota, and two weeks later finish up at the double header at Rad Canyon Salt Lake City. It wasn't until I saw the tour t-shirt posted just before I left (that Rob had made for us) that I saw an itinerary. Moab! Pikes Peak! F yeah! See, I said to my wife and daughter, that's where I'm going showing them a low res Insta photo of the back of a t-shirt. Still a lack of conviction at home…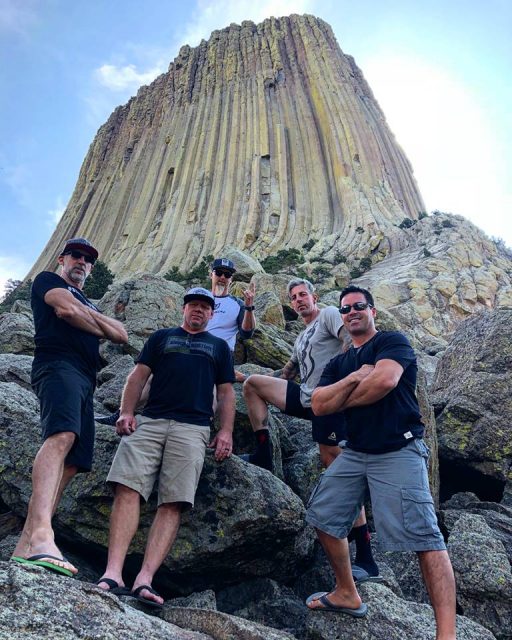 I land Thursday afternoon and full of jet lag I hit St Cloud Friday morning of July 20th and officially meet the crew. We're set up in the Berm Academy pit and it immediately becomes apparent that everyone loves to hang here. Having Sam and Alise around on the weekend certainly helped and kids constantly pushed passed us for autographs. That there is so much love for those two is so refreshing from the aspect of an Aussie where I feel that there is virtually no hero worshipping of our domestic "elite" riders. Our group immediately gels and it's fully apparent that all are intensely competitive and by the end of that weekend there were something like 12 wins in the group and we crack the first of many beers that Sunday arvo to celebrate. Diprite has brought along 2 cases of home brew and it's freaking delicious, it nearly becomes a breakfast staple.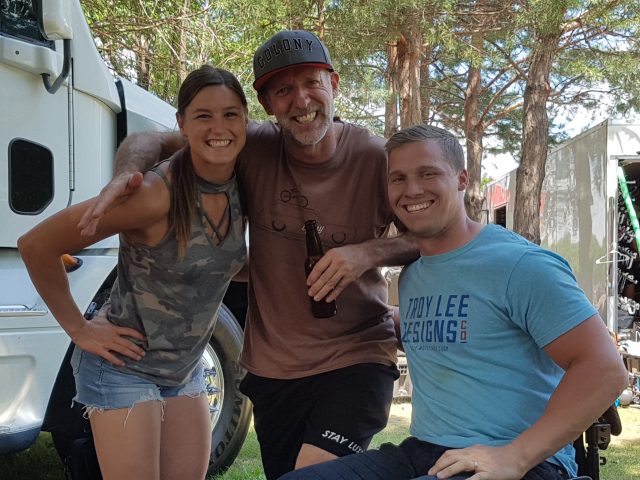 As refreshing as the beer was the laid back atmosphere of which USA BMX runs their events. It's hard to describe, but the lack of overbearing officialdom and the rider centric focus is clearly apparent. Erick Grindle that announcers at nearly all the USA BMX events knows the riders, their sponsors, and as someone commented on one of my posts, he had as much enthusiasm for my group (always the last race of the day – 51X) as he did for 5 novice. They love Aussies and whenever Aussies like Matty K, Josh McLean or Kye Affoo were on track, hearing the "Aussie, Aussie, Aussie" call was so cool. Coming out of the second berm in my own race and hearing that made me feel as Australian as a I ever have!
And I'm asked constantly over the first weekend "What makes you Aussies so fast?" And I reply that we don't come all this way to just get moto'd (well, what I actually said can be found in a few hashtags from the trip. I taught the tour crew a few Aussie sayings). But then it was time to pack up the rig and roll out and wind our way south to (eventually) Utah and we're already seven deep that Sunday arvo and not much help to Carnes.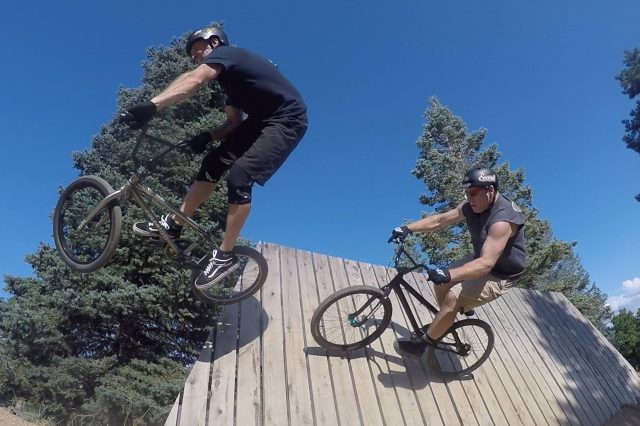 The next two weeks go in a blur as we are chauffeured by Jason from Minnesota to South Dakota through to Wyoming to see Devils Tower. Then into Deadwood and Sturgis. With Mt Rushmore thrown in. By Day 2 my trip was already made, winning all 3 races and seeing Close Encounters of the Third Kind. What else could top this? The scenery is spectacular and then we pin it towards Colorado and are hosted by the Finch clan and Miss Pickles their pet pig. White water rafting in Fort Collins then onto the bike parks and bars of Boulder. Valmont and Ruby Hills are ridden and loved to death by our crew. Amazing hospitality again by the locals who work all morning to get Ruby Hills in shape just for us after a few storms had rolled through the state. These people are incredibly generous and are one of the things that make a road trip like this memorable.
My memory gets hazy here (I blame the altitude) as we head further south to Colorado Springs and meet with the iconic Bubba Hayes at his shop Ride Co to spend the next day being shuttled up 12,000 feet to Pike Peak (yes, the Pikes Peak that they race up once a year) and mountain bike down. Bubba organised everything for us and yet again flattered us with his generosity by lending us everything from the mountain bikes to the guides. They only thing he didn't provide was the fitness! Holy shit that was not 12,000ft of pure downhill… I actually pulled the pin at a point where I could escape down the trainline (earning multiple cat emojis on every post thereafter), while the boys pushed on for another 3 hours encountering hail, rain and #hurtfeelings. Meanwhile I was sitting at the meeting point, a local brewery throwing down local 8%ers. So messed up were the guys that I didn't even recognise them when they eventually rolled in mumbling that I was the smartest in the crew. Haha, that's Aussie irony you yanks!
Bubba Hayes and his RideCo shop, you're a legend mate. Much love to you from us guys and we cannot thank you enough.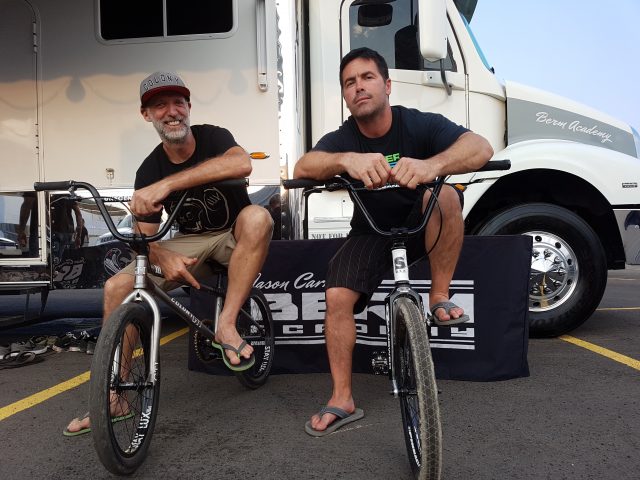 But that night Carnes slips over in his flip flops destroying his knee and becomes a medicated zombie for the rest of the trip. Just another chapter…. We truck onto Frisco up in the mountains and a bike park that defies description and is what I consider heaven probably looks like. I even manage to ride the medium lines proving that accomplishing skills turns you on as much at 51 as it does at 15. Stick this town on you US list. Actually, just pin Colorado on your list.
Roll out into Aspen and we fight off the ladies in their Aston Martins with sorry "we're taken" and mainline it towards Utah and Moab. Cracking a few more "tinnies" as we head towards Grand Junction.
Moab! An alien landscape that we chose to destroy on side-by-side 1000cc Razors and have so much fun that I cannot believe that this was legal. We eat dust, drink beer and laugh like hyenas for hours. Then we hot tub together… again… and it's not weird anymore.
Next day we head to the Archers National Park that anyone who's ever seen Roadrunner cartoons would recognise, then roll out late headed to SLC. Stopping in a small authentic town called Helper to stock up on supplies, BBQing beside the train line on 6 and the Price River. After that I'm not sure what happens, but we get to Salt Lake City and set up on the Thursday at the track. Friday is a lay day and another family generous offers to drive us up to Park City and the dirt jumps. Another side trip with spectacular views high out of SLC. That these communities have these bike parks is so freaking cool. Maintained by the cities, it's one of the things that makes me wish I was younger.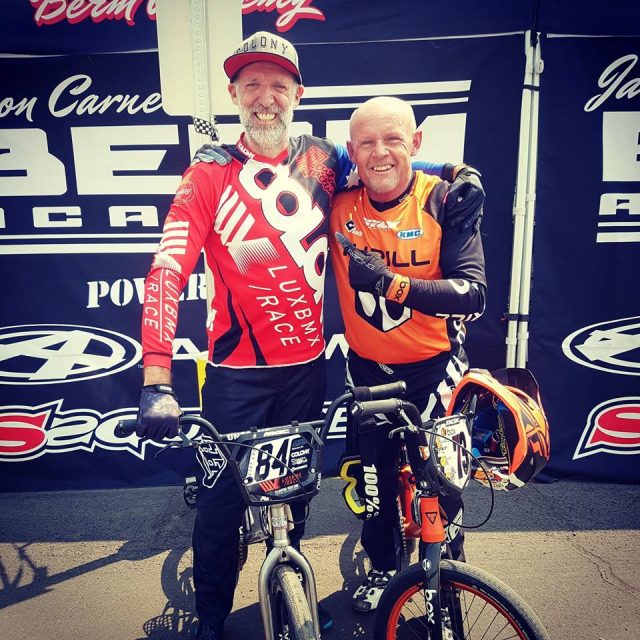 Rad Canyon BMX Utah is just that, a wide open race track groomed perfectly that allows you to race the racers, not the track. You pin the throttle on the gate without fear of obstacles waiting to kill you and you race like a mofo. The transfer system means that you can qualify out of your first moto and then chill till the final (unless you have a semis etc) and the races run seamlessly. But boy, these American kids can pedal! Although only a Pro-Am, USA development Haro rider Kamren Larsen was racing and watching that kid pedal right through the triple on the first straight was akin to seeing Steve Veltman pick up for the doubles at Sleeman at the 1989 Worlds here in OZ. Again the mood is relaxed, but the racing is intense! I draw a lane next to Harry Leary in my first moto and I am more nervous than I have ever been for a race. I win my moto and all I can think is that "I just beat Harry Leary" and go and lay down in the A/C of the BA rig hoping Harry doesn't come looking for me. I've heard the Chris Moeller stories…. But at the end of Sunday's racing I grab a shot with him and he chats about Aussies and his trip Downunder and he gives me his plate. I try to act cool, but am secretly stoked like the 13 novice I used to be when I first saw him in the mags.
And then bang! The trip is over. Shit is packed up and we head into SLC to check out the Mormon Centre and low and behold, find a bar. We laugh more, reminisce and spend one more night in a Walmart lot. Wake up at 4am to Uber to airport with Dave. Trip over, memories forever! All of us drank a million beers, rode trails like 15 year olds learning to jump and saw spectacular scenery. Perfect.
I can't recommend a Berm Academy trip enough! You'll see the US, hang out with BMX people, ride USA BMX Nationals and anything from local tracks, to trails, to big arse mountains. You'll race at a level that will improve your confidence ten fold and create memories that will never fade. You'll be treated like a rock star when you show up anywhere and get fed 24/7. I'm very fortunate that LUXBMX and my family allow me to travel like this, but I swear it was a work trip. Just don't put it off if you want to go and I hope I've inspired you to follow your childhood/adulthood dream.
Find out more about Jason Carnes' Berm Academy at bermacademy.com
Posted in: News