Product spotlight: F-Bom Plan-B race frame
by bmxultra.com
Our friends over at A-Team Distro distribute some pretty sweet products throughout Australia. They are mostly exotic brands, but importantly each of them is true to the heart and soul of BMX. A-Team do some well known brands like Snap, but some of the other brands we don't know about until A-Team start showing them off on Facebook or hit us up with an SMS. So when we heard they were the Australian distributor for F-Bom we had to check it out.
F-Bom's Plan-B race frame is manufactured in the United States by Standard Byke Co. The frame is made of a combination of True Temper OX Platinum and True Temper 4130 Chromoly. The top and down tubes, where strength is needed most, are OX Platinum and all other tubing is tried and true 4130 Chromoly. (This is code for stiff and light, and a message to all you people on alloy frames; you should be asking yourself why!)
One of the things I like about the Plan-B is the reasoning behind the materials and design elements used, and rather than repeat it all here's the link to check it all out for yourselves. http://www.fbombikeco.com/bike-frames/f-bom-plan-b/
At only 3lbs 11oz….the plan-b is both stiff and light weight, we'd love to be able to do a review on one of these puppies. Did you read that Scotty?
| | |
| --- | --- |
| Head Tube | Integrated |
| Down Tube Diameter | 1.50? |
| Top Tube Diameter | 1.25? |
| Bottom bracket Type | Euro |
| Seat Tube Size | 27.2? Butted |
| Seat Stay O.D. | 3/4″ |
| Chain Stay O.D. | 3/4″ |
| Head Angle | 74.5 |
| Seat Tube Angle | 71.0 |
| Rear End Length (Slammed) | 13.90? |
| Top Tube Lengths | 20, 20.5, 20.75, 21, 21.25, 21.50 and 22 |
| Bottom Bracket Height | 11 5/8? |
| Drop Out Thickness | 1/8? Laser Cut |
| Axle Slot Size | 3/8″ |
| Weight | 3lbs, 11oz. |
What really stands out here is the super short chainstay. I know a bunch of people who have been looking for a frame with this geometry. Although the translucent colours aren't new to BMX they really make this frame look great and stand out from the crowd.
20″ F-Bom Plan-B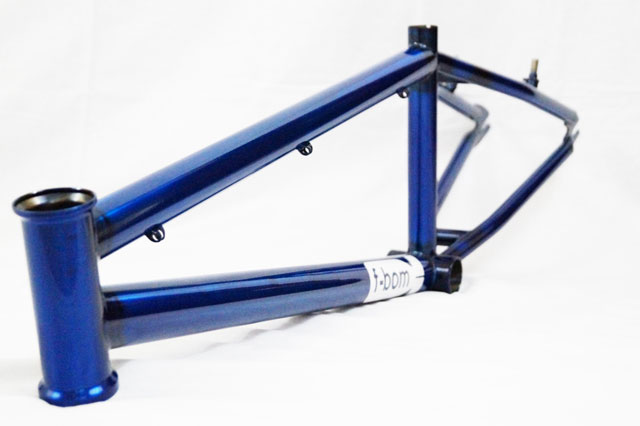 24″ F-Bom Plan-B

Want to find out more? Check out www.fbombikeco.com
Posted in: News