Product Spotlight: Profile Elite 15/20mm Rear Hub
It seems that the world of BMX has been struggling to decide on a standard rear axle size for a few years now. There's the traditional 3/8″ (or 10mm) and now of course there's also the "stiffer" 15mm (Redline – Carbon , Supercross – Envy, Envy BLK and 450z) and 20mm (DK – Professional/Haro – PTC and Carbon) options. If you are an early adopter of the 20 or 15 mm rear end, chances are you are probably still running adapters to make a 10mm axle fit and not fully taking advantage of the bigger axle.
Sure you have a few options. If you are running Profile hubs with the 3/8″ axle you have a couple of adapters available to you already. There's a Supercross Quick Twitch rear hub that's been available in 15mm for a while, there's an Aussie Rival Racing 20mm hubset, and there's adapter kits for Chris King and Stealth hubs. We've also seen that the Alienation Thrust hub that will be convertible from 3/8″ to 15mm which is about to be released.
But we truly believe it's the Profile Elite 15/20mm rear hub that will get people moving across to get the full benefit from today's newer tech frames with the bigger axles.
There's not a great deal of information available about these hubs right now, this is all I've been able to scrape together so far. I'll see if I can find some more details for you in the near future.
But they are hitting shops right now, so get in and check them out.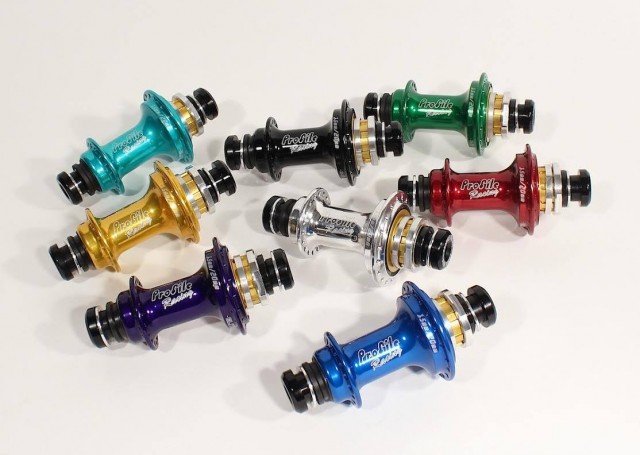 The NEW 15/20mm rear Elites are now available through shops!
The Elite 15/20mm hub has a true 20mm bolt-on hollow aluminum axle and cassette free-hub body.
The Elite 15/20mm hub is manufactured from a high grade, aerospace quality billet aluminum.
Available in Black, Polished, Gold, Blue, Purple, Aqua, Green, and Red.
Front and Rear hubs sold separately.
Made in the USA!
Profile Racing products are distributed in Australia by Elite Cycle Imports (ECI) www.eciimports.com for more information about Profile Racing check out www.profileracing.com
Posted in: News