S&M Bikes is a brand that just can't be ignored. There are few manufactures that offer USA made products and even fewer that will stand by their product and offer a life time warranty. S&M do both. I have a soft spot for this company for many reasons; the longevity of the company and their reputation for being the benchmark for many things BMX, but also the quality, strength and durability of their products. Over the years I've reviewed a massive number of S&M products, including frames, forks, handlebars, stems and they always rate highly.
When I first heard of their Trackmark tires…a race tire from S&M, I wanted it to be a joke, I wanted to hear that Chris Moeller and his crew were taking the piss, again. After taking a closer look at the tire it was obvious that I was wrong and S&M are very serious about this product.
When you look at the tread on the Trackmark tire you can see what I mean by it looking like it might actually be a joke. The center broken band is reminiscent of the Tioga Powerblock, almost a copy. There are S's and M's along the side, which you would expect are there simply for looks, but they actually do work and provide the grip needed for today's tracks.  These tires will be a must have for S&M fans, but what about everyone else?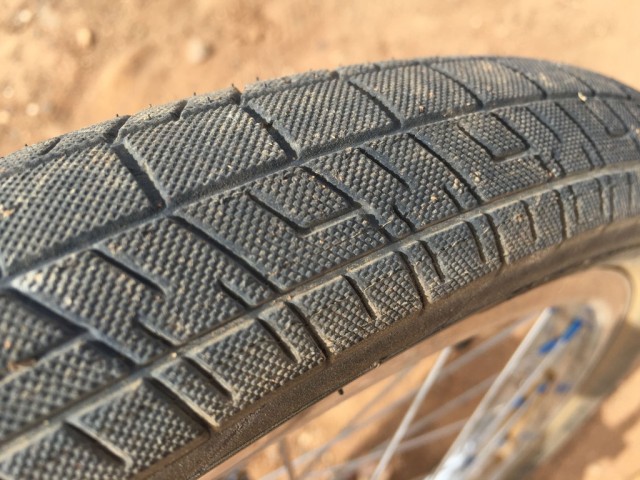 Weight
Comparing the S&M Trackmark in 20 x 1.75 to market leaders like the Tioga Powerblock (wire bead) or VEE Rubber the Trackmark may not be the lightest tire available but it still has it's advantages. (I've used the Powerblock wire bead in this example because they are far more widely used, due to price and they come standard on some complete bikes, but I find them longer lasting than the lighter S-Spec.)
| | S&M Trackmark | Tioga Powerblock (wire bead) | VEE Rubber Speedster |
| --- | --- | --- | --- |
| Weight (oz) | 15 (425 grams) | 13.3 (377 grams) | 12.4 (350grams) |
| Outer Diameter (inches) | 19.625 | 19.86 | 19.74 |
| Max pressure (PSI) | 110 | 65 | 110 |
So as a part of the review process I went riding with a few guys at one location, and little did we know until we rode for a while the place was overrun by thorns, so two of the other guys were using Powerblocks, and one was using the Speedsters. By the end of the session I was the only rider not pulling thorns out of my tires and the only one not telling war stories the next day about how many thorns I had to surgically remove from my tires while fixing the punctures. Sure I could have just been lucky but it also could be that the extra weight is where you need it, in the tread, keeping the nasties away from the all important tube. It could also be a harder compound rubber. Both Powerblock tires and Speedsters are known to be of a softer compound which is fine for grip, but is very fast wearing.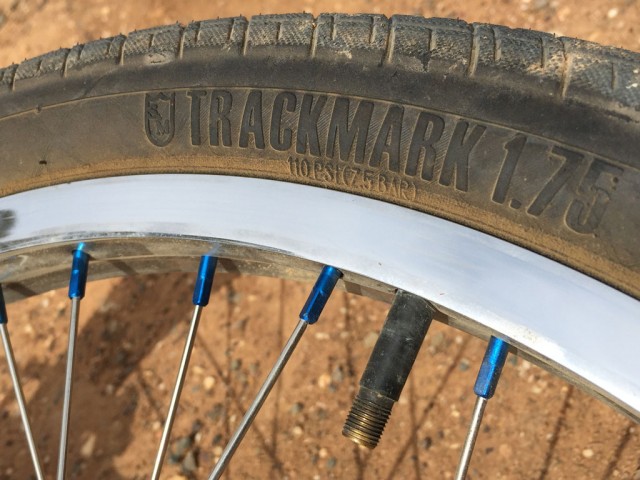 Features
Available in folding Kevlar bead only and with a lightweight, high TPI race casing. The Trackmark center tread is broken to increase acceleration and braking traction and to reduce weight. It's a smooth, fast tire designed for today's hard packed or paved tracks and is available in both 20″ and 24″ sizes.
20 x 1.75
Inflated Width: 1.88″(47.8mm)
Inflated Diameter: 19.625″ (498.5mm)
Max Pressure: 110 psi
Weight: 15 oz
20 x 1.95
Inflated Width: 2.1″ (53mm)
Inflated Diameter: 20.0″ (508mm)
Max Pressure: 110 psi
Weight: 17 oz
20 x 2.1
Inflated Width: 2.17″ (55mm)
Inflated Diameter: 20.375″ (mm)
Max Pressure: 110 psi
Weight: 19 oz
24 x 1.75
Inflated Width: 1.92″ (48.7mm)
Inflated Diameter: 23.62 (600mm)
Max Pressure: 110 psi
Weight: 19 oz
24 x 2.1
Inflated Width: 2.19″ (55.5mm)
Inflated Diameter: 24.37″ (619mm)
Max Pressure: 110 psi
Weight: 22 oz
Ok, so how do they ride?
I've had these tires for months and given them a solid workout as I like to do with all of the reviews. I've used them in a variety of conditions and found they offer just as much traction as the Tioga Powerblock tires that I do most of my riding on. It doesn't matter if it's hard packed clay, or loose gravel racing surfaces the grip offered by these tires feels equal to the Tioga Powerblock but a whole lot more grip than I have found from the VEE Rubber Speedsters. With a maximum pressure of 110 PSI I ran them at my preferred 80 PSI which gave me the solid feel when rounding corners with enough give to provide a smooth ride over rougher surfaces.
Gallery
Last Words
One thing that's interesting is the S&M Trackmark is quite a low profile tire for it's size with a smaller outer diameter than the others.
The S&M Trackmark tires may not enter the market as  rapidly as VEE did with their massive range of colour options and sizes and they may not take the market lead from Tioga with a much smaller range of tires, but they are a still serious contender and well worth consideration for your next tire.
Rating 19.5/20
| | |
| --- | --- |
| Value for money: | 5/5 |
| Weight: | 4.5/5 |
| Functionality: | 5/5 |
| Looks/Finish: | 5/5 |
Comments
S&M's Trackmark tires are around the same price as the market leaders, they also appear to last a little longer
They are only 50grams heavier than the wire bead Powerblock, I found that to be an advantage when it came to fighting off thorns
Great grip and a smooth ride
The Trackmark tires have a new school look with a bit of a throwback to the days of old where some of the bigger brands used their brand names in the tire tread. I love the plain black and would be happy to run them on any of my bikes.
ECI are the Australia distributor for S&M. For more information about S&M check out www.sandmbikes.com.
review by Shane Jenkins/9 March 2015