Product spotlight: TFS Design Lab Response Race frame
by bmxultra.com
Last week we told you about the F-Bom Plan-B race frame that A-Team Distro make available in Australia, and we told you that they have a stable of exotic brands, well since it's quiet on the news front we throught we'd share another one of their brands, the TFS 24Seven Design Lab. TFS offer handlebars, forks, number plates, soft goods and frames.
When reading about their frames we liked what they have to say, here's some interesting extracts from the frames page (www.tfsdesignlab.com/frames.html).
No power robbing frame flex:
Our tube sets are custom made for us, utilizing trapezoid's on the top tube. At the head tube and seat mast these allow us to have a stiffer front triangle.
lOn the rear triangle we modified the seat stays to what we call G-stays. Tubes we had made into D shapes, gave it s box'ish chain stays, add a well thought out braces that allows for some frame dampening on bumpy tracks while keeping power robbing flex at bay.
Quality:
Frames are crafted in North America using USA 6061 made seamless tubing. We could have cut corners going with cheaper tubing, cheaper welders, even cheaper paint but then again you can already buy a lot of frame that are cheap. We are making it so you can buy something good for your hard earned money that going to last
The Response frame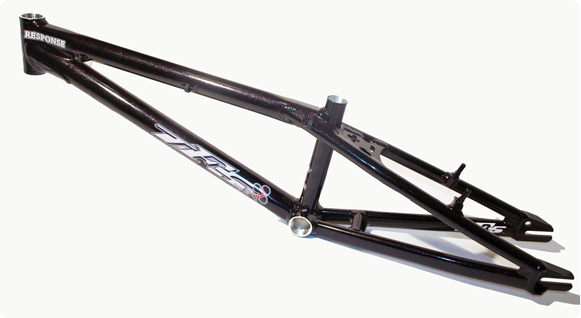 Available in six 20″ sizes (Junior to Pro XXL) and one 24″ size (Pro Cruiser).
Geometry: www.tfsdesignlab.com/frame-spec-s.html
Want to find out more? Check out www.tfsdesignlab.com
Posted in: News