Supercross Australia now running Alienation hoops
Supercross BMX Australia  press release
We are extremely pleased to announce the Supercross BMX Australia factory team will be running Alienation hoops from now on.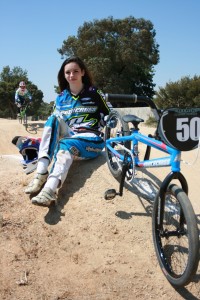 Established in 2006, Alienation are a relatively new company, but they have already made a massive impact across all aspect of BMX. Alienation specialise in grips, hubs, rims, seats & tires, though their product range is much deeper than that. Their drive, innovation, eye for style and unique approach to all of their products is what keeps them on the bleeding edge of BMX design and development. It allows them to create the best, strongest and lightest BMX products money can buy…and more importantly with an affordable price tag.
We have already started rolling out Alienation rims to the team, some of which chose to go for the super strong and lightweight tubeless (TCS) compatible Malice rims so they will be tubeless ready once the tires are available. So if you see Jade, Peter or Esther, make sure you ask them about their new rims.
About Alienation
Alienation support many of the worlds best BMXers, on the race side of things that includes the likes of Barry Nobles, Joris Daudet, Caroline Buchanan, Mariana Pajon, Shanaze Reade, Supercross BMX Team, GT Team, Haro Team, French National Team, Australian High Performance Team, just to name a few.
Alienation products are distributed in Australia by Elite Cycle Imports (ECI).
For more information about Alienation and their products visit www.alienationbmx.com
About Supercross BMX Australia
Supercross BMX Australia are supporters of BSX and the Royal Children's Hospital and while we have our own Supercross and Speedline/Supercross teams we also co-sponsor the bmxultra.com team and the Anarchy Australia team.
Did you know that Supercross BMX Australia is the exclusive distributor for Supercross, Speedline and Anarchy products?
We only sell our products through reputable stores who can provide you with the service and expertise that will help you get the most out of your bike and your dollar.
If someone walks up to you and asks you if you are interested in buying any of these products ask them what store they are associated with, ask them what their post sales support is like, ask them if they offer a Supercross standard crash replacement warranty, ask them where the money goes. Most importantly ask a Supercross dealer for a quote before you make a big mistake and hand your hard earned cash over to the wrong person.
Supercross only offer warranty and support for the products purchased through our approved dealers.
We are proud to support local industry and local riders who also buy local.
To find out more information about Supercross BMX products, Anarchy BMX frames and Speedline Parts check www.supercrossbmx.com.au
If you would like to purchase Supercross BMX products in Australia please have your local bike shop contact us. Please note, we do not sell direct to the public. We support the Australian BMX Industry! Do You?
For more information and dealer enquiries email sxaustralia@supercrossbmx.com.
Posted in: News