What Happened to OS20 Wheels?
The OS20 wheelsize was poised to revolutionise BMX racing, making it faster. When the 22″ wheelsize came into play, in the freestyle side of BMX, racers started looking for a race tire to suit. The problem with 22″, as a standard wheelsize for racing, was that a fully inflated 22″ tire pushed a 22″ wheel into the cruiser category, but people wanted the bigger wheel size to race in a 20″ class.
Mike Day, 2008 Silver Medalist, UCI Supercross time trial specialist and all round BMX legend, worked with GT Bicycles, Tioga and Alienation to develop a new wheel size that was bigger than the standard 20″ wheel but was still categorised as 20″ wheel. The OS20 was born. It was explained to me the OS20 rim has the same outer diameter as a 20 x 1 3/8″ rim with the width to fit a standard full size tire. This is confirmed by Alienation's description of their OS20 rim.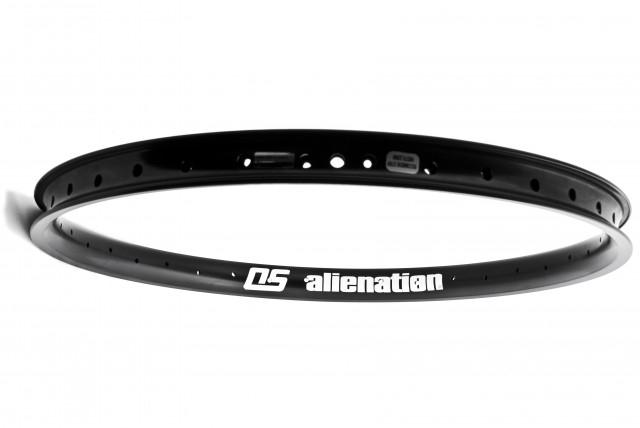 "OS2O is NOT 22″. OS2O is 20″, but bigger. There are two wheel sizes in the 20″ category – the 20″ on Jr/mini bikes which uses the 45lmm diameter wheel in narrow widths (for 20-1/8″ & 20-3/8″ tires), and the conventional 20″ which uses the smaller 4O6mm diameter wheel but in wider widths. OS2O is 451mm wheel diameter in similar widths as 406mm wheels. OS2O tires are not compatible with Jr/Mini sized rims, and OS2O rims are not compatible with Jr/Mini sized tires."
Tioga's PowerBlock comes in two OS20 sizes; 1.60 and 1.85.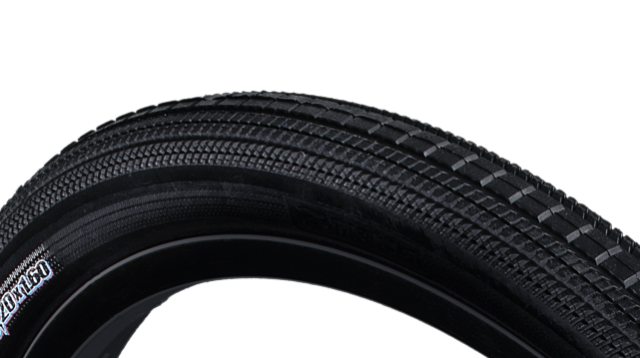 Tioga have a page on their website that explains OS20
"Why OS20?
OS20 rolls faster and retains greater forward momentum. This is achieved by a few factors.
First, it is well understood that minimizing the energy loss from the tire casing's deflection is key to reducing rolling resistance. The tire's sidewall compressing when weight is applied is one example of casing deflection. When compared with 20″, OS20, with its larger diameter and greater air volume, exhibit a smaller proportion of its casing deflecting as it rolls – so smaller casing deflection, less energy loss.
Second, the shape of the tire's contact patch also affects rolling characteristics. The contact patch the shape of the tread as it meets the ground. OS20 tire's larger air volume creates a different contact patch due to less casing deflection (see above). OS20 tires exhibit a smaller footprint resulting in lower rolling resistance.
Another benefit of smaller casing deflection is being able to maintain more forward momentum. As larger diameter tire casings deflect less when rolling, less energy is wasted in overcoming the casing deflection, thus more forward momentum is maintained. OS20 has potential for higher top-end speed and more efficiently maintains the speed.
When the difference between first and second is a fraction of a second, OS20 has the potential to be your winning edge.
Is OS20 legal?
Independently verified, OS20 wheel and tires are within UCI and USA BMX sizing regulations for 20".
What do I need for OS20?
OS20 specific frame, OS20 specific wheels and tires (including OS20 rim strip and OS20 innertubes) are essential for OS20. Many current front forks made for 20" bikes will work with OS20."
The interesting thing here in what do I need for OS20 it states a OS20 specific frame. There are very few of these available. GT have done a few runs of OS20 complete bikes. Chase did a short run of frames and forks. Standard have an OS20 frame for those who love the feel of cromo but looking for the benefits of OS20, as do G2 BMX (Gary Turner). I'm sure there have been a few others but nothing else comes to mind at the moment.
What happened to OS20?
Early Supply problems
One of the problems early in the piece was supply. Supply of the rims, tires and frames.
Early adopters were buying GT complete bikes for tires and rims.
This made it difficult for people to adopt for some time. There was plenty of magazine hype and all of the major players were testing the product.
Slower off the gate
By the time the products became widely available it was concluded that while the wheels were faster and "felt really good" once up to speed, at elite level, they gave away too much of an advantage on the gate. At that level you can't give an inch. And in the sport of BMX the start is one of the most important aspects of the race.
OS20 frames for OS20 wheels
One of the biggest problems with OS20 is that people were trying to retro fit OS20 to standard 20″ sized bikes. While OS20 does fit into some standard OS20 bikes it throws the geometry out and makes the bike ride differently to how it was originally designed.
Who is using OS20 now?
There is a slow burning trend for older riders looking to ride 20″ but want the bike to feel more like a cruiser to seek out OS20 options. This is mostly driven by individuals, or perhaps stores who have the internal knowledge to make this happen.
OS20 is here and it's here to stay.
Links
Posted in: News