What's With The Number Plate Colour Combos?
Have you ever stop to wondered why we are forced to use certain colour number plate and number combinations for certain classes?
The UCI have an old rule that states
6.1.091

Each bicycle entered into competition must have a number plate attached to the front of the handlebars.

Number plates must be made of plastic or other similar flexible material.

Riders must use the plate and number colour combinations specified for the
category in which they are racing as follows:

a. Championship level
i. Men Elite, Women Elite: white plate, black numbers.
ii. Men Juniors, Women Juniors: black plate, white numbers.
b. Challenge level / Masters level
i. Boys, Men, Masters: yellow plate, black numbers;
ii. Girls, Women: blue plate, white numbers;
iii. Cruiser: red plate, white numbers.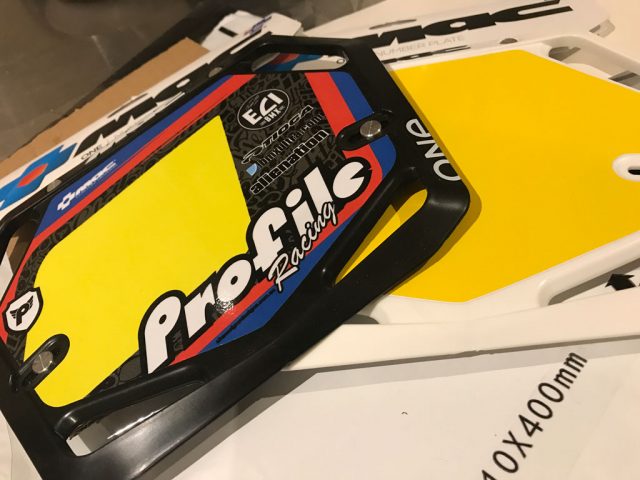 The colours we use here in Australia are based on this rule with some small adaptations.
I started BMX racing in the 80's where we could choose the colour of our plate and numbers and the only rule you had to adhere to was that the numbers be legible. We were scored manually from our numbers so it was in your best interest to ensure the scorers got it right. Of course the commentators needed to be able to read the numbers as well. It certainly was different to now.
Today if we compete at UCI level or UCI sanctioned events the number plates are provided with the correct number and colour combination for the event.
I'm not convinced that we need to stick to this ruling at other times. The number plate combinations indicate male and female riders in the challenge classes, but why? Especially when at elite level the men and women use exactly the same colours. White plate and black numbers for Men and Womens elite and Black plate and white numbers for Junior men and women.
Also the rules for the plate combinations were made before transponders were available for racing here in Australia. The transponder being correct is far more important than a number on a number plate being the right colour, contrast, etc. This is evident as a rider is penalised if their transponder doesn't register in a race.
Recently the UCI changed prize money pay out to be equal for men and women. Why aren't the number plate combinations in the challenge classes also reflecting equality?
I might be writing this because I selfishly want the choice to run whatever colours I want to suit my bikes, I might be wanting people to question why we do it at all. But probably most importantly why should sexes be indicated by number plate colours in one category but not another?
Posted in: News