There have been thousands of BMX brands come and go through the history of BMX, and a bunch of revived brands too, many of them just a shadow of their former self with people trying to make a buck from the name which meant a lot to so many people back in the day.
The Anarchy frames are a little different. Anarchy used to be an Answer frame and was referred to as the Answer Anarchy. It's now just Anarchy with no association whatsoever with Answer. As the story goes "2012 is the rebirth year for Anarchy, new owner, new identity, new bike, new team, it is about to get crazy."
Australian Anarchy factory riders Cat Hopkins (WA) and James Lautier (Vic) represented Anarchy at the Australian Championships in Mount Gambier this year. Cat made the Elite Women's main for the second year in a row and finished with a 7th and James won the Elite Cruiser class. You can see these two hot shots ripping it up in the pro classes on their Anarchy Riot frames all over Australia.
Anarchy comes out of the same stables as 2011 ABA Bike of the Year winning Supercross brand, with the same mad scientists/frame builders behind the ground up rebuild.
Features:
7005 Alloy Race frame
Easton ULR Ultra Light Race Tubing that features Easton's taper wall technology
lowered the profile to be light, stiff and responsive
seatstays utilize a pierced wishbone design to offer a sleek look and an elongated weld area, not to mention a cool place for the Anarchy A logo at the end
CNC'd dropouts are extra thick where your axle bolts on to optimize the stiffness and strength while minimizing weight
pass through cable guides show the race lineage by making it easy to tear down for travel and allowing the full length housing for optimal braking
sizes: Expert XL for 1 3/8″, Expert XL for 1.5″, Pro, Pro XL, Pro XXL and Pro cruiser
colours: Gloss Black, Raw, Acid green
(We have been told there will be some additional sizes coming up very soon. But the smallest frame on offer will be Expert. There will also be some colour changes very soon so not all colour options listed will be available in the near future.)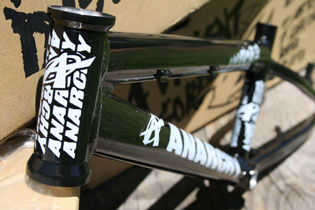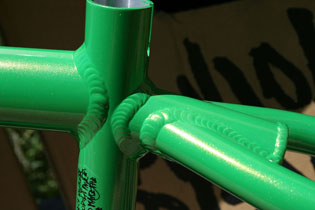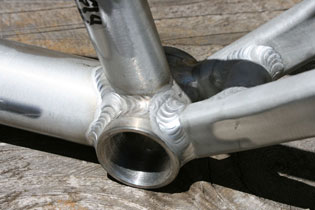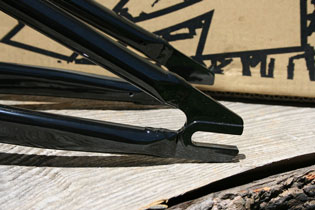 While talking to James Lautier one day he wanted us to put together a review of the Anarchy frame, but we had to find an established AA Pro rider to get a second opinion. That's where Joel Clark stepped in. The many times Queensland Pro Champion has been in Victoria for a few months while preparing for a few months stint of racing in the US. He just happened to turn up to a track one day when I was there with my camera and James was there with his bike. So Joel changed his seat and pedals over to James' Anarchy that's loaded with some of the best gear including: Profile Cranks with outboard bb and spline drive spider, Profile Elite hubs with Alienation rims, supercross forks and bars, and off he rode.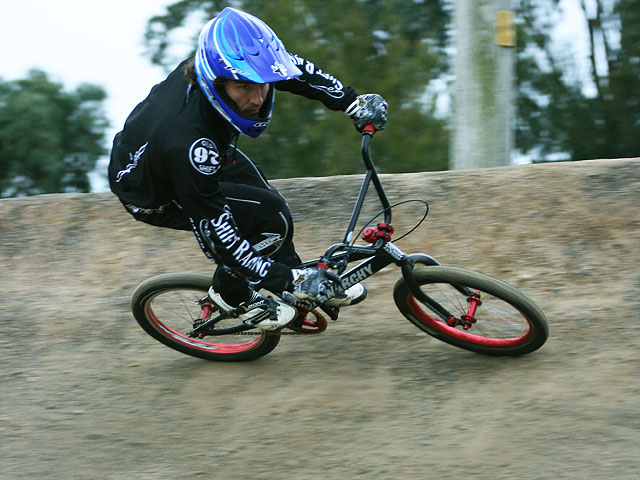 I'm always amazed by how quickly pro riders can just take just about any bike and ride it like their own, even more so with Joel that he could do it on his first lap. This guy just oozes natural ability.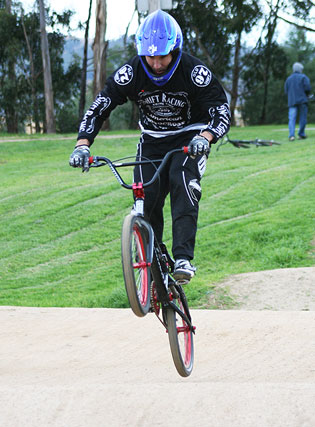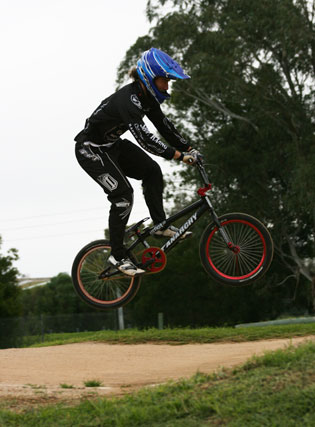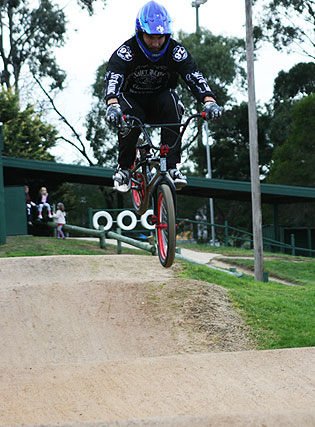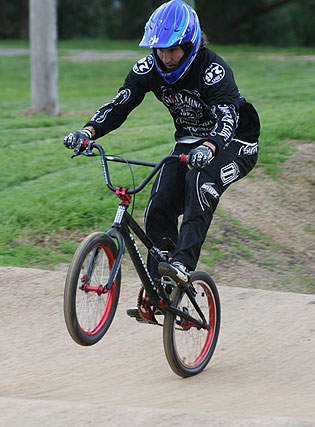 When we asked him for some feedback this is what he had to say:
jumping was very stable not twitchy in any way
cornering was good due to steep head angle, I felt very confident cornering on this bike
manualling was fine too
I can honestly say riding this bike felt as if it was my own straight away.
One thing that people overlook with race products is the safety. I'm not talking about helmets, gloves that sort of thing. I'm talking about how a product should react in the case of a big impact, like the safety features of a race car for example. It's not always a consideration when buying products, often the price isn't either it's looks. Did you know that Answer Dagger and Scythe forks have crumple zones? What about the Supercross ENVY and now the Anarchy Riot frame does too. In the case of the frame a lot of design work has gone into building a frame that will crumple when you nose in too heavily rather than tear apart and potential cause more harm to the rider.
Not everything was perfect with the first of the new batch of Anarchy frames though, there were some teething problems. The first being the chain alignment. There's not a lot of chain clearance, if you have some of the better designed hubs you can play around with spacers on the cassette to move your cog and give you more clearance and then it's not a problem. We also noticed a tyre clearance issue with the pro cruiser, you are limited to the size and type of tyre you can use. We were told these issues have been addressed now though.
We aren't going to tell you the Anarchy is for everyone. Some people just won't get the wishbone seat stay and they won't like the micro dropouts. But there is no doubt the race winning geometry, the stiffness and the super light weight frame will help you get to the finish line quicker.
Rating 19/20:
| | |
| --- | --- |
| Value for money: | 5/5 |
| Weight: | 5/5 |
| Functionality: | 4/5 |
| Looks/Finish: | 5/5 |
Comments:
The Anarchy frame offers some of the same benefits of the Supercross ENVY without the same price tag
There are few frames on the market that can rival the weight of the Anarchy the pro XL weighs just 3.13 lbs (1.42kg)
As a frame the Anarchy functions perfectly, and we love the safety feature, there were however a couple of alignment problems on set up that can be overcome but can't be ignored
The Anarchy is pure eye candy as far as we are concerned, great design, great welds, great finishes
Australia specific information
Anarchy frames are distributed in Australia by www.bmxcompound.com.au
Reviewed by Joel Clark and Shane Jenkins/bmxultra.com July 21 2012