After struggling to find a stem set up to compliment my current ride I have been eagerly awaiting the arrival of the new Answer dual length stem. I found myself trackside, looking at what others are running and thinking how would that feel on my bike. It doesn't matter if you're eleven or thirty seven, you still find yourself swapping bikes with the other kids at the track to see what the latest and greatest bike is like to ride or whether those bars will suit you. As far as stem length goes, it's a measure that can only be felt through your current set up. Now everyone can give you a text book set up as to what you should be running but let's be honest that can just feel wrong. I am guilty of running a stem for the look factor rather than the functionality of how it steers or feels to jump and manual. When purchasing a stem, we really only want to buy one. It gets quite costly getting a comfortable set up 5mm at a time, whilst handing over cash to find your happy place behind those bars.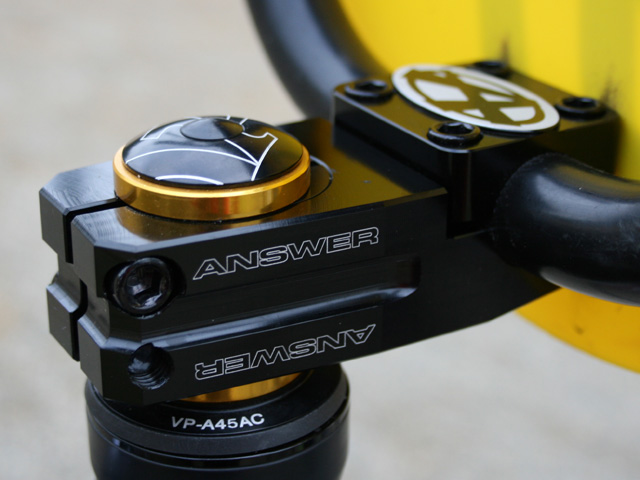 The beauty of the new Answer stem is that it will give you two set ups in one, now doubling your odds of finding the right stem for you. When I heard of this new stem, that in Pro XL size goes from 50mm to a 57mm stem, the mind boggled. What engineering feat had taken place behind the doors of Answers research department to create such a beast? Upon receiving the stem, I'm sorry to say, that I was rather disappointed that I wasn't going to spend a good hour in the shed measuring, moving, tightening and loosening the highly sophisticated clamping mechanism to alter the stems length. Not to be. The stem has an offset insert that you push in where the fork steerer slides in; it is thicker on one end than the other. I hope I can explain it in a manner that makes sense. If you put the thicker part of the insert toward the seat end of the stem it will make the stem shorter and by reversing the insert it will lengthen the stem.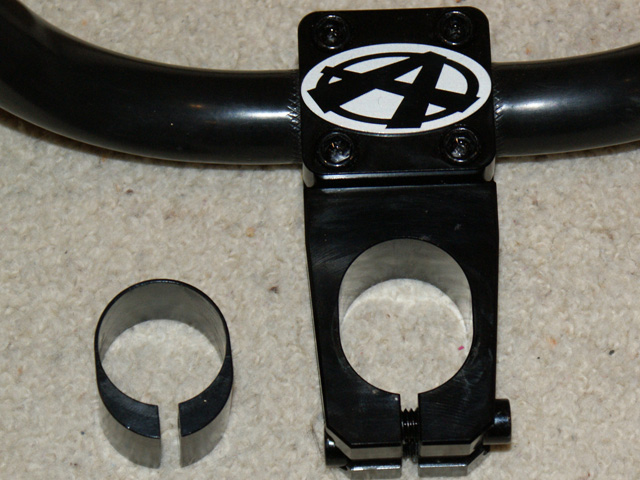 When it came time to put the stem on my bike the biggest decision to make was if I was to put a slight smear of grease on the insert to avoid any potential creaks or groans that may present themselves under the strains of riding. I decided I would go without grease and see if a noise would present itself. And I can tell you after a considerable amount of riding it feels stiff and strong and hasn't let out a peep. The other concern was if by having the insert will the stem lock onto the fork steerer tube and stay tight? After checking the stem it has not moved nor has any of the pinch bolts looked like coming loose and it has maintained its original position.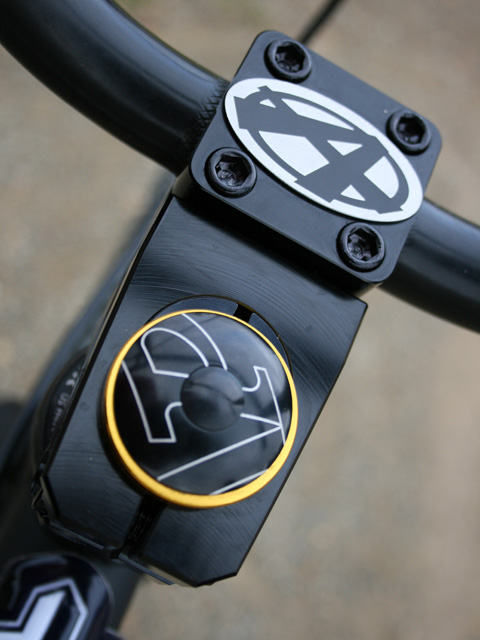 Answer has taken one of Henry Fords' marketing ploys by selling the new dual length stem in any colour as long as it's black! But in saying that the size adjusting insert will be offered in time to come in anodised colours which you purchase as an option to your standard black insert that comes on the out of the box stem. As always Answer offers a highly finished product which will always add that subtle bling effect to your ride with mirrored finish anodising and cool logo placement. And the exceptional quality in the stems manufactoring can be felt when you screw the pinch bolts into place (no sloppy threads) and the finish of the knurling under the cap is of the highest quality and can be felt by the high level of grip the top cap has on the bars without even doing up the bolts.
There are three sizes in the Answer dual length stems; firstly a 1 inch stem which reaches 35mm-40mm a handy tool in making that mini or mini xl last another 6 months before that expensive frame upgrade; second the Pro size which is 1.1/8" and reaches 40mm to 45mm and finally the Pro XL 1.1/8" that reaches 50mm-57mm.
In closing, if your undecided on a comfortable stem set up the dual length Answer will provide you the option that works for you and your setup.
Rating 20/20:
| | |
| --- | --- |
| Value for money: | 5/5 |
| Weight: | 5/5 |
| Functionality: | 5/5 |
| Looks/Finish: | 5/5 |
Comments:
2 stem lengths for the price of one, you have gotta love that!
The Answer adjustable stem is as light, or lighter than other high end top load stems
Provides equal clamping power to any other stem in the market but the additional feature of changing lengths without requiring a second stem
Answer's quality and finish is always top knotch, although it would be nice to have other colour options
Reviewed by Dean Steele June 24, 2011