I must admit I hadn't heard of the Vans Gravel shoes until I got a call from bmxultra.com team rider Dane Pangallo telling me have to check them out. I have been racing bmx since 1981, and I have been racing on platform pedals with Vans shoes since 1982. Over the years I have tried other shoes, but would find myself back in Vans in no time.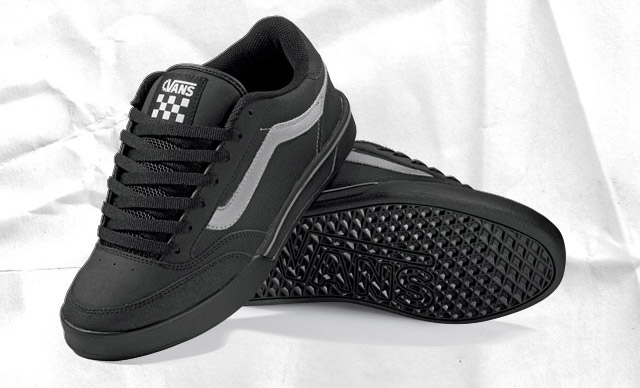 I have never been interested in clip shoes and pedals. I have used clips before, on my mountain bike, but never bothered with them on my BMX, they just didn't interest me.
I had a few friends in my ear about the 510 shoes which drove me to the point of trying some on once, but I have never really strayed from what has worked so well for me for so long. I feel very secure with the Vans waffle sole, to a point where it nearly feels like it's a part of me.
Pedals have come a long way since the original Shimano DX platforms hit the market and I have settled for the larger platform and extremely grippy Funn Soul Jam pedals, which I highly recommend to any flat pedal rider. You could just about get away with running a shoe with no tread pattern at all and still will never slip a pedal, but they have a tendancy to tear up the sole of your shoe pretty quickly.
For many years I have been using Classic, Authentic, and Old-Skool Vans shoes but recently returned to the Sk8-Hi, it was the first pair of Vans I owned and I loved them because of the extra ankle protection, and (of course) style. I had noticed in various photos that have been taken of me over the years that the standard Vans shoes provide such little support that my foot had a tendancy to wrap around the pedal nearly like a claw. It works, it certainly felt natural and comfortable and it's never really bothered me before, that was until I injured a toe that just never seems to heal. Too much riding I guess, but it's not enough of a problem to make me want to slow down any time soon.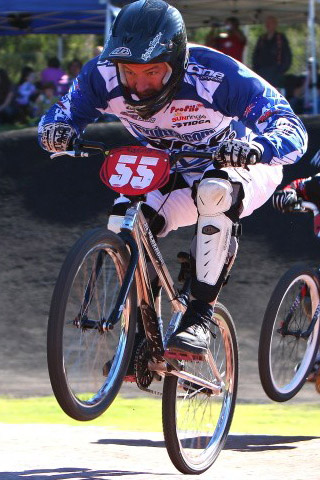 The Vans Gravel shoes look more like a nice casual Vans sneaker, similar to the popular Vans Warner SPD shoe but it's made specifically for flat pedal riding. I have to stake this claim right now, the Vans Gravel is a BMX shoe as indicated in the design of the box they came in, covered with Comp III tire prints. Although I am sure MTB heads will tell you otherwise.
While wearing them there are four things I noticed instantly; (1) they have a much stiffer sole, (2) the sole is a whole lot more sticky than the standard Vans, (3) they are light weight (4) and they have plenty of air flow.
Actually the sole is far stiffer than standard Vans and a lot softer to walk in, they provide amazing absorption and support your feet and stop the clawing on the pedal. (I must inject here that the stiffness has provided extra support I need for my toe to heal.) The sticky property of the sole only adds to the effectiveness of the waffle grip. The rubber used in the sole is TRAX Rubber. Here's some info that was hanging off the shoes "TRAX Rubber specialises in engineering high friction rubber for performance sports footwear. Originally developed for technical rockclimbing where high friction and grip is essential to performance. TRAX Rubber is now used by Vans for extra grip in tough situations."
Not only have I been riding and racing in these they are so comfortable I have been wearing them around too and they aren't showing any signs of wear just yet. Not from the rather beefy studs in my pedals or general wear. Most importantly they provide superior grip and I haven't slipped a pedal yet.
The only problem with them is you won't find them in Australia. This is my effort to get in early and hopefully convince the Aussie distributors there is a market for them. Don't worry we searched high and low. It's a shame that Vans don't pay more attention to the cycling crowd in Australia. If you look at the number of people who use the Vans Warner SPD shoes to race in, they could have done quite well. Make sure you contact Vans Australia and let them know you want to buy some Vans Gravels locally. http://www.vans.net.au/formwcs0130200/Contact.html
That said thank you Vans for thinking of us flat pedal BMXers that want to get the most out of our riding experience. The Vans Gravel are hands down the best shoes I have ever used on my bike in my 30+ years of BMX racing.
Check this link for more information: http://www.vans.com/microsites/bmx/gravel.php
Rating
20/20:
| | |
| --- | --- |
| Value for money: | 5/5 |
| Weight: | 5/5 |
| Functionality: | 5/5 |
| Looks/Finish: | 5/5 |
Comments:
Great price for a flat pedal specific shoe that's going to provide you with more grip than you could ever ask for and survive the abuse of everyday riding
The Gravel shoes are very light weight
Unbeatable grip, comfort and style
The Gravel shoes are the perfect flat pedal shoe on the bike and are durable, comfortable and stylish enough to wear around.
Race photo by Cranked Photography
Reviewed by Shane Jenkins/bmxultra.com June 17, 2011
Posted in: Race Clothing · Reviews