How many bikes can you think of that come complete in an XL size with a 21″ top tube length that are 9.5kg straight out of the box?
And how many of them are only RRP$899 (in Australia)? Think about it, you could just about buy another bike for the price you would save on something like a Redline Flight or a GT Speed Series. You could customise the Laserlite to suit you and still have some money to get you to your next race, comfortably.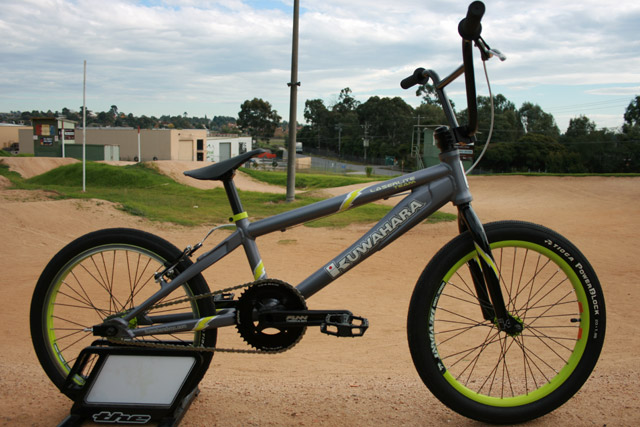 Over the past few years I have taken a look at the Kuwahara Laserlites a few times. After riding the first model I just couldn't help myself. Each time the bike is refined more and more. The most significant change with the current frame is the colour scheme. There are componentry changes that are pretty impressive; including the Alienation slider pivotal seat and post combo, the Alienation rims, and the Tioga PowerBlock tires. Someone at Kuwahara has been doing their homework with the PowerBlock tires as the back is a 20×1.6 and the front a 20×1.95. The Funn stem and Fun Hooker cranks are still a nice feature. Kuwahara have also made an improvement on their previous forks going for a tapered leg cromo fork, the forks feel stiff and strong enough for the period of the review.
The bike I reviewed had only one modification, the brake lever was switched from left to right (as seen in the photos).
One of the worst things that kuwahara have done is to dump the Funn Soul Jam pedals. I know they did it years ago, but it's a hard thing for me to get over. They are a far superior pedal to the current platform pedal that comes standard on the Laserlite.
As I had mentioned in previous Laserlite reviews the handlebars and forks might be fine for the beginner to intermediate rider however anyone who is serious about their racing, and might be getting their jump on, would swap out the forks and bars for something more reputable that's stronger and maybe even lighter.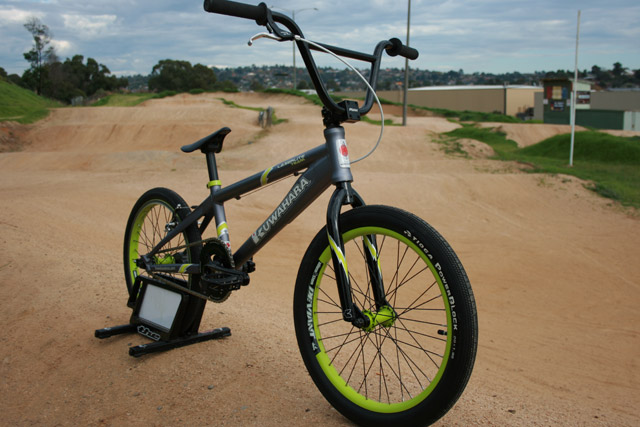 I have always liked the way the Laserlite handles on the track, at first it feels a little twitchy in the steering but once you are in race mode it carves the corners as well as anything else I have ridden, it's very stable in the air, and it's very easy to accelerate on. The length of the rear is perfect for manualling, but yet is long enough so you don't pull massive wheelies out of the gate. It's a well balanced frame that has a very natural feel about it. While it's a very strong and stiff frame up front it seems to have a little bit a give in the bottom bracket area, which is perfect for most people. I think I noticed it more because of the alloy cranks and my weight which meant more give than the cromo cranks I'm used to. If Kuwahara were to go back to using 7005 alloy for their frames that would probably be gone, but the bike would also be a little more expensive.
Some of the things we mentioned in our last review was a longer frame option. It's now available with in a XXL size frame with a 21.75″ top tube. It's also now a whole lot more affordable than it's ever been and let's not forget it's a scant 9.5kg as a complete bike, right off the floor with no mods for the XL model.
I wasn't sure about the green/gun metal grey colour combo at first, but it sure does stand out, and it didn't take long for it to grow on me.
The only problem I had for the whole of the review was a pedal washer got crushed which caused the pedal to come loose. After throwing the pedal washer away and tightening up the pedal the bike was ready to ride again.
I have heard nothing but praise for the Kuwahara Laserlites from people who have ridden them, and deservedly so, the Kuwahara is a proven race winning machine with a fantastic price tag. A very nice package indeed.
Sizes:
Team (XL 21″ TT & XXL 21.75″ TT)
Pro (20.5″ TT)
Pro 24 (21.5″ TT)
Expert (19″ TT)
Junior (18.25″ TT)
Mini (17.25″ TT)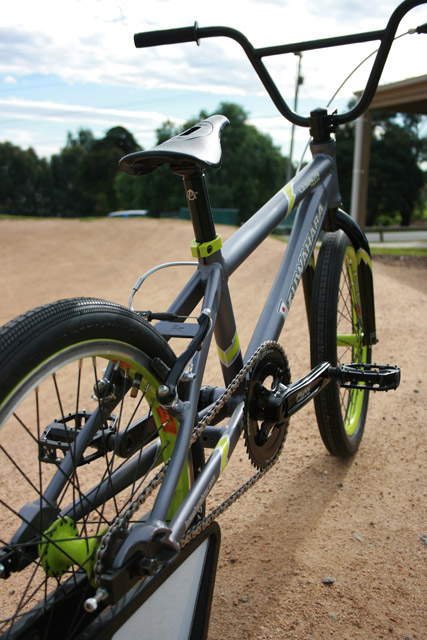 Features:
| | Laserlite Team XL – 21″ Top Tube |
| --- | --- |
| Frame | AL6061 Hydro formed down tube/seat stays, internal headset |
| Fork | Tapered Cromo 1 1/8″ |
| Headset | Tange  1 1/8″ Semi Integrated Cartridge Bearing |
| Handlebar | Kuwahara Cromo Pro XL Size |
| Stem | Funn Thrilla-MX 55mm CNC 6061 AL |
| Grips | Pro Race Soft Rubber |
| Saddle | Alienation Slider |
| Seat Post | Alienation Pivotal |
| Seat Post Clamp | Alloy single clamp |
| Freewheel | Cassette Cog 16 tooth |
| Crankset | Funn Hooka-DH Hollow Axle 180mm |
| BB Set | Funn Integrated Sealed Bearing Euro BB |
| Chain Tensioner | Kuwahara Alloy |
| Chainwheel | Funn Alloy DH 44 Tooth |
| Rear Brake | Alloy Linear |
| Front Brake | Alloy Caliper (For Outside USA) |
| Brake Levers | Alloy Linear |
| Brake Cable | Deluxe Casing |
| Pedals | Alloy Pro Platform |
| Chain | KMC Nickle Plate 1/2 x 3/32 |
| Front Hub | Kuwahara Alloy Sealed Bearing 36 hole |
| Rear Hub | Kuwahara Alloy Sealed Bearing 36 hole Cassette |
| Rims | Alienation (F) Deviant – 20×1.75 36H, (R)440 – 20×1.75 36H |
| Tires | Tioga PowerBlock Front 20 x 1.95″ / Rear 20 x 1.65″ |
| Color | Gun Metal Grey with Lime green rims, hubs and seat clamp |
A case study
While for some, the Kuwahara would be perfect, for most changing handlebars and forks will be enough, but then you have your extreme customisations. This case study is Dean Steele explaining the customisation of his son Liam's Kuwahara, 'Pimp my ride' / 'Extreme makeover' style.
by Dean Steele
When Liam received his 2011 Kuwahara Laser Lite Pro for his team bike, thanks to ECI Imports, I decided it was a great opportunity to build a bike that has parts that are transferable for future bikes.  A lot of parents try to build bikes to a budget that will cost them in the long run. I do understand BMX can be an expensive sport and we all don't have unlimited funds (unfortunately). With a slightly longer stem, one tooth too many in gearing and a bit of bluff, you can, more often than not, get a kid to ride around that small obstacle, and they will inevitably grow into or learn to ride around. I have seen people shake their heads at some of the things I do as far as set up i.e. flat pedals, 170mm long crank arms and a pro size frame and that's ok. With this set up I have favoured a solid bike rather than a bike that weighs two tenths of nothing.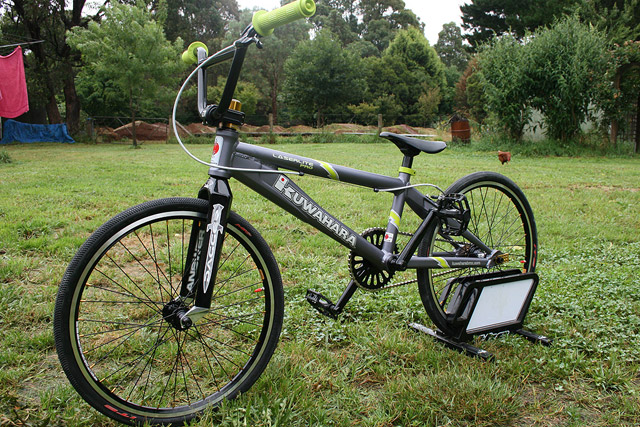 Wheels
Liam is now hitting up bigger jumps and the constant truing of wheels isn't much fun so I wanted a bullet proof wheel set that could cope with a few hard cases that get thrown at it.  So a pair of 36 hole Alienation ankle biter rims in 1and3/8 were the go. They are double walled and made from 6061 alloy so they will give a bit on those "didn't quite make it" landings that we all experience from time to time. The rims have a machined finished outer wall for the brake blocks to grab which means the brakes really hook up,  the anodised finish is of the highest quality and  easy to clean.
Hubs
Profile Elite hubs were always going to be the way to go, with these hubs being so serviceable they really appealed to me.  Once you see the inside of one of these hubs you will be impressed with six pawl system and 204 pick up points the machine work that goes into making these hubs is awesome. The other thing is that you can sit and play with the hubs in your hand and turning the driver you are trying to feel the point where the pawls click over and engage. It's like trying to open the fridge door quickly to catch the little guy out who lives inside operating the door light.
The one thing I did option up on the rear hub is a gold 16 tooth Profile sprocket. Reasoning for this was more bling than weight reduction. (I have a bad habit of that) but there is a significant weight difference between the standard sprocket and the profile alloy sprocket.
The rims and hubs were woven together by Gorak from Riding Way, the wheel building guru, with black stainless steel spokes and gold nipples just for a bit more bling.
Tyre wise, a pair of second generation intense micro knobbies were put on to the rims not being a fan of the first style micro knobbies as they wore out so quickly.  One skid and they had a horrible flat spot on them and you wouldn't dare spend too much time on concrete or asphalt with them or they just turn into a bowl riding slick.  But the micro knobby two has a raised flat band in the center of the tire which is just awesome no spin coming out the gate on a wet day and the amount of sprint work Liam has done on them at the local primary school basket ball court which is asphalt and they are a bit scuffed but I would have easily put two of the other tires on by now. Inflation wise the tires are held up with intense race lite tubes, and boy do they live up to their name they save a considerable amount of weight to the tire and wheel package.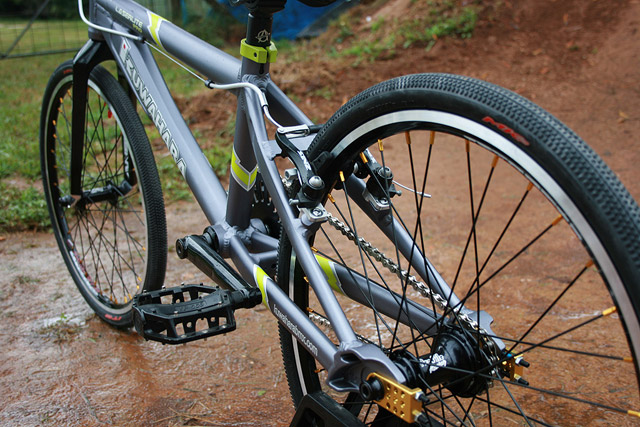 Cranks
Cranks, as we all know, take a fair bit of punishment and with past bikes of Liam's I was sick of pulling bottom brackets apart to re-grease cups to stop squeaks and reoccurring rattles.  So I vowed I would go profile when the time came to update.  After owning the same set of second hand profile cranks for the past 12 years and only removing the once to swap into a new frame I have found they are a set and forget type crank.  Sure they can be a little bit fiddly to set up with chain spacing but once you have the correct formula you don't need to constantly pull them down to eliminate those gremlin squeaks and groans.  So a pair of 170mm Profile cranks went on with a hollow titanium spindle and a tuff neck Profile specific bearing set.  As with the hubs I could have gone titanium bolts but didn't deem it necessary to shed weight.  If they do wear out in the years to come I might consider it, but not at this stage.  A Profile imperial 42 tooth sprocket was the choice on the front, being sick to death of trying to get spider and chain wheels to align so you didn't have an egg shaped front sprocket thus creating uneven chain tension. But with the above mentioned set up there are no problems spinning those cranks backward and listen to the nasty snarl of those elite hubs and looking at perfect chain alignment. Chain tension is maintained by a pair of Answer chain tensioners and that is probably not a thing I would recommend as they had to be drilled out to suit profile hub bolts. But, being me, I had to have gold and I really like the look of the Answer chain tensioners.
Frame and forks
Anyone who knows me knows I am a bit of a Kuwahara fanatic.  I just really get along well with the geometry of a Kuwa.  Liam himself has ridden other kids bikes at gate nights and has never come home begging for a different bike as he always feels at home on a Kuwahara. The 2011 Laserlite pro still runs with hydro formed down tube and rear end giving the 6061 alloy the strength that you feel when you're loaded in the gate with the front pedal preloaded. Hey, cromo is nice but aluminium is the go for kids. A pro sized frame as we all know runs 20 x 1.75 wide rims so Sinz brake bolt adapters had to be run to move the v brakes into the correct functioning position for the 1 and 3/8 rims. We also swapped the standard v brakes for a shorter Sinz mini v brake arms to reduce the horrible flex and sponge feeling you can get through the brake lever.  The result was great with a nice and snappy lever.  Kuwahara have gone and changed out the traditional cane creek headset for a Tange set up which is a big winner in my eyes as the cane creek never had a long life expectancy. The gun metal grey with green bolts and white decals is not everyone's cup of tea but it gets away from all those complete white set ups that are getting around.  I can always spot Liam on the gate at a race meet with the loud colour scheme.
Fork wise, carbon was the go to shed a bit of weight for manual work and boosting doubles. So Answer daggers were the fork of choice as they look clean and modern they don't weigh in to bad either at 22ounces.  I love the drop outs they have been machined out beautifully and the front wheel just drops straight in.  There is no tweaking of the wheel when doing up the wheel nuts to get it to sit right.  The fork leg seems to have a jell coat type finish which makes them durable to all those bumps and knocks that kids put them through. The other big bonus is they have developed a new screw in cap that preloads the headset and works really well.
Bars and stem
With they're not being a 6 inch rise 20″ bar on the market at the moment!! The standard chromo bars were left on the bike; grips were changed for Alienation backlash set in neon green.   Which are very comfortable! However the standard 55mm stem was swapped for a 45mm tuff neck front loader stem just to get Liam's weight back over the top tube. And of course some gold stem spacers for more bling.
Standard equipment that remains from the out of the box set up are the chain, brake cable and seat post clamp. I still have all the unused wheels forks cranks etc in the box and when the time comes for the update I will turn this bike back into a stocker and on sell it.  Weight wise this current bike as you see it is a 9kg bike or 19.8 pounds in the old scale.  Since the photo shoot I have put fluoro green Funn Soul Jam MTB style pedals on which in my opinion are the closest thing to being clipped in that you can get on flat pedals.  And eliminates the excuse of I slipped a pedal garbage that is sometimes heard!!!
Rating
19.5/20:
| | |
| --- | --- |
| Value for money: | 5/5 |
| Weight: | 5/5 |
| Functionality: | 4.5/5 |
| Looks/Finish: | 5/5 |
Comments:
A great price tag no matter how you look at it from beginner to pro this bike will suit your budget
At 9.5kg out of the box and room for improvement you couldn't ask for more
A fantastic ride, but it could be a little stiffer in the bottom bracket area
While the green/gun metal grey may not be to everyone's taste the bike looks great and stands out from the crowd.
Kuwahara is Distributed in Australia by Elite Cycle Imports (www.eciimports.com).
Reviewed by Shane Jenkins/bmxultra.com June 10, 2011
Posted in: Complete Bikes · Reviews