Troy Lee Designs/ODI lock-on grips
Troy Lee Designs seem to be enjoying the fruits of collaborations lately. The latest is with long time grip manufacturer ODI, producers of some of the most popular grips in BMX. ODI have also worked with S&M, Intense, Yeti, Tangent and STAY STRONG, to name a few, so partnerships with industry leaders isn't new to them. ODI were an obvious choice for TLD to work with and create such a unique grip.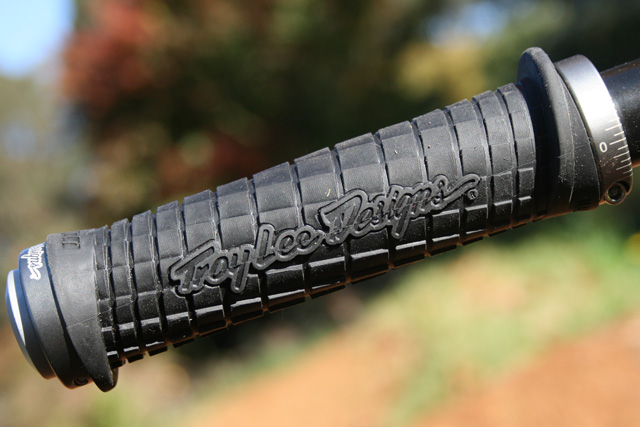 The Troy Lee Designs/ODI lock on grips come packaged with everything you need when replacing grips, including the bar end caps. While assembly is a bit of a mission, you don't need to be a rocket scientist, just remember the grips are unidirectional and pay attention to the left and right markers on the inside end of the grip before you put the clamp on.
Features:
Grooved channels prevent mud and water buildup
Overmolded flap gives added protection on outside clamp
Unique undercut pads provide comfortable feel with maximum grip
Custom flanged design provides hand support with more usable grip surface
Laser etched reference marks on inside clamp simplify grip positioning on handlebar
Laser etched Troy Lee Designs logos on outside clamps
There are two main design features that make the TLD/ODI grips so unique. There's the custom shaped flange and the unidirectional grip surface.
Until now there have been grips with flanges (which are common to BMX) and grips without (which are seen around BMX tracks but a lot more common in the mountain bike scene). The TLD/ODI grips are marketed as mountain bike grips, but just like most other TLD equipment, they translate perfectly for BMX. The angled half flange is very comfortable, it provides a more natural feel than the traditional flanged grips. The outer flange on each grip has extra rubber that over hangs the clamp which is perfect for those of us with large hands as there's nothing I hate more than the feel of an alloy clamp digging into my hand.
I have tried a few different lock on grips and never really found something that I was 100% happy with. It's usually a poor combination of grip pattern and the materials used, or they were just simply too narrow or a small diameter. Although properly fitted lock on grips will always hang on to the handlebar no matter what the conditions, the grip pattern can get wet and very slippery and there's no guarantee that your hands will stay on the bars, especially when you throw some wet gloves into the mix. The grip design of the TLD/ODI grips uses a similar unidirectional pattern to what we have seen in the Alienation Ratchet grips, although the TLD/ODI grip probably has half as many fins and has the added benefit of channels along the grip that are designed to stop water and mud from building up. Of course there's also a Troy Lee Designs logo molded into the grip but it's positioned so it doesn't effect the grip design.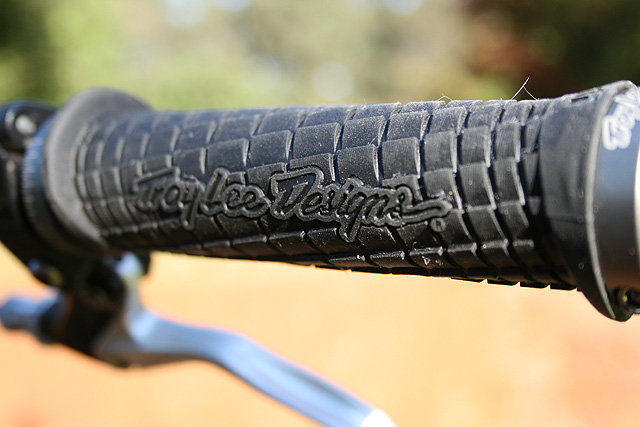 The plastic snap on end cap sits only a couple of millimeters out from the grip clamp. Which is great for riders who might run their bars close to the legal width. Personally though I am not a fan of plastic bar ends, there's just too much that can go wrong with them, they can shatter, rattle, or just fall off. My main concern is for my own safety so rather than risking the possibility of not having a bar end cap when I need it. I replaced mine with some alloy bar plugs that I know will stay in place. That said my theories are based on nothing more that my paranoia, the plastic bar end caps could serve quite well given a chance and would be significantly lighter than alloy bar plugs.
The laser etched reference marks on the inside clamp is a nice idea when trying to line up the grips, but since there are no reference marks on BMX handlebars, lining up the grips still won't be totally perfect. The laser etched Troy Lee Designs logos on outside clamps look great though.
Suggested Retail $32.95 in Australia
Colours: White with red clamps, Bright yellow with purple clamps, TLD Red with black clamps, Black with Graphite clamps, and recently added fluro Orange with black clamps.
Diameter: 31mm
Length: 115mm
In summary
Finally someone has designed a lock on grip that stands apart from all others. It's both comfortable and functional.
I've finally found a lock on grip that is suitable for large hands with a large diameter, now that's cause for celebration! While on paper these grips sound narrower than most other grips, the 115mm measurement is misleading due to the shape of the grip. Consider them equivalent to around a 135mm standard lock on grip. The 31mm diameter is the largest I have found of any lock on grip so far.
After a couple of weeks of using these grips now I'm very impressed. However, they aren't quite as soft as the single ply grips I normally use, so I wouldn't use them without wearing gloves. Heading into winter they will be the best grip option that I have found so far.
A note to our Aussie readers: Remember to buy local and support the Australian BMX industry. We do! Thanks to the Australian distributor, Steve Cramer Products, the price of Troy Lee Designs products is very competitive. Support those who support you.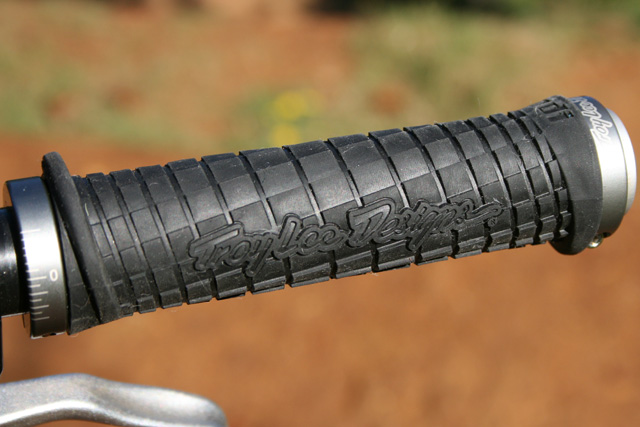 Rating
20/20:
| | |
| --- | --- |
| Value for money: | 5/5 |
| Weight: | 5/5 |
| Functionality: | 5/5 |
| Looks/Finish: | 5/5 |
Comments:
The Troy Lee Designs/ODI lock on grips are a great price, comfortable and won't let you down no matter how bad the weather gets
There's a little extra hardware in lock on grips but you won't notice it, these grips not only look great, they are light enough to keep the weight weenies happy
Troy Lee Designs have once again set new standards, this time, with their lock on grips!
Fantastic looking lock on grips that really work
Troy Lee Designs is Distributed in Australia by Steve Cramer Products (www.stevecramerproducts.com.au). For more information about Troy Lee Designs check out www.troyleedesigns.com
Reviewed by Shane Jenkins/bmxultra.com April 26, 2011