Alienation Backlash BMX Grips
I love Alienation products. Ever since I got to check out the directional Alienation Ratchet grips, a while ago now, I've been keeping track of Alienation and the innovative ideas they bring to life. I have also decked out my bike with Ratchet grips and Bullitt hubs.
If you have had your head in the sand these past few years and haven't heard of Alienation, these guys created the Pivotal Slider seat, which not only allows you to adjust the angle of the seat like all standard Pivotal seats but you also get to move the seat forward and backward just like you would if you were using a conventional railed seat. And don't get me started on the awesome driver system these guys use in the Bullitt and Royal Hubs, you will have to check them out for yourselves. Oh and then there's the instant engagement silent Clutch hub…I can't wait for a race version. I'm already sick of the constant hum from the other instant engagement hubs.
Since Alienation haven't been around as long as a lot of other manufacturers it would be easy for them to become a "me too" company just ripping off other peoples designs and ideas, instead these guys thrive on innovation and have a tendency to approach things in a totally new and fresh way.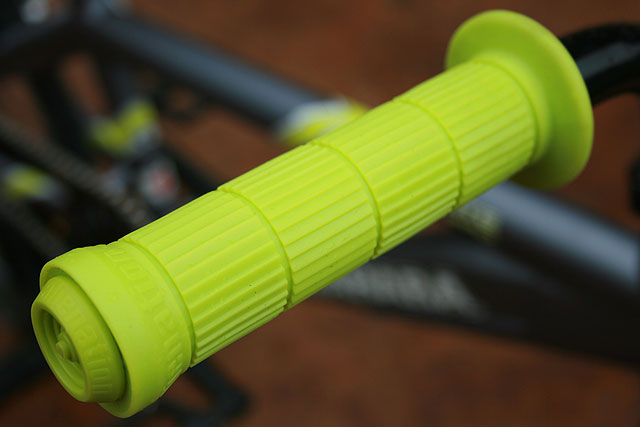 The Alienation Backlash grip is a mutation of the directional Alienation Ratchet grips which have been my personal favourite grip for many reasons:
they are wide enough for my large hands
they have big enough girth so my fingers don't wrap around the bar twice (unlike most lock on grips)
they are comfortable with or without gloves
they are durable
they provide plenty of grip. Wet or dry, gloves or not, your hands won't slip from these grips.
Alienation Backlash features:
Details: Finned Bi-directional pattern for unmatched grip; Plastic bar end plug included
Material: A25 Super Soft Kraton Single Density Rubber
Length: 145mm
Colours: Black, Lavender, Mint, Neon, Purple and Robins Egg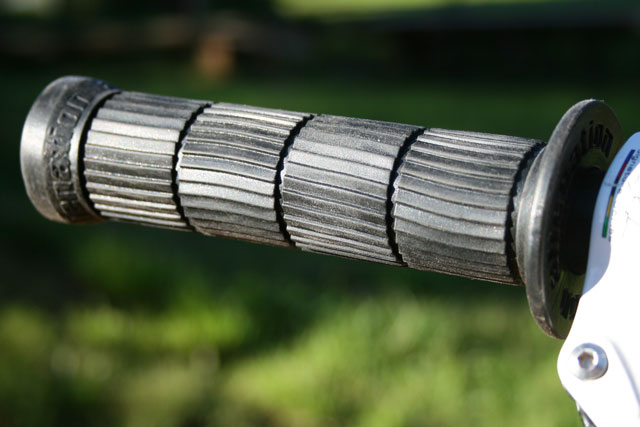 There are four main differences between the Ratchet and the Backlash
The uni-directional grip is now changed to bi-directional. You will see in the photos there are four sections of fins alternating in direction.
The colour range has been matched to the colours of the Alienation 7up rims.
The new bar plug, that matches in colour and is built to stay in the end of your bar where you want it.
They are cheaper since there is only one mold.
The Backlash do feel similar to Ratchet grips to ride with, on one side. With the Ratchet grips the fins feel the same on both sides, but on the Backlash grips the fins closest to the inside flange are facing opposite directions. It took me a little while to get used to it since I hang on to the bars so tight and had been using the Ratchet grips for so long. I'm sure no one else would notice it though.
There is one advantage that a lock on grip has over the Backlash and that is if they get wet the Backlash could slip. I use zip ties in the outer groves to keep the grips water tight when the weather looks dodgy and always keep my bars out of the rain. Depending on how wet it gets, it would normally do the trick. Despite that I'm still not keen on lock-ons personally, and I spend more time on my bike when it's dry.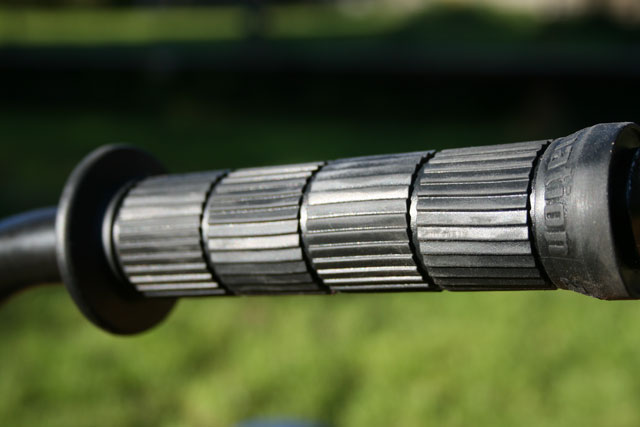 If I had to choose between the Backlash and the Ratchet grips it would be a very difficult decision. Both grips feel great and are a much better fit to my hand than any lock on grip. If it wasn't for the Backlash being available in black I think I would swing towards the Ratchet, it's literally that close.
I highly recommend the Alienation Backlash grips.
Rating 20/20:
| | |
| --- | --- |
| Value for money: | 5/5 |
| Weight: | 5/5 |
| Functionality: | 5/5 |
| Looks/Finish: | 5/5 |
Comments:
Durable, comfortable and are a great price which is awesome from a company that's cutting edge!
The weight of these things is about as light as it gets with single ply grips
The perfect grip for the man (or woman) who prefers a larger, softer and more comfortable grip
The Backlash grips look as great as they feel and with plenty of colours on offer.
For more information on Alienation and their products check out www.alienationbmx.com
Alienation is distributed throughout Australia by Elite Cycle Imports (www.eciimports.com)
Reviewed by Shane Jenkins/bmxultra.com April 8, 2011