Answer Carbon Fiber V-Brake Lever
Answer BMX has an impressive history which is just one of the reasons it's one of the biggest names in BMX racing today. There are more Answer BMX carbon forks on race bikes than just about any other brand. Many of the world's top elite riders use them. The names Sam Willoughby and Olympic Gold medalist Mariana Pajón are just two names that come to mind immediately.
Answer have been slowly growing their product range these past 12 months or so. Not only do they have their popular carbon forks and carbon bars, and their innovative adjustable stem that we reviewed a few months back. Newer products include headsets, headset spacers, chain tensioners, quick release seat clamps and brakes too. (Actually the Answer BMX brakes were so new at the time of this product review they didn't even have them listed on their own site.)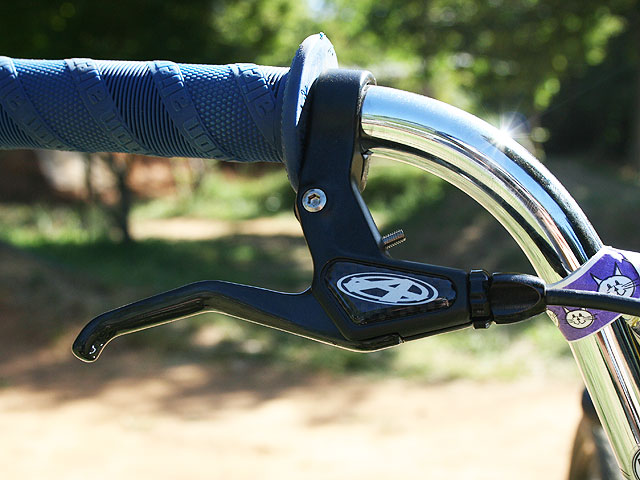 This product review came about because I had an old carbon Donny Robinson Tektro brake lever on my bike. I was after something new to colour coordinate with my components a little better. The white of the DR brakes was the only white on my whole bike and I was after something either black or blue. The Answer Carbon lever was new on the market and given the quality of their products I thought it was well worth a try.
After a number of years with the same DR lever I had been impressed with how well the lever stood the test of time, the only thing wrong with it was a few scratches from the many falls I'd been through. Aside from that though the lever was still as good as new. That's testiment as to how well a carbon lever would hold up to the rigors of BMX racing. So there was never a doubt in my mind that a carbon lever would be up to the task.
The Answer Pro Carbon brake lever features a cast aluminum body with a two finger carbon fiber lever for maximum weight savings, adjustable lever reach and spring assisted lever return for a positive feel.
I have always preferred a brake lever that has a hinged clamp, it makes light work of changing bars, which is just my lazy side coming out, because usually when you change bars you also need to switch your grips as well. The Answer Carbon Lever doesn't have the hinged clamp, but it didn't prove to be a problem, it just took a little longer to change the lever over.
The Answer Pro Carbon Lever weighs in at 3 oz (85 grams) compared with the 3.4 oz (96 grams) of the Answer Pro (Alloy) V-Brake Lever. But it's nearly twice the price. Compared to the DR lever that I was running 2.8 oz (80 grams), the Answer Carbon option is 5 grams heavier.
I preferred the cut down shape of the Tektro lever, the Answer lever is just that little more bulky, more like a mountain bike lever, but it's something I would put up with to better match the colour scheme of my bike.
The lever felt a similar shape to my old DR lever, so it was comfortable and pretty easy to adapt to. While the Answer lever may not have knocked my socks off as other Answer products tend to do, it does it's job well and has pulled me up when I need it.
If you are looking for a new lever the Answer Pro Carbon Brake Lever might be just what you are looking for. Get down to your favourite bike shop for more information.
Rating
18.5/20:
| | |
| --- | --- |
| Value for money: | 4.5/5 |
| Weight: | 4.5/5 |
| Functionality: | 5/5 |
| Looks/Finish: | 4.5/5 |
Comments:
It's a great quality lever but a little more expensive than similar carbon levers
While the Answer Carbon Lever is light, it would have been nice to have seen a more streamlined version that would maximise strength and minimise the weight, much like their forks
There's no doubt about it the Carbon lever works as well as any other lever I have ever used and is just as durable
I always like to run parts that function first and while looking good is important, it's secondary. The Carbon lever is a good looking lever, although I thought it looked a little more bulky than it needed to.
Answer products are distributed in Australia by Elite Cycle Imports (ECI) www.eciimports.com
Reviewed by Shane Jenkins/bmxultra.com January 2, 2013