Maxima products have been one of my biggest discoveries of 2012. Everything from their chain lubes to the SC1 have been extremely impressive..
Let's add to that Maxima's new Eco-friendly BioWash. To put it simply BioWash is a hardcore cleanser that won't damage your equipment or harm the environment.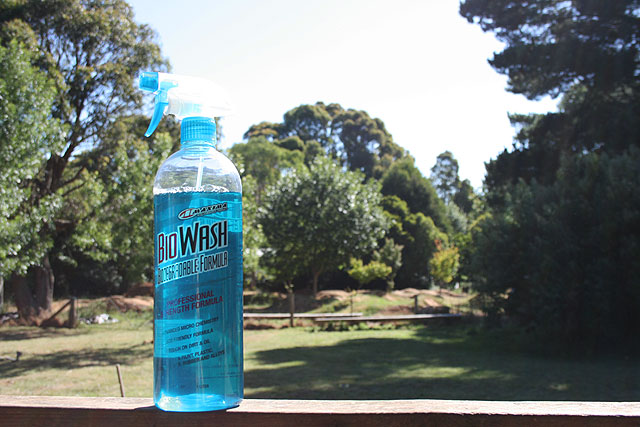 The Marketing Blurb
Maxima BioWash is a unique, biodegradable all-purpose cleaner. Fast-acting cleaning agents lift away dirt while scrubbing grime and oil based deposits. Specially engineered surfactants, lower surface tension allowing better penetration and wetting of soils. Tough on dirt, yet BioWash is gentle enough to use on delicate surfaces including paint, plastic, chrome, anodizing, rubber, carbon fiber and almost anything you throw at it. Safely and easily clean your equipment. Advanced micro chemistry protects aluminum, magnesium and other alloys. Contains no harmful acids, CFC's or solvents. 50 State VOC compliant.
User friendly formula cleanly washes from the surface. Be a responsible downstream user – Eco friendly formula is non-toxic and biodegradable.
Fully Biodegradable, Eco Friendly Formula
Advanced Micro Chemistry
Powerful Cleaning Action on Dirt & Oil
Special Additives Protect Aluminum, Magnesium and Other Alloys
Professional Strength
Safe on Paint, Plastic, Carbon Fiber, Rubber and Alloys
Gentle Enough for Everyday Use
Available in: 1 Liter Spray Bottle
So what's the verdict?
Maxima's BioWash comes in an old school pump action spray bottle instead of the spray can that you would normally see cleaning products in. Not only is this safer for the environment, but it means you use a lot less. I have found there is far more waste from a can, through over spray, than what you would get from the BioWash bottle.
Like any other cleaner you spray it on to the dirty surfaces, give it some time to absorb then simply wipe it off. It works fine on anything I have tried to clean with it; dust, dirt, mud and even oily residue. There are no streaks, or scratches left behind. It might take a little more work than using SC1 to get a high gloss finish and you may never get it quite as good, but from a product that is able to clean all types of surfaces and is still "Eco friendly" it does a great job.
I have a chrome bike and like to keep it as clean as I can. I found the trick for the best results from BioWash was to use two rags, one for the initial wipe down and a clean rag to get the final shine.
There's not really a lot that can be said about BioWash. It's simple, it won't harm the environment and, most importantly, it works!
Rating
10/10:
| | |
| --- | --- |
| Value for money: | 5/5 |
| Functionality: | 5/5 |
Comments:
BioWash is cheaper than other alternatives that we have looked at, the bottle will last a long time and it's Eco Friendly
Pump on and wipe off, it doesn't get much simpler than that. You can get a mean shine from BioWash.
Maxima is Distributed in Australia by Steve Cramer Products (www.stevecramerproducts.com.au). For more information about Maxima products check out www.maximausa.com
Reviewed by Shane Jenkins/bmxultra.com December 31, 2012
Posted in: Reviews · Tools & Cleaners