Simply put the Answer Impact glove is a very slick looking light weight glove. Although it is marketed for the Mountain Bike crowd, it also makes for a great all-round glove.
The Impact is a firm fitting glove, with no unnecessary padding down the fingers or the back of the hand, that combined with the padded palms, makes for a very comfortable, unrestricted feel.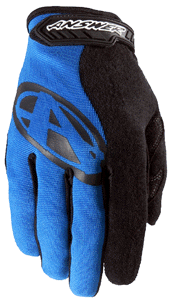 Worried about the protection these gloves provide? Don't! If Mountain Bikers can use these gloves on rough and rugged terrain, then there's no reason they can't be used on a BMX track or down at the local trails. The materials used are very durable, the top being lycra and Terrycloth and the grip being clarino, a synthetic leather.
I was given a set of these to test and found them a great fit from the time I first put them on. There was no need to wear them in as right away they felt so natural, stretching to fit even my very large hand quite snugly.
What was interesting about them was the pull tab, a new concept to me, but a great idea. As the Impact isn't a long glove it's quite handy to be able to use the pull tab to stop the gloves from creeping up your hand.
In the heat these gloves are great, they breath very well, so you don't find your hands drowning in your own sweat.
The colour range is simple, including only Red, Blue and Black/Grey, but you should find a good colour match with most accessories.
They also come in a wide range of sizes from extra small to double extra large.
The Impact gloves get the thumbs up from us at bmxultra.com, well worth checking out.
Check out the latest gear in the Answer product range at all good bicycle shops, or check out their website for more details at www.answerproducts.com.
Reviewed: 26/09/2000
Posted in: Race Clothing · Reviews