Answer Pro Moto Series Pads
Is your bike looking tired and dull? Do you want to make it look new again but you don't have a lot of money? Or are you just in the market for some cool pads?
Then Answer's Pro Moto Series Pads are just what you are looking for.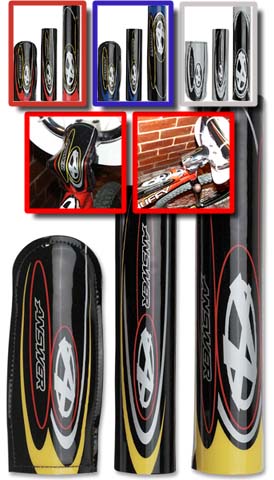 Answer are probably more well known for their huge range of high performance racing forks than they are for their pads and other accessories, but what ever they create they put in 110% effort to every detail.
The 2002 Moto Series Pads have a motocross / retro look about them and they come in a range of 4 different colour combinations; red, blue, black/silver and yellow.
They fit all standard and over sized frames and stems, but are currently not available for monocoque frames, which is no big deal considering the BMX market seems to be shifting away from the monocoque style frame anyway.
The high gloss finish will put a lift to any bike, but not only do they look good, they are practical when it comes to protecting your body parts from exposed metal and aluminium. The Velcro is strong and high quality much like the stitching.
In choosing pads it's some times the fit that makes the final decision…well I have the stem fitted to a XXL stem and it sits fine. There are no issues with the handle bar pad fitting either…I have them on my cruiser which is normally a narrower cross bar.
Like all the products that we test we have put the pads through the LCT (Life Cycle Testing) (that means we run them for a while before doing the review) so we can tell you if they fall apart in the first few months. For the three months we've been using the pads there hasn't been one problem, the velcro is still as good as the day we got them, so are the stitching and the glossy finish.
As an additional bonus, while other pads might set you back a few dollars the Answer Pro Moto Series pads won't make a big dent in your wallet, you can pick them up for about $US16 RRP in the USA and around $AUS34 in Australia.
For more information on the Answer pads and other products check out www.answerproducts.com.
Posted in: Reviews