Question:
What do you do when your forks flex too much?
The scenario: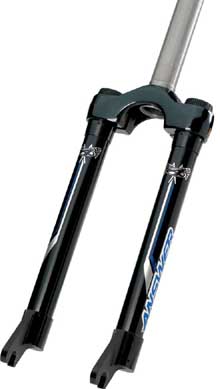 Before we get into the much anticipated answer to this all too common problem, we'll give you a little background.
A while back I bought a GT speed series cruiser, but I didn't keep it for too long, although I did keep the forks.
Now when you weigh around 105Kgs (230 pounds) it's going to be difficult to find some forks that don't flex on the gate while you are trying to balance, particularly for a cruiser. So what do you do?
The answer:
It's no secret that we here at bmxultra.com have a strong affiliation with Answer, long time fork manufacturer and leader in the BMX race fork market. It's also no secret that we love their products (you can read any of our past reviews), it's an association that works for both parties.
In this case it worked out real well for us. While talking to the Australia distributor for Answer he told us the answer to the problem was (drum roll please) … "the Answer Alumilite fork".
I know, I know…at first we thought these guys had to be wrong too…I mean how is it possible that a Cromo fork is going to be out done by an alloy fork?
After testing the Answer Mag fork out previously we though "what the heck, it's worth a try"…so off we went with a new set of forks, fitted them to the cruiser and right away they looked a little weird, maybe even smaller than the cromo fork that was originally on the bike. But they did look a lot better than the standard fork, but that's no solution to the flex problem.
Ok so the big test was the track testing doing gates, cornering and jumps. At first on the gate the difference was amazing, not only were the forks lighter (much…much lighter), making it easier to get the holeshot, there was absolutely no flex. And when it came to cornering and jumping there were no concerns that these forks wouldn't take the general abuse dished out by a keen BMX racer.
If you have read any of our past reviews you may have heard about our LCT (Life Cycle Testing), this is where we use a product for a good few months to really test a product putting it through it's paces, in this case it was well over 6 months.
After the LCT the Answer Alumilites are still going strong, we have had not one problem with them.
We fully recommend that if you are looking for a strong and light fork, that doesn't flex, you seriously consider the Answer Alumilite Fork.
Additional information:
There is a complete range of Alumilite fork models from Mini (1″ steerer tube) and Mini cruiser (1″) to Pro 20″ (1 1/8″) and Pro cruiser (1 1/8″). The only available colour is black also the Alumilite has aluminum legs and forged 6061 aluminum drop outs. US Retail price $US159.99 and Australian RRP is $AUS399.
For more information about Answer Alumilite forks and full range of products check out their website at www.answerproducts.com.