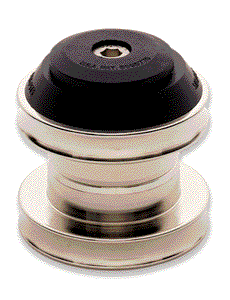 There are few products that we get excited about at bmxultra.com, well OK we're easily excited, but the TANK headset was something we just had to test. Why? Well the name was enough to do it for us.
There are two models of the TANK headset; there's the standard TANK, which is the racing model, and the TANK FS, which is the freestyle model. There isn't much difference between them apart from the fact the FS is rotor compatible and has a hollow bolt for the front brake cable. Oh, and it only comes out for the A-head style frames (1 1/8″ diameter).
Both models have thick (and I mean really thick) chrome-moly steel cups (these things are bullet-proof) and the only finish available is chrome and black, which gets the thumbs up from us, chrome goes with anything. While the bearings are unsealed there are rubber covers to help keep the dirt and muck out.
If you are looking to make your bike lighter, look elsewhere. The racing model is 177 grams and the FS is 162 grams. But if you are sick of alloy cups splitting and want something that is indestructable and you don't mind cleaning and maintaining the bearings every now and then, then this is the perfect solution.
We spent some time doing our LCT (life cycle testing) testing of both models of the TANK headset, and found no problems, despite the daily abuse of 6 months of heavy racing and training. Luke replaced his Chris King headset for the test and he is still running the TANK, and me, well I'm sticking with the TANK too.
Do yourself a favour and check it out for yourself.
For more information on the TANK headsets check out www.canecreek.com