The Answer Stylus jersey has all new styling and graphics for the Y2K range. It's made in the USA from 100% polyester and has sewn in elbow pads.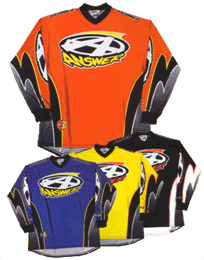 There are 2 size ranges; Youth – which has small, medium and large, and Adult – which has small, medium, large, extra large and double extra large.
The sizes are quite generous, while still being a good fit around the neck, arms and body length.
The Stylus jersey comes in black, blue, red or yellow, keeping it in line with the rest of the product range, which means you can colour match your Stylus jersey perfectly with either the Answer Edge or the Answer Team-2 BMX pants.
There is no doubt about it, Answer have come up with a hell of a good looking jersey, something that will help you stand out in the crowd.
Check out the Y2K Answer range of clothing at all good bicycle shops, or check out their website for more details at www.answerproducts.com.
Reviewed: 06/03/2000
Posted in: Race Clothing · Reviews