Dia-Compe have been around since the early days of BMX, Old schoolers might remember the legendary MX-1000 calipers, with the quick release and slick styling that really put Dia-Compe on the map.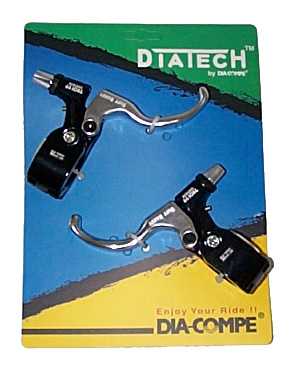 The Dirt Harry brake leavers (I'll never get used to saying Dirt Harry, it keeps coming out Dirty Harry) are a beefed up version of the Dia-Compe levers that have been around for years.
The Dirt Harry is dubbed a Dirt Jumping/Freestyle lever because of the double bent lever, but I don't see why people wouldn't use these on their racing bikes. The double bend is designed for those people who run narrow bars and it allows the lever to still be in a good position if you run them on the bends on your bars.
The hinged clamp is a great idea, it allows you to get the bars off your bike easily without having to remove your grips. I have found, in many cases, it would be much easier to get the grips off your bars if you didn't have to wrestle with the whole bike as well. Another thing that caught my eye about the hinge is that it is done up from the top, which makes the lever look like it's on the wrong side, but the advantage is you wont catch your thumbs on the bolts, this would have saved me a lot of blood and skin over the years.
The levers come only in the black and silver colour combo, and they retail for $48.95 a pair (In Australia).
Dia-Compe are setting up a website, last time I looked it wasn't complete, but might be worth checking out at www.dia-compe.com.
Reviewed: 24/02/2000