Supercross ENVY BLK Carbon Forks
A little while back I reviewed the Supercross ENVY BLK carbon frame and I have to say for a cromo guy I loved it and, after taking my time with the review, I could see the advantage of racing it. So much so once the review period was over I kept racing it.
When I first started to talk to Bill Ryan from Supercross BMX about reviewing the ENVY BLK frame I told him I was planning to run cromo forks on it. I guess old habits are hard to break. He convinced me that I had to run the matching Supercross BLK forks and told me I'd be glad I did.
I've always loved the unique feel of cromo. The comfort, strength and stiffness along with the reliability make for a dreamy ride and worth carrying a little extra weight on board. Although I am a little set in my ways I am still open to checking out the latest products on offer from the BMX industry. When Supercross offered an opportunity to review the carbon Supercross ENVY BLK with the matching second generation BLK forks, how could I say no. I mean it's using Formula 1 and Fighter Jet technology it's the most advanced frame and fork set on the market, it's not every day you would get the opportunity to ride the ultimate BMX bike.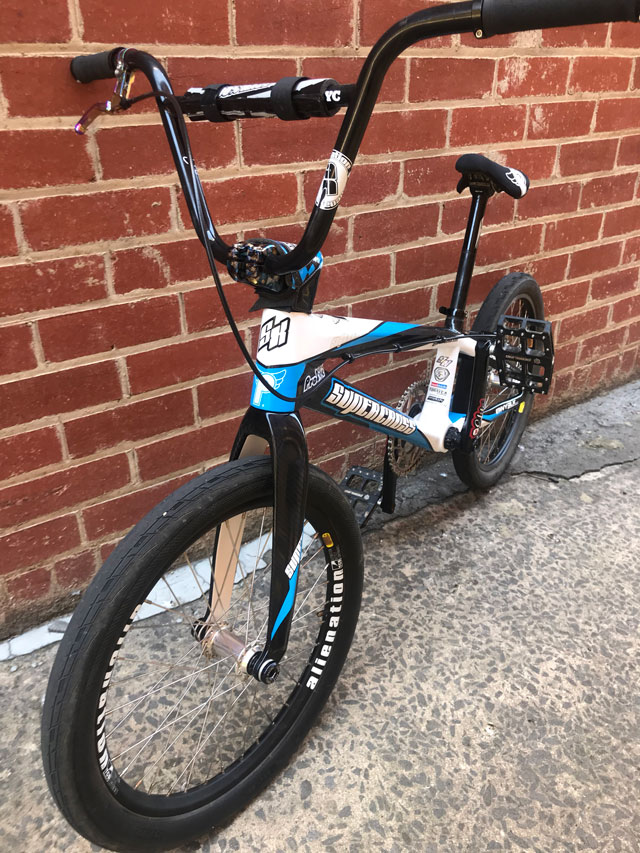 First Impressions
When the frame and fork arrived they were so light in the box you would think the boxes were empty. A significant difference to what I was used to. The bike went together without a hitch and I have to say it looks fantastic especially with my mostly black parts which really highlight the white and cyan in the frame and fork. Oh and I should mention the built in head lock is a simple, light weight, elegant and trouble free solution that many other fork manufacturers could learn from.
I've tested early Bombshell forks and reviewed early Answer forks in the past that still had a lot of flex and weren't all that much lighter than cromo, they also came with their own set of problems being multi piece with pressed in legs, and most of them also had rider weight limits. This is the first time I had used Supercross carbon forks and…well…Dang! I have to say carbon forks have come a long way over the past few years! The second generation Supercross BLK forks are a monocoque (one piece) construction and weigh only 445 grams with no limits.
On the gate the ENVY BLK frame felt stiffer than my cromo frame, especially in those first few pedals. The forks were also very stiff. I found adjusting to the stiffness of the carbon did take a little while but it certainly felt faster out of the gate and accelerating out of corners.
The ENVY BLK and BLK fork combo is a perfect match not just in looks but it's also very well balanced on the track especially in the air and manualling. I was a little concerned with both of these to get started with a light front end I thought I would be fighting to keep the bike from flipping. While it is easier to throw around and control, I quickly learned that looping out wasn't even a concern.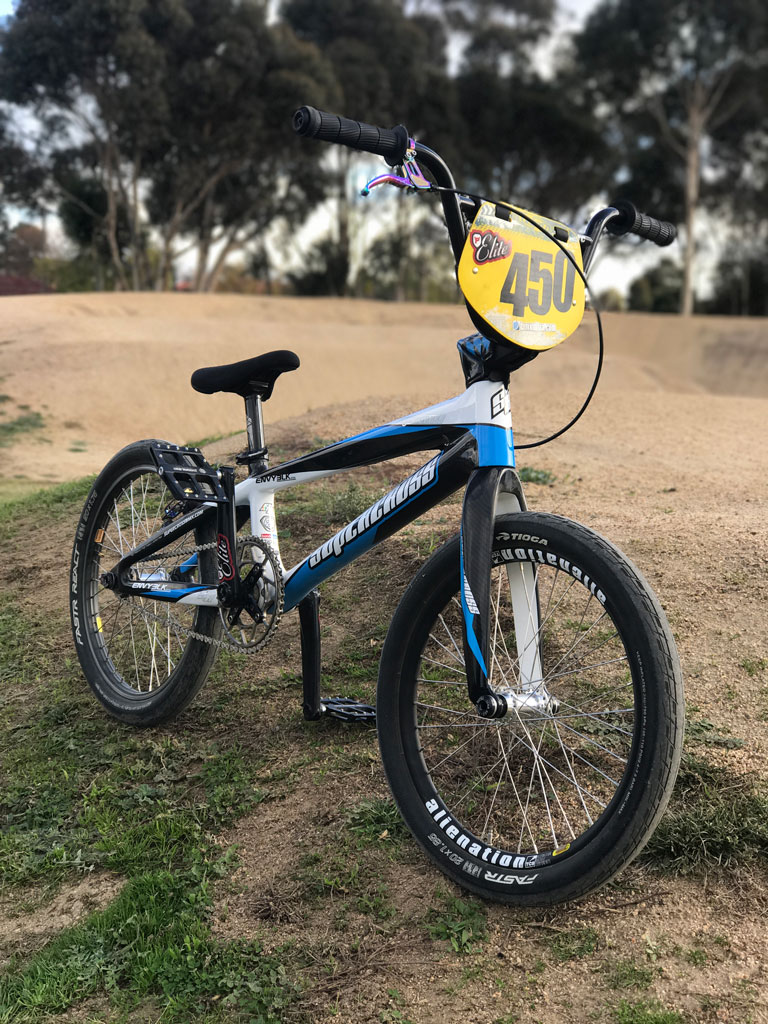 Weight
The weight conscious will know that Supercross make some of the lightest products on the market, weighing in at 16 ounces, or 445 grams, the Supercross BLK forks are the lightest in their class and that's without a rider weight limit.
Compare this to the extremely popular Answer Dagger forks which has a 1 1/8″ steerer and 10 mm drop outs at 22.3 oz, 632 g, or the Box X5 20mm Carbon Fork-Pro 20″-1.5″ to 1 1/8″ Tapered forks which are 18.6 oz, 528 g.
There's also the Ciari Victor 1 forks which I reviewed a few months back, it also weigh 16 ounces, the fork has 10 mm drop outs and 1 1/8″ steerer but has a rider weight limit of 200 pounds.
Tire clearance
I'm running a 20 x 1.85 Tioga Fastr tire up front, there is plenty of clearance for that size tire, but if you were thinking of going much bigger than a 1.95 tire you might want to think again. The forks narrow down towards the crown. That said, this is a serious fork for a serious bike set up, and any serious BMX racer will know a 1.85 tire up front will provide you with all the grip you will need for today's highly groomed tracks.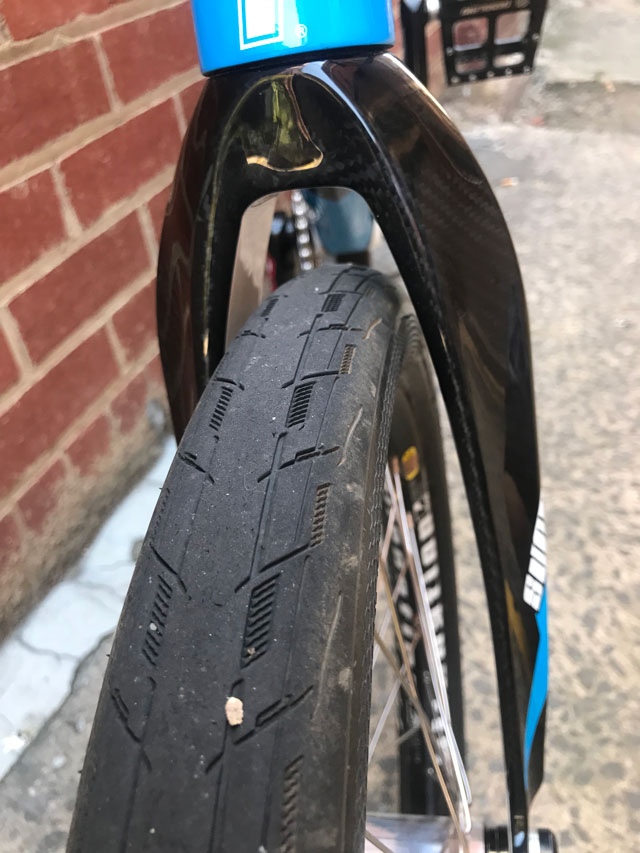 Stiff
Being used to the softer and more forgiving feel of cromo forks on the track I found the Supercross carbon forks meant you felt every lump and bump getting a lot more feedback through to the bars. While I prefer a softer ride the different feeling of the forks has it's advantages. I'd found earlier carbon forks had plenty of flex and I just couldn't see the advantage over a cromo fork, the Supercross BLK fork has certainly turned the table.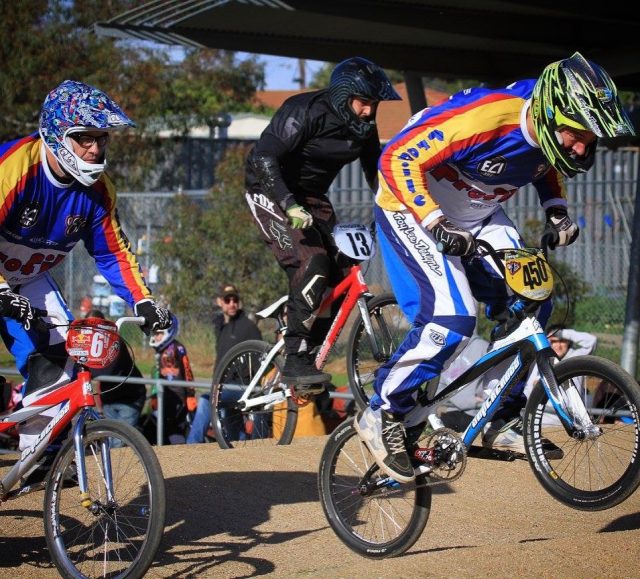 Care
While carbon is considered the ultimate material for today's next level BMX frames and forks it does take a little extra care to keep it looking good. Extra care should be taken when travelling with your bike. Make sure you wrap it up thoroughly because we all know baggage handlers show no mercy. Even things as simple as having a transponder hanging off the fork you need to be careful as it could mess up your beautiful finish, not too different to paint or chrome on cromo forks, but worth consideration if you are bike proud.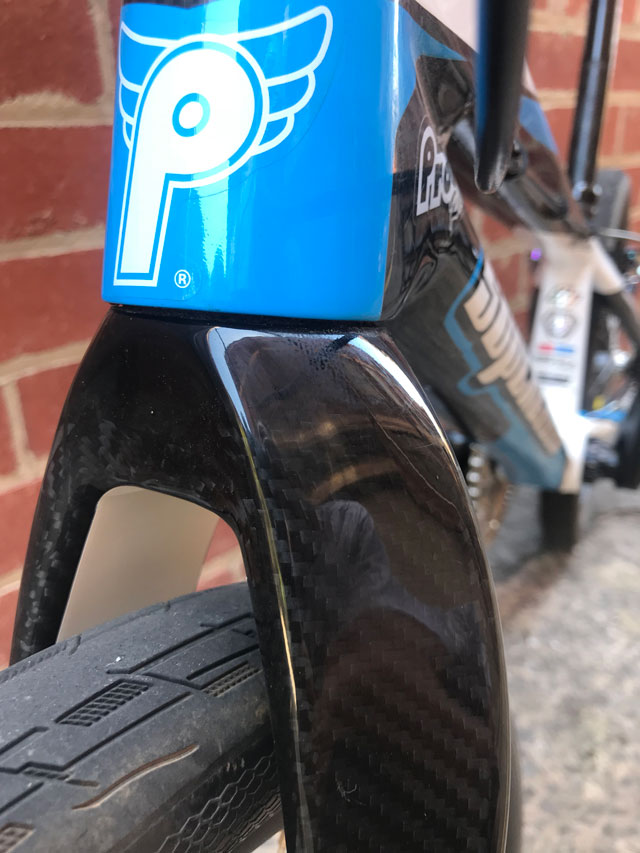 Manufacturer's Description
After 4 years of production, we have redesigned the Supercross SLT Carbon Fiber Pro Race Fork. The Original one served us well and it is one of the strongest carbon fiber race forks on the market, but we knew we could do better. And we did.
Please let us introduce you to the new Supercross BLK Carbon Fiber Pro BMX race Fork. The first full monocoque carbon fiber, tapered steer tube Pro BMX Race Fork.
Our goal with the new Supercross BLK Carbon fiber fork, was not to make it lighter, but to make it stronger, stiffer and to keep pushing the envelope for BMX fork technology.
While utilizing the same Torray T700S Nano Alloy Resin Carbon Fiber as the Supercross ENVY BLK race Frame, for maximum strength and security we designed a full 1 piece Carbon fiber fork that is a full one piece unit. No glue, no bonding, The entire fork is a single piece of high modulus , high impact carbon fiber. The steertube will never slip, twist or pull. As the Steertube, the Legs, and the dropouts are all one solid piece of hollow carbon fiber.
And by engineering the new Supercross BLK as a solid 1 pc form which is stronger than the bonded and glued in steertube type of fork, it is also lighter. With the new tools and design, we were able to shave off a full 1/4 pound! and increase the strength. That's right, not only is the new Supercross BLK Fork stronger, it is lighter.
The Supercross BLK Carbon fork comes stock with the Speedline 20mm – 3/8″ adapters, and the 7075 Aluminum Supercross BMX Top Cap.
Available in a wide arrange of colors ( Gloss and Matte ) to match the Supercross ENVY BLK and the Supercross ENVY v5 Race frames, or any BMX racing Frame with a tapered 1 1/8″ – 1.5″ headtube.
Features
20″ and 24″ wheel sizes.
Steertube Length – 175mm
Steertube Clamp Diameter – 28.6
Internal Threads – 18×1.5mm
20″ size Axle to Crown – 319mm
Rake – 28mm
Weight – 16 ounces – ( 445 grams )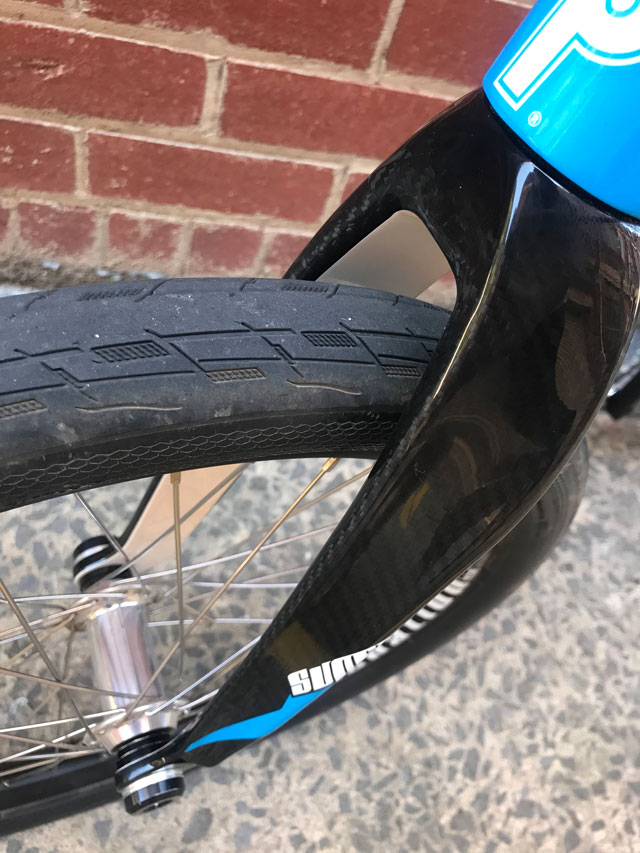 Straight from the horses mouth…
We asked Bill Ryan, head Honch of Supercross BMX, a few questions about the Supercross BLK forks and the technology behind them, this is what he had to say.
What are the biggest differences between the 1st and 2nd generation of Supercross BLK forks?
The Biggest difference is that the new fork is one piece of molded carbon from tip to tip. The First Generation used a multiple piece contruction, where the new fork achieves the original goal of a true monocoque fork. The Last one was a monocoque Leg section with a bonded steertube. Which is great, but it is a heavier part in the end.
What are the biggest advantages of the tapered steerer and headset?
A tapered headtube gives you a stiffer fork at it's weakest part, the crown. In the past with a 1 1/8" crown, coupled with the 1 1/8" legs, you had to have the crown be super thick, so it was heavier to resist the forces of the legs, with the 1.5 crown, it is so much stronger, that you can use a thinner wall and reduce the weight, while making it stiffer and stronger all at the same time. It also adds stability to the front end of the bike, less flex in the gate, in the turns and makes the handling more precise.
You supply 20-10 mm adapters but what size hub axle would you recommend people use?
The 20mm front is a perfect compliment to the tapered Steertube.  A lot of people still have 10mm ( 3/8" axles so we include the adapters, but 20mm is a much smoother, stiffer and faster system.
What sets Supercross forks apart from the rest?
The High quality Materials, the Special Molding and curing techniques, I don't want to pick anyone elses product apart, there is a lot of good product on the market. But I know what we put into it to make sure we are building the best. And you can't always tell by looking at it. But knowing the technology the time, and testing we put into each product is the best makes me feel good knowing that every rider who gets on it, will have the advantage of riding the best.
Whats so special about the carbon you use for Supercross products?
Torray is a great partner and the special Nano Alloy Resin and Pre preg materials build a great product. It is much more expensive, but it is the best. And that is our goal, to build you the best. I could go into elaborate detail, but that is our little secret.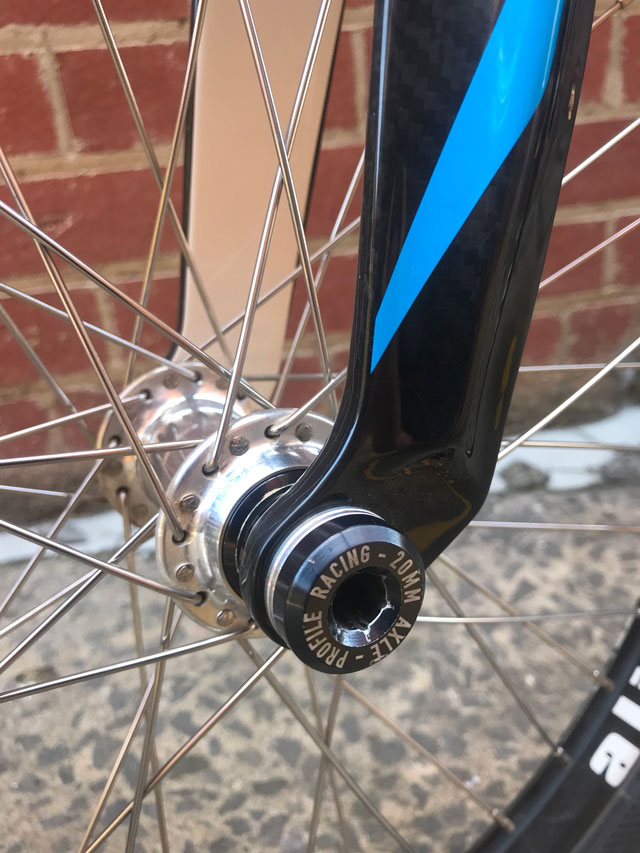 Final Words
The Supercross ENVY BLK frame and the BLK forks have completely changed my opinion of carbon. What I originally considered an unnecessary expense has proven to be real value in paying the extra dollars for a lighter and stiffer race fork that will make a difference to your racing.
If you are looking for carbon forks for your Supercross ENVY BLK, ENVY or any other frame with a 1 1/8″ – 1.5″ tapered steerer tube make sure you check these out, you won't regret it.
Thanks to Bill Ryan and the crew at Supercross for making this review possible.
Oh and if you want to check out the massive colour range head over to www.supercrossbmx.com
Gallery
Rating 20/20
| | |
| --- | --- |
| Value for money: | 5/5 |
| Weight: | 5/5 |
| Functionality: | 5/5 |
| Looks/Finish: | 5/5 |
Comments
The Supercross BLK forks are some of the more expensive forks on the market. As the old saying goes, you get what you pay for. If you are looking for the most advanced and lightest high performance fork in BMX racing then this is it.
Just try finding a pro sized BMX race fork that's lighter, stiffer or stronger than the Supercross BLK fork that has no rider weight limit.
This is the Formula 1 of BMX racing forks. Stiff, strong, and super light weight.
The Supercross BLK fork aren't your traditional BMX fork, they have the full race look, every angle and every shape considered to make it the ultimate fork.
Australia specific information
Supercross BMX is distributed in Australia by www.bmxcompound.com.au
Reviewed by Shane Jenkins/bmxultra.com November 28, 2017
Posted in: Forks