Ciari Victor 1 Carbon Forks
When I had the opportunity to check out Ciari's Victor 1 Carbon forks I jumped at it, what Ciari have been doing with their brand and product range these past couple of years is very exciting.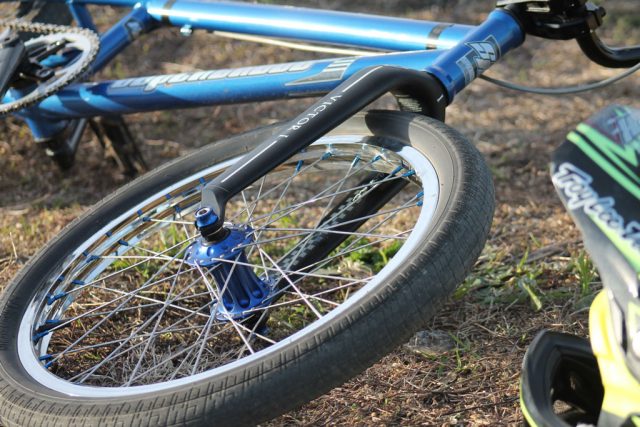 It's been a while since I have reviewed any carbon forks on bmxultra.com. The last time I remember racing with them for any length of time, before this year, was nearly 15 years ago when I was using the Answer Battleaxe forks. There were a number of times I was offered forks to review, but I always managed to find a way to wriggle out of it. I'd found some great cromo forks that were light, stiff and strong and looked great, everything you would want from a fork. I'd completely given up on carbon and continued hunting for the ultimate cromo fork. For me there's nothing worse than forks flexing side to side on the gate when you are trying to get in the zone. Any other carbon forks I'd tried since the Battleaxe forks just cemented the decision that I was better off using cromo. Sure carbon might be lighter but I not stiffer or stronger, which was the payoff that I was willing to live with.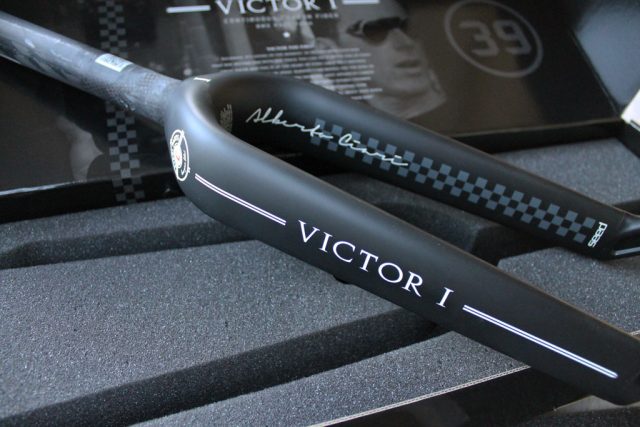 One feature of cromo that I love is the feel. The best way to explain it is that cromo has absorbing properties that can soften your ride, it's subtle, but it's there. Carbon is the opposite, you feel every lump and bump and if you case a jump they are unforgiving, you will really feel it through your body.
But now it was time to open my mind and see if I was missing out on anything. I had to remember that there have been many changes over the years with carbon technologies and the manufacturing process.
The Unboxing
Before I get started I have to mention the Ciari Victor 1 carbon forks would have to be one of the best packaged BMX products I've ever seen. Actually all round it's a well designed and presented fork. The artwork is quite slick and if my memory serves me well it was the design work of Richard Huvard who's now with Daylight Cycle Co. Now the only real downfall of the look of the forks is that they are available in just one colour, matte black. There are so many options with having custom decals/wraps made these days, that's hardly a problem though, just an additional expense.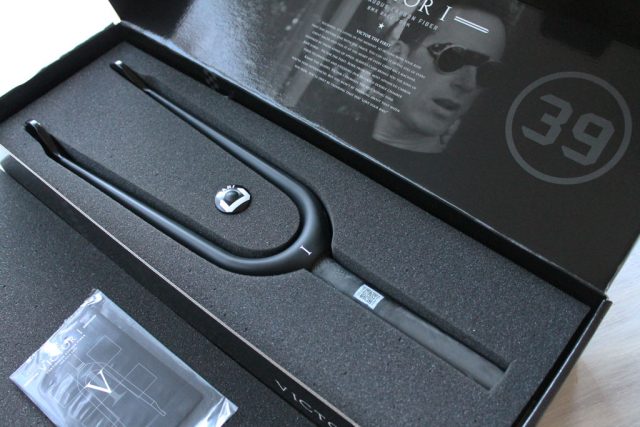 200 pound rider weight limit
While looking over the forks I noticed the 200 pound rider weight limit. I exceed that by about 40 lbs, and while it may void my warranty if I was to write them off, I was confident they were up for the task as I've heard manufacturers understating weight limits just to be on the safe side.
And, while talking about safety, I should take the time to point out that, like the Answer Dagger forks, the Victor 1's have the safety step on the end of the drop out that will keep your wheel on your bike should the wheel nuts come loose or your mechanic forget to tighten them up properly.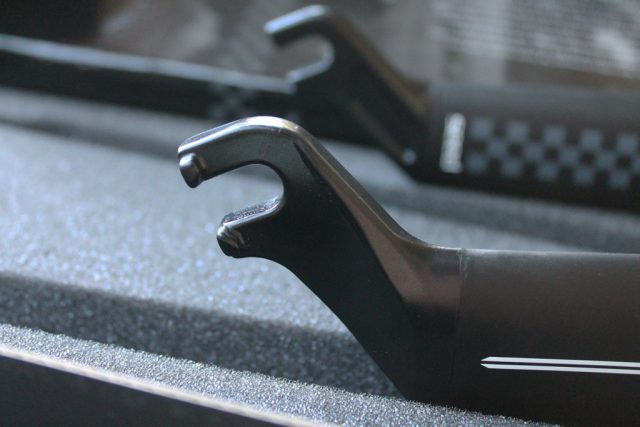 Ciari's Victor 1 Carbon forks are the first pro sized fork I've ever seen using a compression nut, threaded steerer forks and stem locks are far more common. It should be said that there are other forks with carbon steerers which have a threaded steerer which, I feel, is a cleaner and much simpler option. I'll be the first to admit I had no idea where to start with installing the compression nut but thanks to them being commonly used on road bikes there are plenty of informative how to videos on YouTube showing how they work and how to install them properly.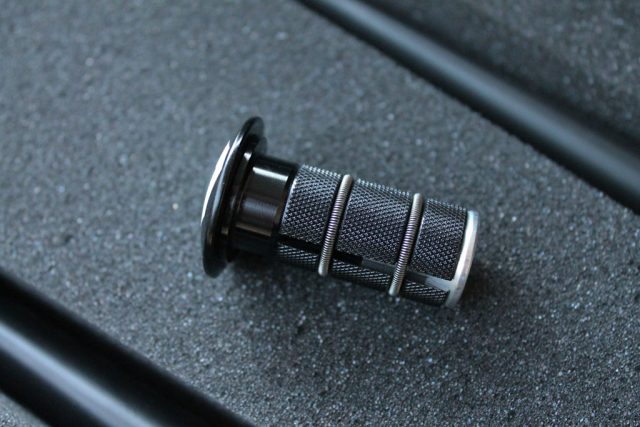 I'm probably what's considered an influencer in modern marketing terms. People pay attention to products I run on my bike and I'm the last person that anyone would expect to be running carbon products on my race bike. It's funny the reaction received from people who noticed the Victor forks. I guess I have been around the sport for so long I've been written off as old school and people must have thought I'd ride my days out on cromo.
While the Ciari Victor 1 isn't the lightest of all carbon forks, at 16 ounces it's pretty close. I did notice the weight difference from my cromo forks, it wasn't so crazy I would power wheelie everywhere, it was subtle and quite easy to adjust to.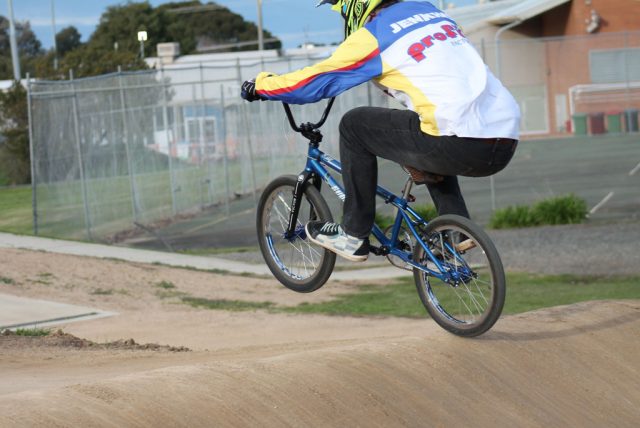 Tire clearance
I find it interesting when people compare the tire clearance of carbon forks with cromo forks. The way most carbon forks are shaped they have a shorter crown, which makes them look like they have longer legs. As you can see in this photo. It does allow for larger tires and the Ciari fork has so much clearance they could accommodate the OS20 tire size for those who don't mind retro fitting the OS20 wheels to standard 20″ forks.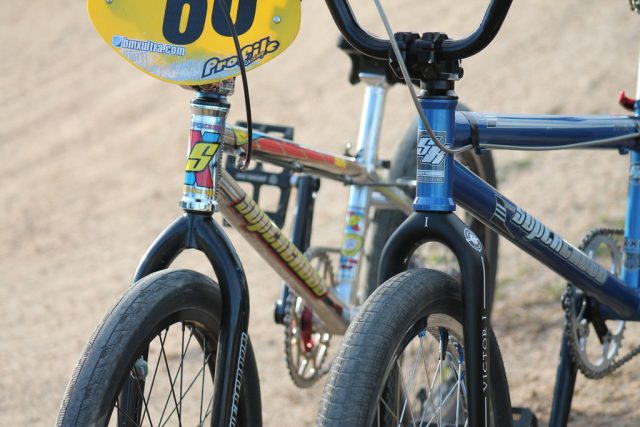 So how did they ride?
Was there a lot of side to side flex on the gate? No, very little in fact.
Essentially they felt every bit as good as my cromo forks, but lighter. The ride is more ridged, I didn't get the same comfort out of the ride that I would get from cromo forks but it did give me more feedback, a better feel for the track.
Manufacturers Description
How do you build a 16 ounce BMX race fork that won't come apart at the bonds?
Introducing the patented, continuous carbon fiber VICTOR I, gram for gram the most advanced of its kind ever made.
Features
One piece carbon monocoque design
Aerospace/Formula-1 blend of High  Modulus Fiber (HMF) for superior strength
Specific fiber types handle unique load types (e.g. side load, torsion, impact, etc.)
Optimum fiber orientation incorporates FEA (Finite Element Analysis) to absorb and dissipate loads
Smooth internal fiber flow in crown/steerer area for increased impact strength
Full carbon crown and steer tube better transfers force and improves ride responsiveness
Blade shape incorporates internal patented double chamber design for increased stiffness for unparalleled cornering and ride performance
Kamm Tail technology generates better aerodynamics and low drag at high speeds
Forged 7075 alloy dropouts
28mm rake
314mm A2C (Axle to crown) build in height
170mm steer tube length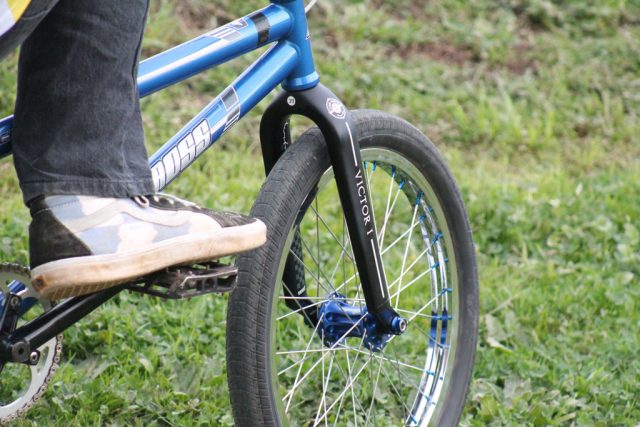 Final Words
I really didn't want to like the carbon forks, nothing against Ciari, but I'm just set in my ways. I wanted to be right by sticking with cromo forks all this time. I wanted to feel uncomfortable using carbon forks. I wanted to just switch back to cromo as soon as I could, after all I had a reputation to protect. Don't get me wrong, I have an open mind when it comes to BMX products and I want to give everything a red hot go. I'd had it in my head that these just weren't going to be as stiff as cromo forks on the gate, and I thought I would just hate the way they would feel to ride, to corner, and jump. I'm happy to admit I was wrong. I did like them…ok, there I said it, feel better now?…they did feel stiff and I was confident they would hold up to the same hiding you would give to cromo forks. I did notice there is slightly more twisting flex than was I was used to on the gate from cromo forks. A small adjustment to the way I balanced on the gate and it was less noticable and certainly not enough to take my focus away from aiming for a good snap.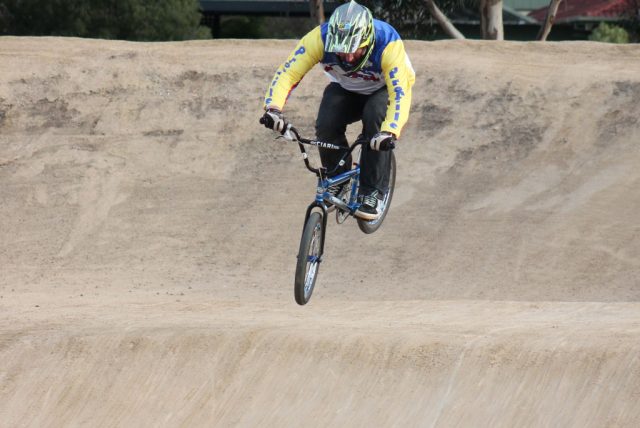 Actually the forks never did come off the bike, they are still there on the test rig some 3-4 months after starting the product review. The only thing stopping me from racing with them on my main bike is I have switched over to a 20mm front axle. The Ciari Victor 1 Carbon forks are a real contender in the fork market, no matter what you compare them with. I'd recommend them to others.
Gallery
Rating 19/20
| | |
| --- | --- |
| Value for money: | 5/5 |
| Weight: | 4.5/5 |
| Functionality: | 5/5 |
| Looks/Finish: | 4.5/5 |
Comments
The Ciari Victor 1 carbon forks are among the lightest pro sized forks on the market but with a much smaller price tag
16 ounces is something to be proud of. Although I can see that there are areas that Ciari can work on that will shed that little more weight while possibly eliminating the rider weight limit. A lighter stem lock system and carbon dropouts would be a good start
These forks tick all the boxes with the added safety tabs on the dropout. I had no issues with the forks or the compression nut in the few months I ran the review
I love the look of these forks, very clean and minimalist the only thing I would like to see improved is some additional colour options, or at least a gloss black alternative.
Ciari is distributed across Australia by BMXEDGE, see their website at bmxedge.com.au/ciari_parts.php for more details.
A big thanks to Brett, BMXEDGE and Ciari for making this review possible. Cheers guys!
Reviewed by Shane Jenkins/bmxultra.com July 22, 2017
Posted in: Forks