True fans of BMX racing will simply love the Ground Up DVD from On the Gate Films. It's different to all other BMX racing DVDs that I have seen. It's edited less like a documentary of events and more like what you would expect to see from other aspects of BMXing. It's best described as an action packed extended film clip with a massive variety of footage that includes both racing and some dirt jumping. It works well.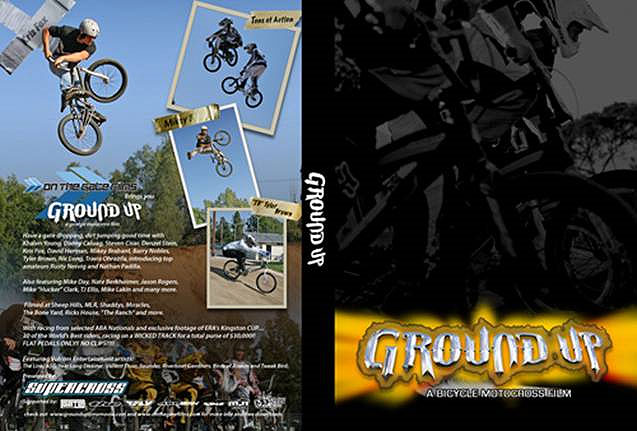 The DVD is more or less a homage to BMX that features riders based in Southern California, the birth place of BMX.
Riders featured include:
Barry Nobles
Denzel Stein
Nic Long
Kris Fox
Steven Cisar
Khalen Young
Tyler Brown
Danny Caluag
David Herman
Mikey Brabant
Mike Day
There's even some footage of Sam Willoughby
and a whole bunch of others, and not just pro riders either.
Locations include
Kingstone Canada
Sheep Hills
Mike Redman's backyard "The Boneyard"
and various national tracks, backyards and dirt jumps from all over North America
The ERA flat pedal race at Kingston in Canada is a highlight of the DVD, it's a crazy track built by Jay Miron and Tom Ritz that we didn't see or hear much about here in Australia. The event had $30,000 in prize money up for grabs and the rider list was much like the who's who of BMX Supercross. There are mostly highlights from the event in the main movie, but a whole lot more footage in the special features.
Other highlights include a great crash section and Khalen Young taking out the 2008 ABA crown.
There's not a lot more to say about the Ground Up DVD, it's inspiring, entertaining, a must have for any BMXers DVD collection. Just do yourself a favour and buy it!
Running time is 61 minutes plus even more footage in the special features.
Check out the trailer: www.groundupbmxmovie.com
Rating 20/20:

| | |
| --- | --- |
| Value for money: | 5/5 |
| Action: | 5/5 |
| Entertainment: | 5/5 |
| Looks/Finish: | 5/5 |
Comments:
Ground Up is a slick DVD that is easy to watch over and over.
The DVD is "all killer no filler". This is one action packed DVD.
I hate TV, but as a massive BMX fan I was totally entertained by Ground Up, and I can't wait to see a follow up from On the Gate Films.
Nice packaging, and easy to use menus, my only gripe is the front cover is a little dark, but that doesn't effect the great quality DVD.
Ground Up is brought into Australia by Elite Cycle Imports www.eciimports.com.
Reviewed by Shane Jenkins April 14, 2010