Klipsch A5i Sport In-Ear Headphones
In our hunt for the ultimate head phones we came across the Klipsch A5i Sports. In short the Klipsch A5i Sports in-ear headphones are designed to stay put even with the most strenuous workouts, bike rides or any other activity you might want to use them in for that matter. They have patented oval ear tips to fit the ear canal comfortably and the sound is said to be superior compared to other headphones. Not only that they are also Apple iPod/iPhone/iPad compatible with built in controls and mic. That's more than enough to spark my curiosity.
After doing a little research I found that Klipsch is an American speaker company that started way back in 1946, making them one of the oldest audio technologies companies operating today. Klipsch branched out to in-ear headphones in 2007. And much to my surprise Klipsch is a common brand found at most of the bigger chain stores that sells audio equipment like JB Hi Fi, Harvey Norman, and of course good independent stores too.
How are headphones relevant for BMXers? They may not make your racing any faster, but they will certainly help make traveling, training and staying focused between races a whole lot easier.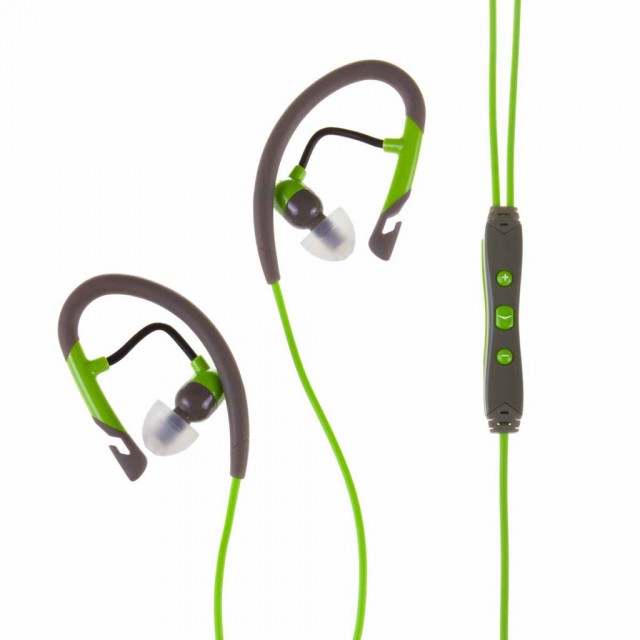 Filtering through all the marketing information on the Klipsch A5i Sports in-ear headphones you read a lot of what sounds like fluff to justify the cost, because these headphones aren't exactly cheap, retailing at the $199 mark.
This is the kind of marketing-ese I'm talking about
Lightweight, moisture/sweat resistant headphone stays in place during your toughest workout.
Kevlar-armoured cables
Soft, flexible oval ear tips naturally fit the contours of the ear canal for comfortable, long-term wear and create a perfect acoustic seal for superior noise isolation.
Really? Aren't they just everyday headphones? Well let's take a closer look.
A5i Sport Specs
| | |
| --- | --- |
| STYLE: | In-ear with secure sport fit |
| Frequency Response: | 10Hz – 19kHz |
| SENSITIVITY: | (1mW) 107dB |
| IMPEDANCE: | (1kHz) 17 ohms |
| DRIVER DESIGN: | High efficiency micro speaker |
| DRIVE COMPONENTS: | Full Range KG 20 |
| NOISE ISOLATION: | -16 |
| MIC/REMOTE: | Mic 3-button remote |
| DRIVER DIAMETER: | 6.5mm |
| DIMENSIONS (PACKAGING): | 7.9 |
| WEIGHT: | 19 grams |
| COLORS: | Green or magenta with gray accents |
First Thoughts
The Klipsch A5i Sport headphones come well packaged ensuring you should receive your headphones in perfect condition. When you open the box there are the headphones but also a small protective carry case which contains 4 different sized ear tips so you can customise your headphones to fit your ears.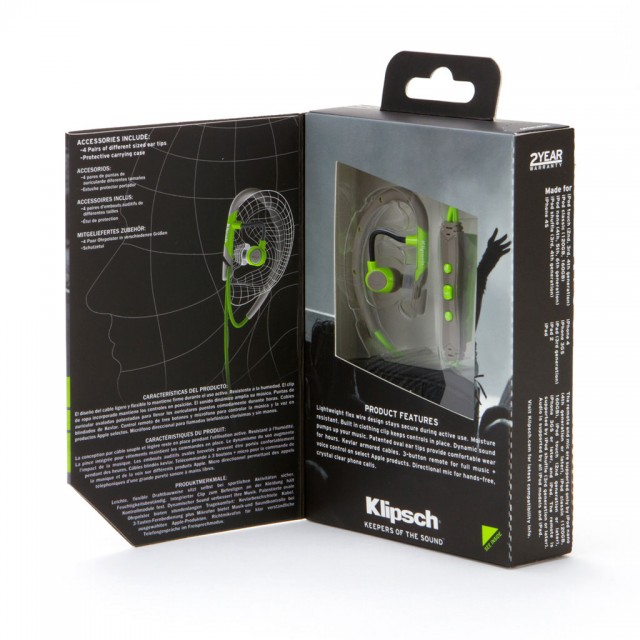 The secure sport fit design is a great concept, while the headphone does sit in your ear the outer frame wraps around your ear so comfortably you don't even notice it's there. The cable comes out of the back side of the frame rather than the front, the design means that instead of the cable pulling the headphone out of the ear it actually tightens the frame around the ear making it more secure.
The customisable flex wire is a little strange at first, it can be fiddly and frustrating trying to get the right fit, but it's well worth taking the time to adjust it to make the fit perfect for you.
The oval ear tips is an interesting concept. I have used in ear headphones and they have always had round ear tips, it's obvious the ear canal isn't perfectly round and with the oval ear tips the fit is more comfortable and as they say it means it's much easier to use them for longer periods, but also you get a better seal which means better sound and less (if any) background noise and no noticeable distortion.
The mic/remote system with built in clip is simple enough to use, the controls are straight forward and I like the fact the clip is fixed at a position where you wouldn't have too much cable flapping around above the clip to pull the clip loose.
The Test
There's usually not much to testing headphones, we'd normally just wear them as much as possible, riding, working, mowing the lawns, etc. They work perfectly well in all of those scenarios, they were comfortable, they stayed on no problems at all and the music sounded great. I thought  it was time to step it up with the testing and create a crash test, just to see if the headphones were up for a real challenge.
Who crash tests headphones? Well I do of course, OK, so maybe not on purpose, but while having a quiet jumping session on the backyard track one evening I decided I would ride wearing the headphones. Normally I wouldn't wear headphones while jumping as I'm more of a social rider, but there was no one else around and what's the worst thing that would happen? Well… a new jump and a miscalculated first attempt didn't quite result in the way I'd expected. Wearing a bucket helmet and shorts/t-shirt combo some might say I was looking for trouble. I'm happy to report that while it did hurt a little to land face first, the head phones are still in one piece and as a testament to the design and durability of the headphones, they were still well and truly attached to my ears and still pumping out tunes while my eye socket was throbbing and my nose decided to pump out blood at an impressive rate.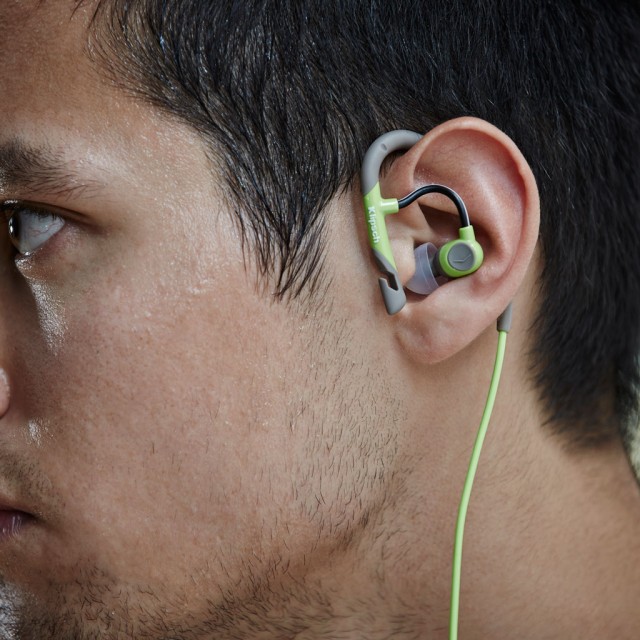 The Marketing Information
There's a whole lot of marketing information around the Klipsch A5i Sports in-ear headphones, a quick Google search would attest to that but it's this short video that encapsulates the true essence and benefits of the headphones.
Gallery
The Last Words
I have to be completely honest, I love the Klipsch A5i Sport In-Ear Headphones, there I said it…that's right love, LOVE! They are perfect in every way, they sound great, fit perfectly, they are comfortable and stay in place no matter how much you move about, on top of that they can be folded away in their little pouch and tucked away in your pocket in between uses.
The saying I always fall back on is "you get what you pay for", you might pay a fair bit more for these than generic in-ear headphones, but the price is justified by the benefits no matter how you look at it. Oh and they come with a 2 year warranty!
Rating 20/20
| | |
| --- | --- |
| Value for money: | 5/5 |
| Weight: | 5/5 |
| Functionality: | 5/5 |
| Looks/Finish: | 5/5 |
Comments
Initially a $199 price tag might seem a little high for in ear headphones, but when you weigh it all up you are getting the ultimate sports headphones for the active music lover
At just 19 grams you won't even know that you are wearing these headphones except maybe for the crystal clear tunes
So much thought and many design considerations went into these headphones, from the way they fit to the way they sound, it's surprising that they aren't as common as the Apple iPhone
Providing you like green or Magenta the A5i Sport in ear head phones not only look great but work absolutely perfectly.
Klipsch (www.klipsch.com.au) products are distributed in Australia by Powermove (www.powermove.com.au).