The Pazzaz MX-261 looks like one stiff mother of a stem, and it is, it's crafted from CNC'd 6061 Aluminium.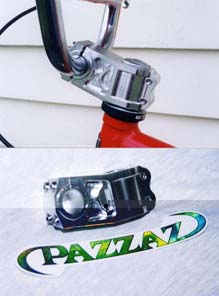 The simple fact this baby is made in Taiwan should not deter you from considering purchasing this fine product. (There are US based companies using this exact stem with a different name stamped on it.)
As you can see in the photos this stem has a huge grip on the fork, but just as importantly a strong grip on the handle bars. The rise is enough to make a difference but not too much to make me want to flip the stem upside down.
Gate starts were a breeze with this stem, there was no flex to worry about and there was no doubt in my mind that this stem was going to hang on.
The MX-261 is for racing but I'm sure it can handle the punishment of the other BMX codes, and if the 6 cm reach is too long there is a shorter version the 4 cm MX-260.
Check out the Pazzaz website www.pazzaz.com for more information on the Pazzaz product range.
Reviewed: 1/11/99