Profile Racing's Elite disc brake hub
When Profile recently announced they were doing an Elite hub with disc brake I didn't think much of it. Don't get me wrong, I'm a big fan of Profile, what they do, how they do it, how long they've been in the industry, it's all very impressive. I have seen versions of the disc brake come in and out of the sport through the years, but it's one of those things that just doesn't seem to stick. Yeah, it's different, and sure it has some benefits, but for all the messing around for something that should be so simple, I thought to myself "what kind of person is going to want to run that"? A few weeks after the announcement Kuwahara Australia Team Manager Dean Steele told me he had a set up and asked if I thought it would be something that bmxultra.com readers would be interested in. Hey sure, why not?
So this is what he had to say about it.
I was talking to the guys at ECI Imports (Australia's Profile Distributor) about the brake set up issue I was having since moving (my son) Liam onto a Pro XXL frame and still running a 20 x 1 3/8 Alienation Ankle Biter rim. Running a skinny rim there is alignment problems with the chain and then the braking system. Prime V2 adjustable long reach arms had done the job till now, but since the Pro XXL frame upgrade they just do not cut it anymore and a solution was needed. I joked about a disc brake solving my problem, it was then I was informed of Profile making an Elite hub which had a disc brake body. So after ordering one I sat by the phone waiting for it to land.
After having the hub laced to a fresh Ankle Biter rim, all the necessary hardware was sourced and fitted. The brake set up runs a 160mm disc and a simple mechanical brake mechanism was chosen, as hydraulic could have the potential to be problematic if Liam crashes and smashes the lever where the master cylinder is.
The BMX adapter bracket that supports the caliper was purpose built and machined up by the guys at ECI to go with these new hubs and works a treat. The bracket fits over the outside of the hub body and slides into the left hand side drop out and moves up and down inside the drop out without an issue. At this stage the bracket only comes in polished aluminium.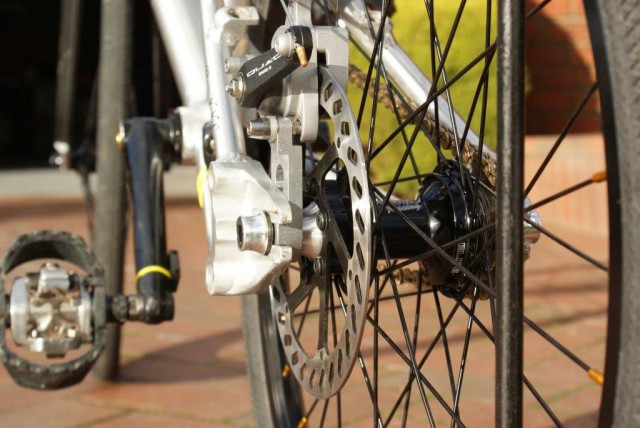 Selection of the brake cable was a small task to ensure it is long enough, as now the cable has to reach a long way further back than regular V-brakes as it has to go all the way from the lever to the rear hub to reach the caliper. The Kink linear cable you see in the photos is straight out of the packaging. The brake system was finished off nicely with the Answer V-brake lever and with the rate of throw on the mechanical caliper arm would work just as well with any type of lever on the market.
There are many advantages to running this braking system. In this instance, I eliminated V-brakes and I can now have a cleaner chain alignment. The option of running a lighter rim as you are not reliant on strength in the side wall for braking surface. This means you could potentially run an Alienation Deviant or Skylark (a front specific rim) on the rear because there is no longer a need for a braking surface on the rim.
There is a slight weight disadvantage with the disc brake set up but in saying that the weight is balanced over the rear axle and makes a good counter balance.
Some people are going to look at this set up and drool, and others will see it as a gimmick or a passing fad, disc brakes have been done before in BMX. We are starting to see disc brakes coming back with a few companies starting to show some samples around the traps and they look great. But you can't beat the craftsmanship of anything Profile makes, and this system really works well and is very serviceable. The braking power and benefits of a disc brake are comparable to the V-brake set up, let's face it, if you lock up on granitic sand you aren't exactly stopping on the head of a pin. However, the disc brake system has an awesome smooth feel when balancing the bike in a flat street manual, not spongy like the V-brakes.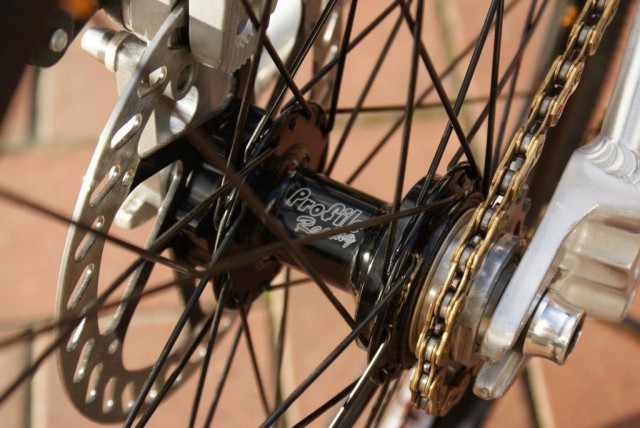 Ok, so Dean makes some good points and it's clear to see there are some advantages, actually a lot more, than I ever expected.
The one thing I wanted to know though was how does the brake feel, so I on the phone to check in and Dean says the mechanical brake allows for feathering and a good feel, that's despite the fact that he's just running a basic disc brake and is already looking at other recommendations.
Features
6 pawl driver for 204 points of engagement means instant forward motion at the first application of pedal pressure
HUB SHELL: CNC machined aluminum shell to accept standard disk rotor.
AXLE: Oversized Hollow aluminum female axle with 3/8 chromo bolts.
BEARINGS: Sealed all around
WEIGHT: 15oz (Without rotor) [Editor: this is about the same weight as a standard Elite hub with stock cromo bolts]
ROTOR: Brake rotor is not included.
HOLE COUNT: 36 Hole Only.
Gallery
Rating 18/20
| | |
| --- | --- |
| Value for money: | 4/5 |
| Weight: | 4/5 |
| Functionality: | 5/5 |
| Looks/Finish: | 5/5 |
Comments
The disc ready hub is significantly more expensive than a standard hub, but it can be a simple solution to many alignment issues as Dean has illustrated
The disc set up will be heavier than standard V-brakes but is a nice alternative if V-brakes aren't cutting it
The disc set up works just as well if not better than V-brakes when it comes to braking power
The Profile disc hub is going to have a lot of "WOW factor", if you want your bike to stand out and demand attention this is going to be one way to make that happen. As per all Profile products, it's flawless in it's finish and awesome by design.
Profile Racing products are distributed in Australia by Elite Cycle Imports (ECI) www.eciimports.com and available through all good local bike shops.
Reviewed by Dean Steele & Shane Jenkins/bmxultra.com May 15, 2014