I have nothing but respect for S&M and what they have been able to achieve over the past 20 plus years. Their products are the benchmark for the industry, and, it seems, they will be for many years to come. There aren't many manufacturers like S&M that will stand by their products and put a lifetime warranty on them.
The S&M Race XLT stem has been around for a while. But it seems to be more and more relevant, at least here in Australia. It seems that riders are looking to raise the height of their bars, it's not unusual to see a S&M top loading race XLT stem on top of a stack of spacers, and not just for racers either, other BMXers as well. The Race XLT raises the center of handlebar .9375″ from headset.
Initially the race XLT stem was only available in the 48 and 53mm versions, but later the XL 57mm was added to cover the big boys of BMX.
While the 48 and 53 have twin caps to clamp on to the bars the 57 has a solid cap to provide extra strength and clamping power. (It could just be that I'm old school but the whole twin cap idea reminds me of the early Mongoose style stems). The twin caps may not appear to have as much clamping power as other light weight single cap stems on the market. However if you take a look under the top cap of the other stems chances are the center has been machined out to reduce weight and there's nothing clamping down on the bars there anyway.
For this review I used the 53mm stem, being one of the bigger boys on the track I'm guessing that the 57 was made for me but I like the 53. The question is do I need the extra clamping power? I have used the stem for a few weeks now and not once did my bars move.
Taking a close look at the stem it's machined to a point where it's super light weight, it's an impressive 10 ounces, but it's still stiff and strong enough to cope with the demanding conditions of today's tracks. The Race XLT stem was showing no signs of flex while accelerating out of the gate and out of corners.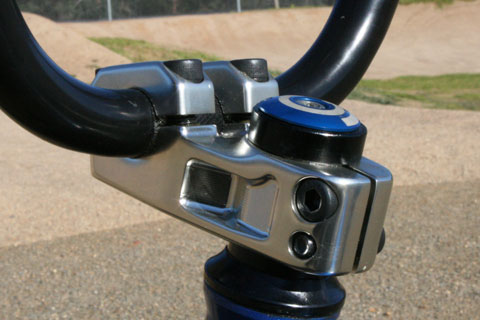 The Stem is available in Gold, Black, gunmetal grey, nickle (pictured), polished and red.
Rating 20/20:
| | |
| --- | --- |
| Value for money: | 5/5 |
| Weight: | 5/5 |
| Functionality: | 5/5 |
| Looks/Finish: | 5/5 |
Comments:
High performance race stem with high grade bolts that has a lifetime warranty, now that's value for money!
10 ounces! 10 OUNCES! That's going to be hard to beat
Stiff, strong and locks your bars in place as good as any other stem
A nice clean finish in a variety of colours.
For more information about S&M check out www.sandmbikes.com.
S&M is distributed in Australia by Elite Cycle Imports.
Reviewed by Shane Jenkins/bmxultra.com July 28 2008