S&M's Slam and Race bars have been, and it seems forever will be, BMXer's most popular handlebars. When you are offered a lifetime warranty it's difficult to go look elsewhere, especially if you are looking for bang for buck. While S&M's Slam and Race bars offer the same geometry, same height (8″), same width (28″), it's not perfect for everyone, it's not uncommon for people to cut their bars down. There has also been a slow evolution in how racers run their bars, they used to be more vertical in the days the Slam bars first hit the market, and over time they have been pulled back to align with the fork. This has lead to S&M reviewing the bend and sweep and, to cater for the more relaxed angle, have adjusted the bend and sweep accordingly. The T4 has a 10 degree back sweep and a 4 degree up sweep while the Slam has 12 degrees of back sweep and only a 1 degree up sweep.
We had 15 year old Brandan Bullows, the bmxultra.com team's up coming A Pro run the bars to get his feedback, he loves the new geometry and found it very comfortable. The bars are aimed more at younger riders like Brandan or smaller riders who find Slams too wide and the Slam geometry a little weird if they run their bars back further than usual.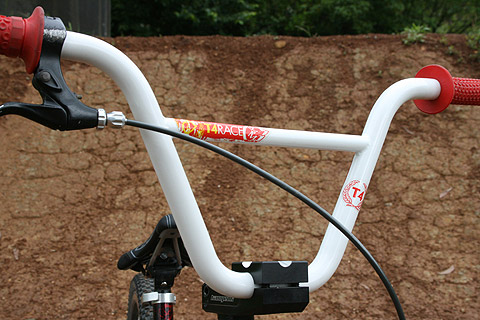 The T4 bars are very light if you compare them to the full size Slam bars which weigh in at 2lbs, the T4 bars only weigh 1.5lbs and are made from 13 butted heat treated cromo. The idea behind 13 butted tubing is to reduce the weight where it's not required and increase the strength where you want it most.
One thing you will notice with the T4 is the tighter bends either side of the stem, also contributing to the weight reduction as not as much material is required for construction of the bars, this also helps to keep the bar clear or the rider's knees.
The T4's come in either Black or White.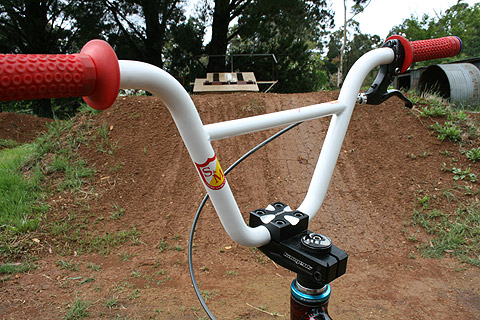 For those purists out there the T4's are made in the USA.
Rating 20/20:
| | |
| --- | --- |
| Value for money: | 5/5 |
| Weight: | 5/5 |
| Functionality: | 5/5 |
| Looks/Finish: | 5/5 |
Comments:
A lighter bar made specifically for riders who don't want or need a full size Slam bar, you could pay a little extra but just check out the benefits and smile, because these bars have a lifetime warranty
Super lite cromo bars
Designed for today's BMX racer who doesn't need a full sized Slam bar
You just can't fault the look and finish of S&M products, the welds and paint job are awesome as per usual.
Reviewed by Brandan Bullows and Shane Jenkins 4 February 2009
Posted in: Handlebars · Reviews