The Funn Soljam Viper pedals have been around for a few years now and have established themselves amongst the mountain bikers as one of the most popular platform pedals. We have seen them before, we have even used them in the S&M 38 Special review, but never really given them the time of day, until now.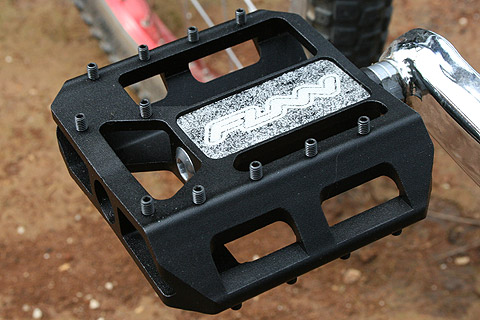 The Funn Soljam Viper pedals are a redesign of the old favourite Shimano DX platform with a lower profile and a much larger platform, which is especially important for us guys with bigger feet or if you are looking for a little bit more grip.
One thing that has to be said is the grip of the Soljam's is second to none, it's hard to think that you can get all that grip from just 11 pins. So what's the trick? To be honest I haven't been able to figure it out. The race pins (as seen in the photos) extend 4 mm above the platform, which is a little higher than usual, if you run platform pedals 100% of the time you might find them difficult to get used to at first, I know I did. It's just that I wear Vans shoes for riding with the thin soles and it just felt like two lumps in the bottom of my feet. I'm told mountain bikers wear thicker soled shoes. I could have changed to the 3mm nutted "street" pins that were included but I just stuck with the original pins, it didn't take long to get used to them, I didn't even notice the lumpy feeling again.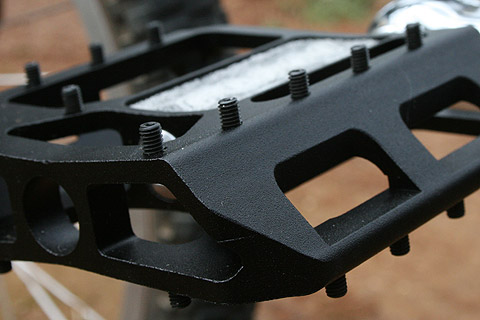 Constructed from 6061-T6 alloy with a cromo axel and sealed bearings and given the size of them you would expect the Soljam's to be quite heavy, but they only weigh in at 500 g, for the pair. I know I'm impressed.
Despite BMX racing being a sport dominated by SPD pedals I'm surprised we don't see more of the Funn Soljam Viper's around. They privide as good a grip as you could possibly want from a pedal without having to go an SPD.
The Soljam pedals are available in Black and if you are quick you might get some of the other BOB (Bored of Black) limited colours like flouro yellow or pink.
Rating 20/20:
| | |
| --- | --- |
| Value for money: | 5/5 |
| Weight: | 5/5 |
| Functionality: | 5/5 |
| Looks/Finish: | 5/5 |
Comments:
They are a little on the expensive side when it comes to platform pedals, but if you are looking to save weight, get more grip and buy something that will last this is the pedal for you
500 g for a large platform pedal, I'm sold
These are some of the best platform pedals I have ever used
They might look a little chunky but a lot of thought has been put into the design, they are strong and look good.
Funn is distributed in Australia by Elite Cycle Imports.
Reviewed by Brandan Bullows and Shane Jenkins 20 February 2009