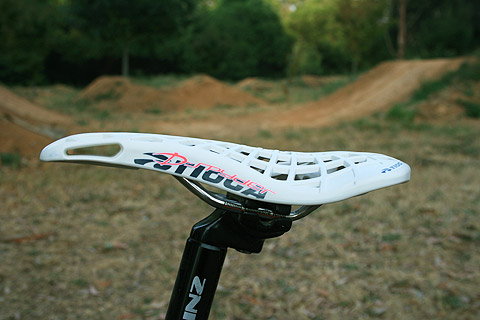 Legendary BMX tire manufacturer, Tioga, have blended 2000's technology and innovation with an 1980's design to come up with the most unique looking BMX seat I have ever seen, the Tioga D-Spyder. Old school BMXers will fondly remember the old days of BMX racing, but few will speak of the hard plastic seats that were very popular back in the day. They were hard plastic for two reasons, to save the weight that you would add with padding and make the seat that little bit more durable. I must admit as we have moved away from the 1980's…a very very long way…I have preferred the softer seats, and the softer the better. Ok so maybe I am getting old but I thought I had done my time on plastic seats and that was long gone, it appears I was wrong.
Tioga gave us some of their D-Spyder seats to check out. I have heard of BMXers using them in the past without much luck, that's because they were using a road version (which is actually called the "SPYDER") that just didn't cope with the regular abuse from BMX racing. What we were given was the new BMX specific D-Spyder, redesigned and strengthed for greater durability, actually the whole shape of the seat was changed to beef up the outter skeleton of the seat.
The Tioga D-Spyder seat features:
Carbonite Composite Shell
Spyder Web Shell Technology
Hollow Composite Alloy Rails
It weighs in at just 160g (5.6 Oz), compared to the padded Profile Race Titanium Seat which weighs in at 214g.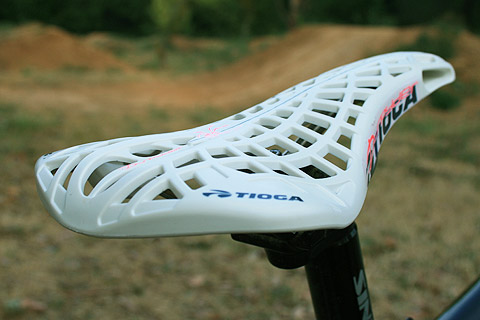 There are a number of reasons people will go for the D-Spyder seat. The number 1 reason will be the unique spider web styling that's been cut into the plastic. Now, sure, you could say it's just for the looks alone, but the real reason for the cut outs is to allow flex through the seat for when you sit on it, making it the most comfortable plastic shell seat to ever have hit the market. Other reasons for purchasing the seat might be the weight savings, and there's always the old school fans looking for old school branded products to put on their new school race bikes. But these seats won't just appear on old schoolers bikes, before long you will be seeing them everywhere.
So how comfortable is it? I'm glad you asked. If I had to rate the comfort factor I would give it a 4 out of 5. The shape of the seat is contoured better for your bum than a padded seat and the hard plastic shell really does have some give.
Clearly Tioga have put a lot of thought into the D-Spyder to make it the best it could possibly be, not only that but it's light, strong and comfortable. I just hope that this and the return of the UNI seat doesn't mark the end of padded seats. I think I might keep the D-Spyder on my race bike, but for bikes that I'm going to be riding around the streets and sitting on for a long time I'll stick with padded seats.
The Tioga D-Spyder seat is only available in Black or White
Rating 19/20:
| | |
| --- | --- |
| Value for money: | 5/5 |
| Weight: | 5/5 |
| Functionality: | 4/5 |
| Looks/Finish: | 5/5 |
Comments:
A race seat that's going to last and save a whole lot of weight, now that's value for money
160g, you will struggle to find a lighter seat that's this strong, built for a full sized rider
It's not the most comfortable seat I have used, but you will be surprised just how comfortable it is
There is no doubt about it the Tioga D-Spyder seat is going to stand out in the crowd.
See www.tiogausa.com/bmx for more information
Reviewed by Shane Jenkins/bmxultra.com February 27, 2009