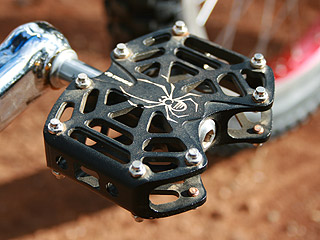 Legendary BMX tire manufacturer, Tioga, are at it again, extending on their Spyder range with something else that's new and innovative in design. This time with some of the most unique pedals I have ever seen. While most manufacturers choose to take the safe route and stick with the standard 80's style Shimano DX platform style pedal and rebadge it, Tioga have started with a clean canvas and have come up with something quite special.
Even in the packaging these things look slick, removing them you discover they come pinless, that is until you empty the goodies from the small box that comes with the pedals, revealing two pin options and a small spanner for the job. The sharp pins look like they have a whole lot of grip, but you wouldn't want to slip a pedal on them, I opted to try the flat pins, which are more common with platform pedals. Sticking with the Spyder, or spider, theme there are 8 pins per side of each pedal. With big clumsy fingers like mine it took a few minutes to get the pins in, but the option of two types of pins was a nice touch. The odd thing about the pedals is the cromoly axel can only be fitted with an Allen key and there is no indication as to which pedal is left and which is right, so if you are fitting them yourself and you aren't sure what side they should be fitted to then take them down to your local bike shop, it's not worth cross threading your cranks.
At 310g (without pins) you would be hard pushed to find a lighter platform pedal on the market, but the reduced weight comes at a cost, size. The pedal is around 30% narrower than most other pedals. Pesonally I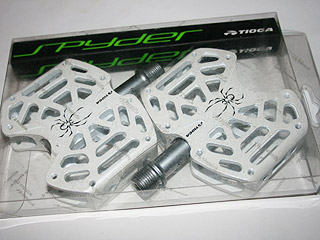 like to feel the pedal under the entire width of my size 13 feet, so it took a while for me to get used to using the smaller Tioga Spyder pedals. After a bit of riding I found the flat pins provided perfect grip and was suprised that I didn't slip my pedal once despite the smaller platform.
I would suggest these pedals would be better suited to a rider with smaller feet, say under size 10, or to someone who doesn't mind a smaller platform. They would certainly look good on any bike, and are engineered to last a long time. It would be great if Tioga could come up with a Spyder pedal with a larger platform, but they already have the MX Pro and MX Comp that have the larger platform covered.
The Spyder pedals feature:
A 6061-T6 CNC'd alloy body
TRPL3 Bearing (Triple Sealed Bearings)
Chromoly Axle
32 pins with both Sharp & Flat Pin Options Included
Length 90 x Width 70 x Height 20mm
They weigh in at a super light 310g (10.94 Oz) without pins
The Tioga Spyder pedals are available in Black or White and are 9/16″ (for two and three piece cranks) only.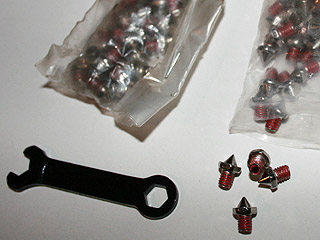 Rating 19/20:
| | |
| --- | --- |
| Value for money: | 5/5 |
| Weight: | 5/5 |
| Functionality: | 4/5 |
| Looks/Finish: | 5/5 |
Comments:
A little on the expensive side, but these pedals are built to last
Probably the lightest platform pedal on the market
With the smaller platform they won't suit everyone, that said they will suit most
Tioga have done it again, the Spyder pedals look awesome
See www.tiogausa.com/bmx for more information
Reviewed by Shane Jenkins/bmxultra.com March 19, 2009