SE Bikes 2015 PK Ripper Elite XL
SE Bikes, originally established in 1977, have deep roots in the BMX scene. Along with RaceInc, SE were true pioneers building aluminium BMX race frames well before alloy became a popular material to manufacture BMX frames with. I've always liked the SE products, they were true innovators. My personal favourite era for SE was just prior to Scot Breithupt and Mike Devitt left the company late in 1999. The popularity of BMX and especially BMX racing had waned but SE were still cranking out great products, especially the Quad and Assassin frames for bigger/taller guys like me.
After a long hiatus the SE brand reemerged in 2002, now owned by Fuji Bicycles, one of the oldest and largest bicycle manufacturers in the world. With Todd Lyons at the helm as the brand manager SE still have strong links back to their roots constantly releasing retro reproductions, using the original names with the PK Ripper still being the flagship bike, and loaded up with Landing Gear forks.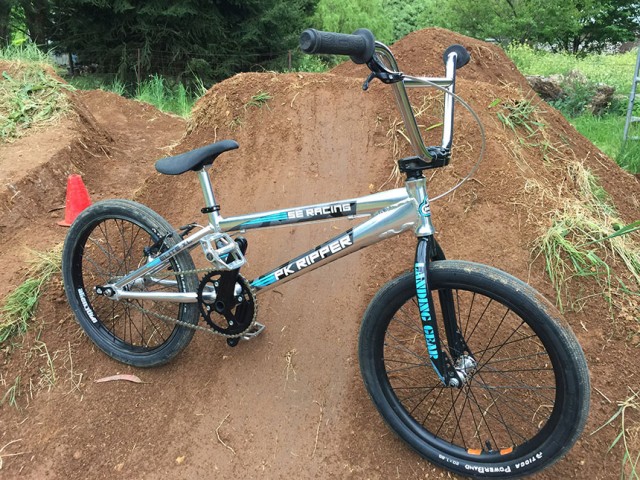 When the opportunity to review a PK Ripper Elite XL complete came about, thanks to Oceania Bicycles, we were pretty chuffed. Not only had it been some time since we'd reviewed a complete bike, an SE Quad was one of the first products we ever reviewed, back in 1999. Not only that but it was an SE. A brand simply loaded with history. I must admit these past few years I'd written off the SE PK as an entry to mid level race bike based on how it looked, the parts & accessories and the price. Admittedly it was a little closed minded on my behalf. When I picked up the PK it was a thing of beauty, the highly polished alloy frame loaded with black and chrome parts looked not only ready to race but ready to impress.
I like the improvements that SE have made to the Landing Gear forks, the reduced weight and the tapered legs means you could easily race this bike out of the box without needing to spend more money on upgrades. The Alienation rims (Deviant 32 hole front/Black Sheep 36 hole rear) and sealed bearing cassette hub with Tioga PowerBand/PowerBlock combo makes for a nice wheel set. The Promax brakes work well, and I need to find out where they got their chrome brake cable from, it looks awesome.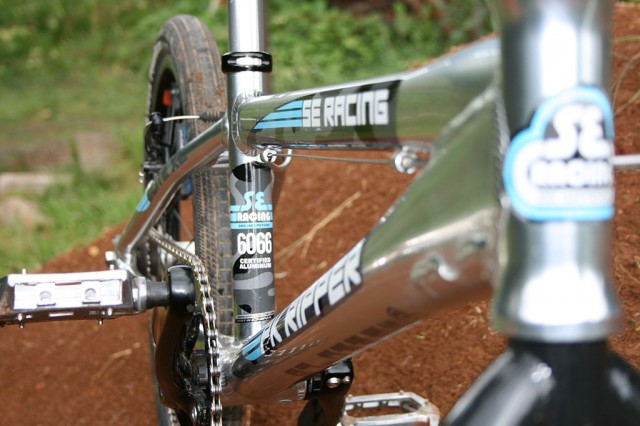 I did try to ride the PK Ripper myself, and found it light, stiff and well balanced. I was especially surprised by the 2-piece alloy cranks which I find normally would notice flex in, but I couldn't fault these. One thing though, while the suggested rider height for the XL is 5'5″+ (165cm+) it felt too short for me. It would be safe to say that if you are around 6′ or taller this might not be the complete bike for you, however SE do have a XXL that comes as a frame only, it's 3/4″ longer in the front end and 1/2″ longer in the rear.
I asked AA Pro James Lautier, who likes his frames a little shorter, if he'd be interested in helping out with the review and he jumped at it. This is what he had to say
FIRST LOOK
Liked
The frame – very thick tubing around the head tube and bottom bracket
Alienation rims in custom matte black
Tioga Powerblock/Powerband tyres
The brake cable looks like a polished finish
Pivotal seat with a long seat post
Low profile stem
Cassette rear hub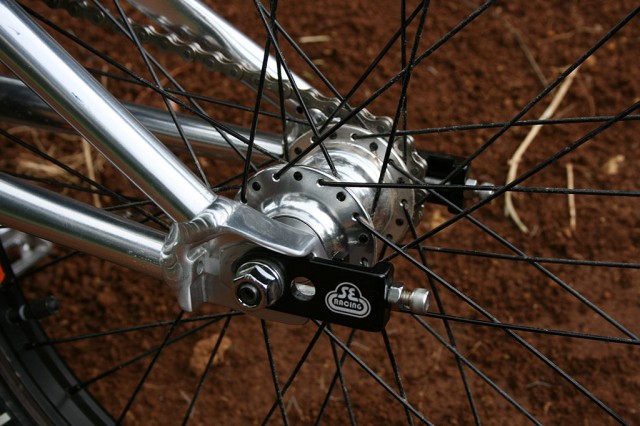 Didn't like
There was no quick release seat clamp, which makes it difficult to put your seat up in between races to cool down
The grips weren't lock on. Race bikes spend a lot of time in the rain/mud so lock on grips would be a useful upgrade to prevent throttle grip
Male axles on the hubs – not keeping up with the way hubs are progressing
I didn't like the look of the light blue all over the forks, I thought it cheapened the look of the bike and would have looked better with a more simple black/white or black/silver colour scheme (but still keeping their trademark landing gear fork graphics).
ON THE TRACK
The first thing I noticed was the sweep of the bars. I run Supercross Flatline bars which are a very straight bar with very minimal up sweep and back sweep, so initially the bike felt a bit cramped.
The back end is really short at 14.3" compared to an Anarchy Riot at 15.2", Haro Blackout 15.3" and a GT Speed Series 14.5". This made pulling the front wheel up super easy, so easy I almost looped out at the start. The advantage I found was it was effortless to manual through jumps, as well as being awesome to suck up smaller jumps and staying low. However I found it had its disadvantages, manualing was smooth and fast but I found the back end was a touch too short and longer manuals and double manuals felt a bit harder to get smooth, as well as feeling more unstable and it felt harder to keep the back wheel on the ground.
One thing I loved about the bike was actually the front end. The parts aren't anything flash but they were light enough but not too light. A problem I've been finding lately is that companies are making bars and forks so light that the bike feels very unbalanced to ride. Go back a few years and the fork all the pros were riding were Sinz carbon forks weighing at 31oz, now with companies like Box making forks weighing in at 19oz it really makes the bike feel very unbalanced. I found the cromo front end to be a great choice.
The bars on the bike are an 8.25" rise which is bigger than my usual 8" rise but because the bike was built so balanced it felt very normal to me – I tried swapping out the bars to put my personal ones on and noticed the steerer tube on the fork is quite short and even with a top loading stem the bars felt very low. SE made a great decision putting a higher set of bars on the bike. An increased steerer tube length would be a great upgrade and would give riders more options in bar height.
One thing I don't like about the PK Ripper is the grips. It's a small thing that can be easily changed, but it affects how the whole bike rides. I found the grips very thick and hard to hold on to. Every time I pulled up for a manual I felt like my hands were going to lose its hold on the grips. Personally I like thinner grips like the Alienation and ODI grips so the thicker grips weren't my favourite. I found these the hardest thing to get used to on the bike, but again it's an easy fix and is more of a personal preference.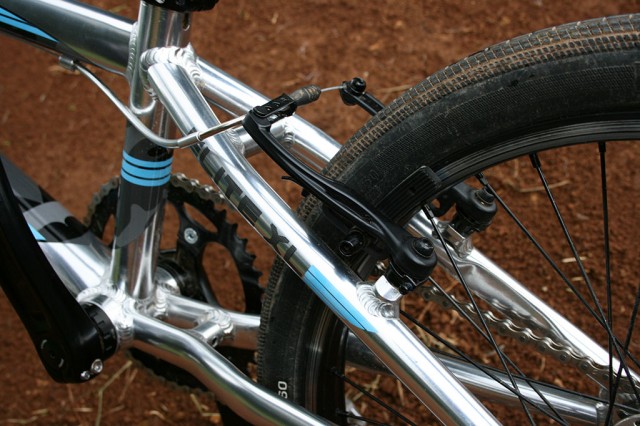 OUT OF THE GATE
The bike was a lot stiffer than I expected with very minimal flex in the bottom bracket.
44×16 gearing with a 1.6 PowerBlock is great out of the gate, nice and easy gearing for a fast start!
The bars don't have too much back sweep which provided a natural feel on the gate and wasn't too different to my Supercross Flatline bars.
OVERALL
Overall I was very impressed, It is a great bike and fantastic value for a complete straight out of the box
The geometry was nice. Really suited for those who like a responsive bike.
The bike was very balanced with the weight distribution being very even between front and back
At 9.5kg it isn't as light as some of the custom builds around, but because the bike was so balanced I felt the extra weight wasn't noticeable at all.
Overall the bike looked great. It was simple and it was a clean look. Straight out of the box my attention was drawn to the amount of blue on the forks which were a bit too much for the overall look of the bike.
A quick release seat clamp and lock on grips would make this bike perfect for any racer and won't stop you racing in the rain.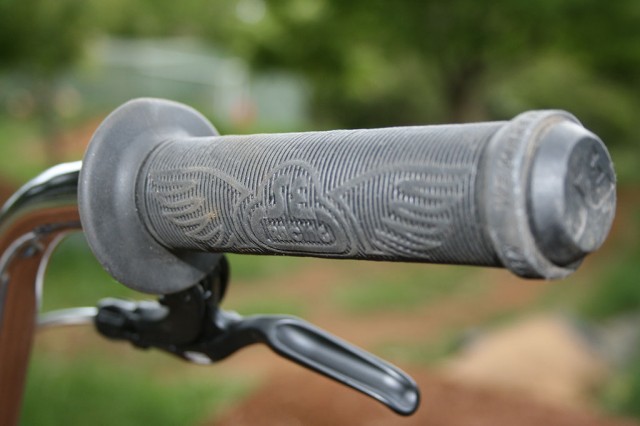 Features
Color(s): High Polish Silver
Frame: Lightweight 6066 Aluminum Floval Tubing, Bi-Oval Down Tube for Optimum Stiffness, Internally-machined Integrated Head Tube, 3D-Forged Dropouts
Fork: Full Cr-Mo Landing Gear, Tapered Legs
Crankset: 180mm Forged Alloy 2-pc w/ Alloy 44T Chain Ring, Integrated Sealed External BB, Hollow Axle
Pedals: X-Pedo Low-profile Platform w/ Removable Pins
Chain: KMC Z33
Wheelset: Sealed Bearing Hollow Axle Alloy Hubs w/ Alienation Deviant 32H F & Alienation Black Sheep 36H R, Double-Wall Rims, 16T Cassette, Stainless Spokes
Tires: Tioga Powerband 20" x 1.85" F, Tioga Powerblock 20 x 1.60" R
Brakes: Promax P-1 6061 T-6 Alloy V-Brake, Blue Pads, Slick Cable
Brake Lever: Promax SE-342, 2-Finger Alloy
Headset: Tange IS24 Sealed 1-1/8" Integrated Headset
Handlebar: Cr-Mo PK Bar, 28.5" x 8.25"
Stem: SE Top-Load Alloy, Lightweight External Cutouts, Hidden Top Cap
Grips: SE Racing Mushroom Wing Grip w/ SE Rubber End Plugs
Seat: SE Pivotal Race Seat
Seat Post: Pivotal Alloy, 27.2mm
Extras: Chain Tensioners, Race Plate
Weight: lbs/kg: 21.10lbs / 9.60kgs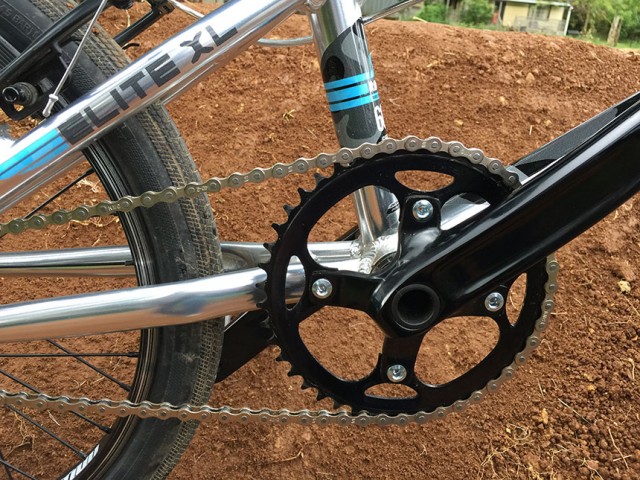 Geometry/Weight
The SE PK Ripper would suit a rider who likes a frame with a shorter rear end, but when it comes down to it the PK is a well balanced bike.
TOP TUBE, ACTUAL
21″
SEAT TUBE, CENTER TO TOP
9.5″
SEAT TUBE ANGLE
71°
HEAD TUBE ANGLE
74°
CHAINSTAY
14.3″
WHEELBASE
37.5″
BOTTOM BRACKET HEIGHT
11.45″
SEAT POST DIAMETER
27.2mm
STANDOVER
22.2″
SUGGESTED RIDER SIZE
5'5″+ (165cm+)
Gallery
Last words
The PK Ripper is going to have a wide appeal from the anyone looking to get back into the sport and have some fun on the weekends all the way to the serious contender in the pro ranks, just look at riders like Olympic Bronze medalist Donny Robinson and former elite world champion Javier Colombo.
If you are in the market for a complete bike, make sure you check out the SE PK Ripper Elite.
Rating 19/20
| | |
| --- | --- |
| Value for money: | 5/5 |
| Weight: | 4.5/5 |
| Functionality: | 4.5/5 |
| Looks/Finish: | 5/5 |
Comments
At $779 (in Australia) for a complete bike jam packed with features this price is just about unbeatable
The complete bike weighs 21.10lbs / 9.60kgs which is almost exactly the same weight as the 2015 Chase Element but a whole lot more affordable
Out of the box this is a great complete bike that handles very well on the track
The PK is a great looking bike that's current in every way and still reflects heavily on SE's roots
SE Bicycles are distributed in Australia by Oceania Bicycles www.ocbicycles.com.au. For more information about SE products check out www.sebikes.com.au.
Review by James Lautier & Shane Jenkins/28 October 2014
Posted in: Complete Bikes · News · Reviews