Since I first layed eyes on the SE Quadangle in early 1998 I wanted to take one for a spin, actually I wanted to buy one. I test rode a couple but they were set up for riders that were sub 6 foot tall with small bars and cranks, etc. I had no idea that these baby's could feel so natural with the right size handlebars and cranks. The only real issue I had with setting up the Quad was that no one seemed to make chain tensioners for it because of the wide rear dropouts, it made me quite nervous to say the least, but the wheel didn't pull forward.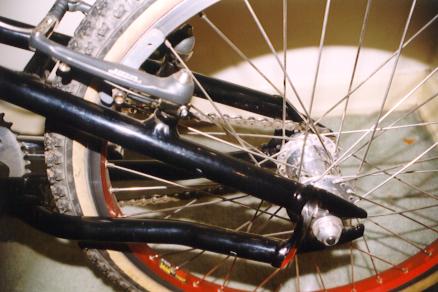 The Look
Old school meets new school on this frame, an alloy remake, and slight redesign, of the 20 year old frame design from the legends at SE. No matter how you look at it the Quad is simply a piece of art, only pictures could explain how the tubing intricatly crosses through itself. The only problem I had with the looks of the Quad were the stickers, but they grow on you. The Landing Gear forks have a reputation for being very strong forks and I didn't notice any flex while doing gates, they also look awesome and compliment the Quadangle in every way.
The Ride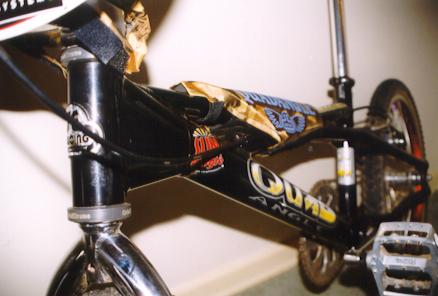 Being 6 foot 2 myself it is rare that a BMX frame feels so natural and  smooth straight away, I guess it helps having a 21.5 inch top tube. It has a higher bottom bracket than what I have been accustomed to but once I got over that I found myself getting faster starts.
The UltraMeter Rating
I'm going to stick my neck out here and say this is the coolest bike I have seen on the market for a number of years, probably since the original Quadangle, and unlike others who follow current designs the Quad is in a world of it's own. The paint job and welds are flawless, I give it a 5 out of 5 for looks. It's also the best bike I have ever ridden, it steers perfectly and feels good both in the air and on the ground, and without trying to sound biased in any way I give it a 5 out of 5 for feel, making it a perfect 10. I have put myself in a position that no bike will ever better the Quad, and for a tall person it is probably true, only time will tell.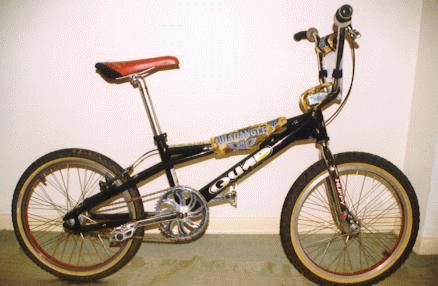 Reviewed by Shane Jenkins 02/08/99