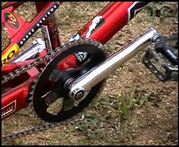 You should only expect the highest of quality from American manufacturer Sun Ringle, their chainring are no exception. If you are looking for a great chainring Sun Ringle boast that their Peace Ring is one of the strongest on the market. Made from double width 7075 T6 fully CNC machines alloy, it's nearly bullet proof.
Some might say it looks plain, it doesn't have the fancy detailing that you could expect from other manufacturers, which actually just adds to the cost of a chainring and serves no real function. Besides it's much easier to catch something when there are unnessary sharp edges, believe me even running your finger the wrong way on a fancy CNC'd chainring can get ugly.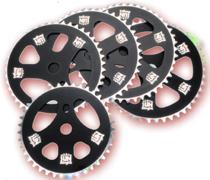 Call me a hippy, call me what you will, I personally find the Peace Ring to be one of the best looking on the market. (Come to think of it it may have something to do with me being a Neil Young fan.) It's dead straight and well finished off, made from durable materials and a durable black finish. At bmxultra.com have been running these chainrings for nearly a year and they still look as good as they did day we got them.
The Piece ring is only available in black and ranges from 39 to 46 teeth.
For more information on the Sun Ringle Peace Rings and other great products in their BMX range visit www.sunringle.com.
Posted in: Chainrings · Reviews