Supercross Cadence Chainring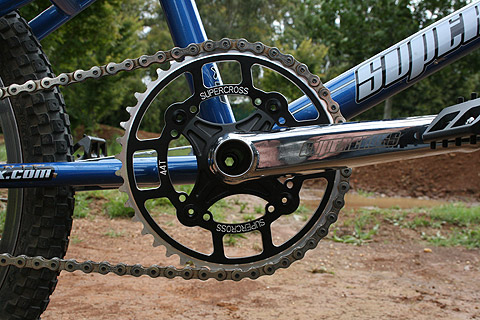 Supercross BMX seems to always be on the leading edge of BMX racing technology. Their 2 piece cromo crank, the Sinners, are rated amongst the best of all 2 piece cranks, providing equal weight to the alloy cranks in it's class with all the advantages (stiffness, strength, reliability) of cromo. Like all leading 2 piece cranks they have a 4 bolt spider and their own 4 bolt chainrings. There was once a time that 4 bolt chainrings were hard to come by, now it seems they are common place, or at least a whole lot easier to find than when the cranks first hit the market.
The Supercross Cadence Chainring, like all Supercross products, is created from the best possible material with the best techniques to offer the best product. 7075 T-6 Aluminium is a light weight and high grade alloy that's used for it's durability, a must for a chainring, you might have to pay a little extra but you will also get more life out of the chainring. The double ring design is used to provide extra strength and makes for a straighter chainring. I have noticed that other 4 bolt chainrings have been created with a little "slop" where they attach to the spider which makes them easy to fit but very difficult to position correctly, the end result is a lot of up and down movement and problems with chain tension. The SX Cadence chainring offers a perfect fit, it slots right in to the spider with no play and once it's bolted on there is no up and down, or sideways movement, at all.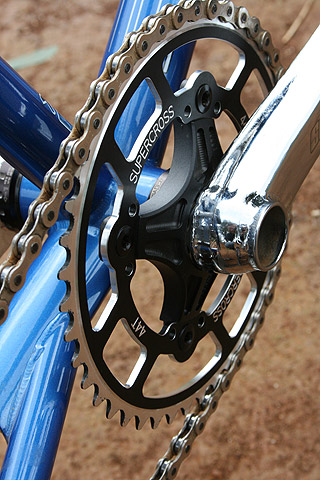 The inner ring of the Supercross Cadence Chainring has been designed to fit over all clip pedals, for those few of you that run flat pedals you may need to remove the pedal to fit the chainring, but the spider/chainring set up is still much easier and quicker than removing the complete crank arm to change gears.
I noticed that the Cadence chainring is a whole lot narrower through the body than other 4 bolt chainrings that I have seen bringing the weight down significantly.
The black anodized finish is very nice, the post anodize re-machining of the chainring is a nice touch.
The SX Cadence 4 bolt 104mm BCD Chainrings will fit all currently available 4 bolt 104 spiders and crank sets.
Available sizes are 36, 37, 38, 39, 40, 41, 42, 43, 44, 45 and 46 tooth.
Rating 20/20:
| | |
| --- | --- |
| Value for money: | 5/5 |
| Weight: | 5/5 |
| Functionality: | 5/5 |
| Looks/Finish: | 5/5 |
Comments:
Light weight, strong and USA made!
Light weight and provides the strength and durability of 7051 T-6 Aluminium
Dead straight, perfect fitting and durable
It looks different to other 4 bolt chain rings that I have seen, in a good way.
For more information check out www.supercrossbmx.com
Reviewed by Shane Jenkins 15 December 2008
Posted in: Chainrings · Reviews