THE Hustle & Flow saddles
THE has one of the largest range of BMX seats I have seen from any manufacturer, they have everything from the Uni style carbon mini seat through to the high end Lux with titanium rails. This review is for both the Hustle and the Flow saddles because essentially they are the same seat with the same shape and design they just have a difference in size, which is just the difference of around an inch in length.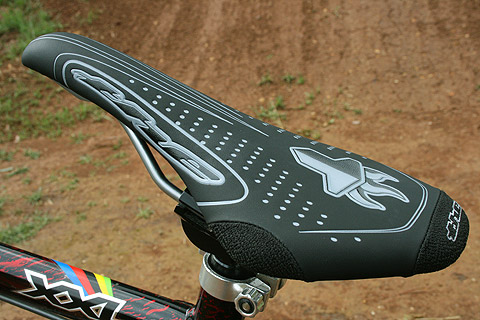 The THE Flow seat would be more suited for people who like small seats or for the younger riders, while the Hustle would be best suited to the larger riders or those who like a longer seat. We had team rider Brandan Bullows (15 year old light weight) check out the Flow seat while I (30+ heavy weight) checked out the Hustle.
I have to admit it's one of the more comfortable race seats I have used, not that BMX seats need to be comfortable when you are racing, but if you find yourself using your BMX bike a lot it certainly helps. I'd give it a 4 out of 5 rating for comfort. After using the seat for well over a month I haven't found any problems with it. Dust seems to stick well to the matt finish but comes of easily.
While the shape of the seat is fairly standard the design is quite unique, moving away from the gloss and bright colours or funky patterns and giving us something more than just plain black. It's quite refreshing that someone has given us a more subtle design, a great alternative to some of the seats available at the moment. If you are looking for a seat that's functional, and black with a bit of flair is your thing then check out the THE Hustle and Flow saddles.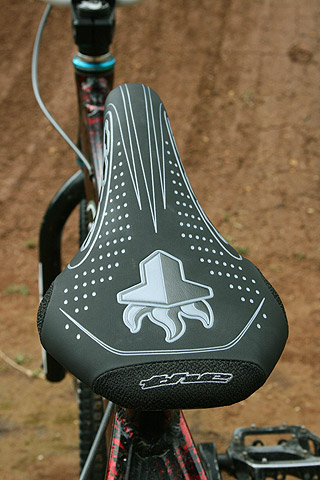 Features:
cromo rails
kevlar seat protection
embossed graphics
(seat featured in the photos is the THE Flow saddle)
Rating 18.5/20:
| | |
| --- | --- |
| Value for money: | 4/5 |
| Weight: | 4.5/5 |
| Functionality: | 5/5 |
| Looks/Finish: | 5/5 |
Comments:
It could be cheaper, but certainly isn't bad value for money. It's not enough for embossing to be the differentiator between this seat and cheaper seats which also feature cromo rails and kevlar protection.
Not a bad weight for a cromo railed seat.
As far as a seat goes, the THE Hustle and Flow saddles function very well.
These seats are quite unique looking, the design is awesome and they are very well manufactured.
THE is distributed in Australia by Elite Cycle Imports.
Reviewed by Shane Jenkins 12 January 2009